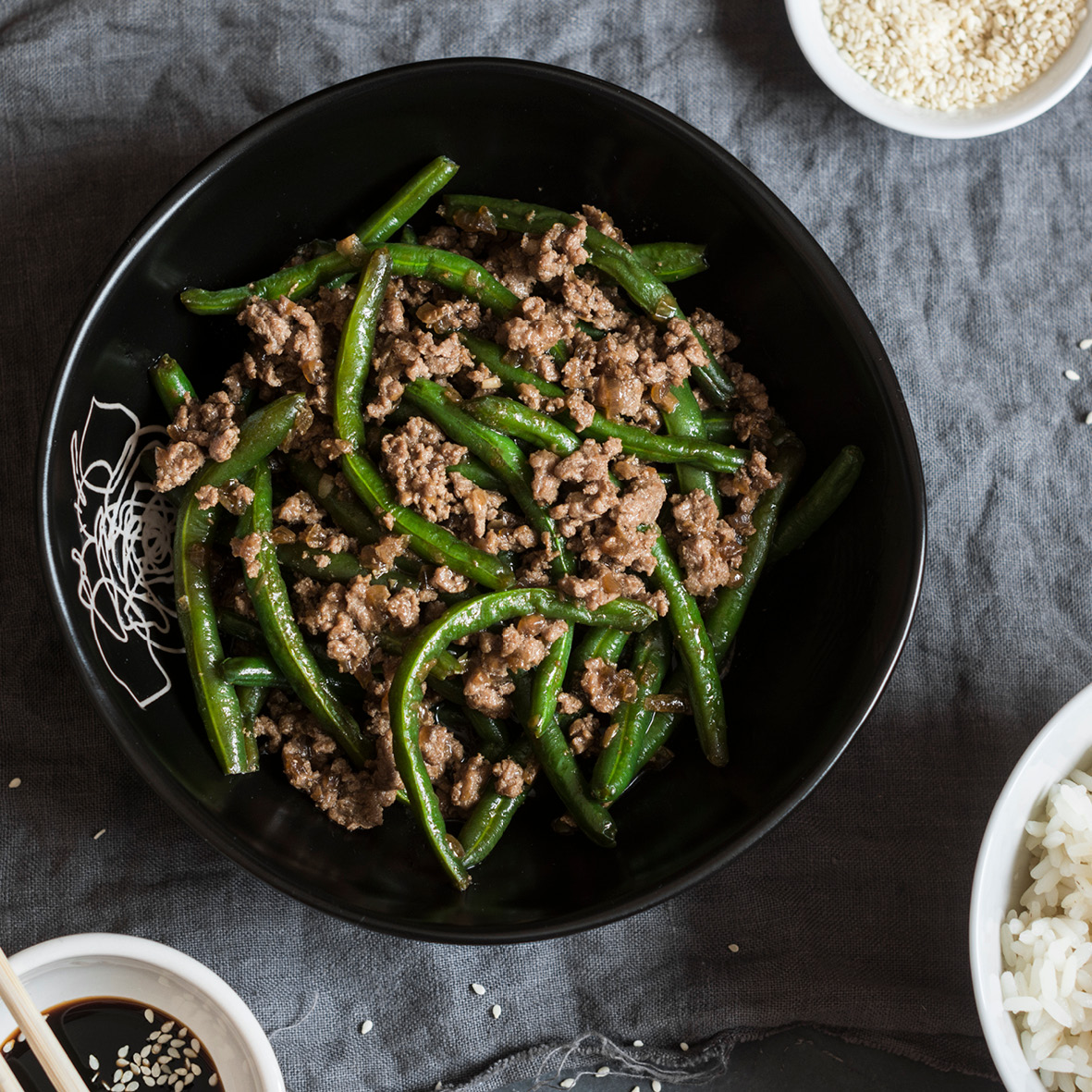 Sichuan-style Pork and Green Bean Stir Fry
Fast, fragrant, flavoursome and fresh; the perfect mid-week meal
How long will it take?
30 minutes
What's the serving size?
4
---
What do I need?
200g basmati rice
400g green bean, topped and tailed, then halved
3 tbsp sunflower oil
300g pork mince
8 tsp dark soy sauce
4 tsp rice wine
2 tsp caster sugar
½ tsp Sichuan pepper, lightly crushed using a pestle and mortar
2 red chilli, halved and sliced
6 fat garlic cloves, finely chopped
2 small knobs of ginger, finely chopped
6 spring onions, 4 finely chopped, 2 sliced for garnish
4 tsp sesame oil
How do I make it?
Boil the beans for 4 minutes, then drain under cold water and set aside.
Cook the rice according to the packet directions.
While rice is cooking, heat 2 tbsp of sunflower oil in a non-stick frying pan or wok. Add the pork mince and fry over high heat for a few minutes. Make sure you break the pork up into small pieces while it cooks. Stir in half the soy sauce with the rice wine and sugar and cook for another 30 seconds. When the pork is cooked through transfer it to a plate.
Heat the remaining sunflower oil in the pan and add the pepper, chilli, garlic, ginger and chopped spring onions and stir-fry for 2 minutes until the ginger and garlic are softened. Add in the beans, heat through, then add the mince and stir-fry for another 2 minutes until everything is hot. Stir in the rest of the soy sauce and the sesame oil and cook for a further 30 seconds.
Serve scattered with spring onions and basmati rice.
Recipe from bbcgoodfood.com
---
Share this recipe
---
More recipes like this