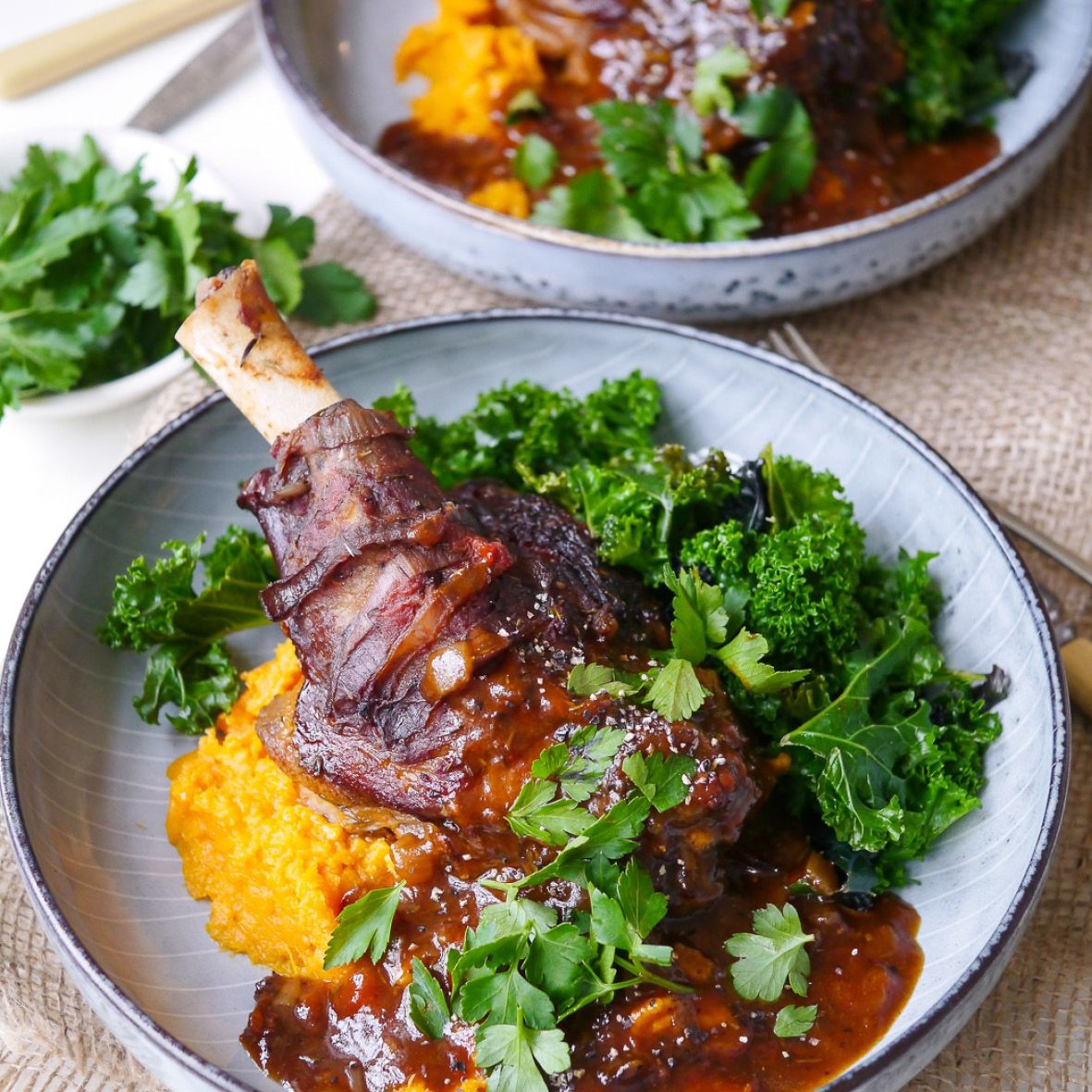 Slow cooked lamb shanks with thyme and balsamic
We love the simplicity of slow cooking and the reward of a tasty and hearty meal that is made with minimal effort. This recipe combines the flavours of balsamic and thyme in a rich and flavoursome tomato sauce.
How long will it take?
8 ½ hours
What's the serving size?
Serves 4
---
What do I need?
4 lamb shanks
4 tbsp extra virgin olive oil
2 cloves garlic
2 x 400g cans tinned tomato
1 large red onion
6 tbsp plain flour
1 ½ tbsp dried thyme
60ml honey
100ml balsamic vinegar
1 tbsp cornflour
Salt and pepper to taste
How do I make it?
Peel and slice the onion into fine slices. Peel and finely slice garlic.
In a bowl, mix flour with salt and pepper. Dip lamb shanks in the flour mix and coat. Shake off any excess flour.
Heat half the in a large frying pan over medium-high heat. Add lamb shanks and cook for 3-4 minutes until the shanks are lightly browned all over. Remove from the pan and set aside.
Add remainder of oil to the frying pan and add onion, garlic and thyme. Cook for 2-3 minutes until it is fragrant and the onion is starting to turn translucent. Add balsamic vinegar, honey and tomatoes. Stir together and then remove from heat.
Place the sauce in the base of a slow cooker and add lamb shanks on top of the sauce. Place lamb shanks so that the bone is sticking up. Spoon some of the sauce over the meaty parts of the lamb shanks.
Add lid and set the slow cooker on low for 8 hours.
When the lamb has finished cooking, carefully lift out the shanks and set aside.
Transfer the sauce to a pan and heat until it is bubbling. Cook uncovered for 10-15 minutes until it reduces and thickens a little.
Dissolve cornflour in a little water and add this to the pan, to help thicken the sauce. Season the sauce with salt and pepper to taste.
Serve the lamb shanks with the sauce and your favourite sides, such as sweet potato mash and green vegetables.
Recipe based on a recipe by Nourish Everyday
---
Share this recipe
---
More recipes like this