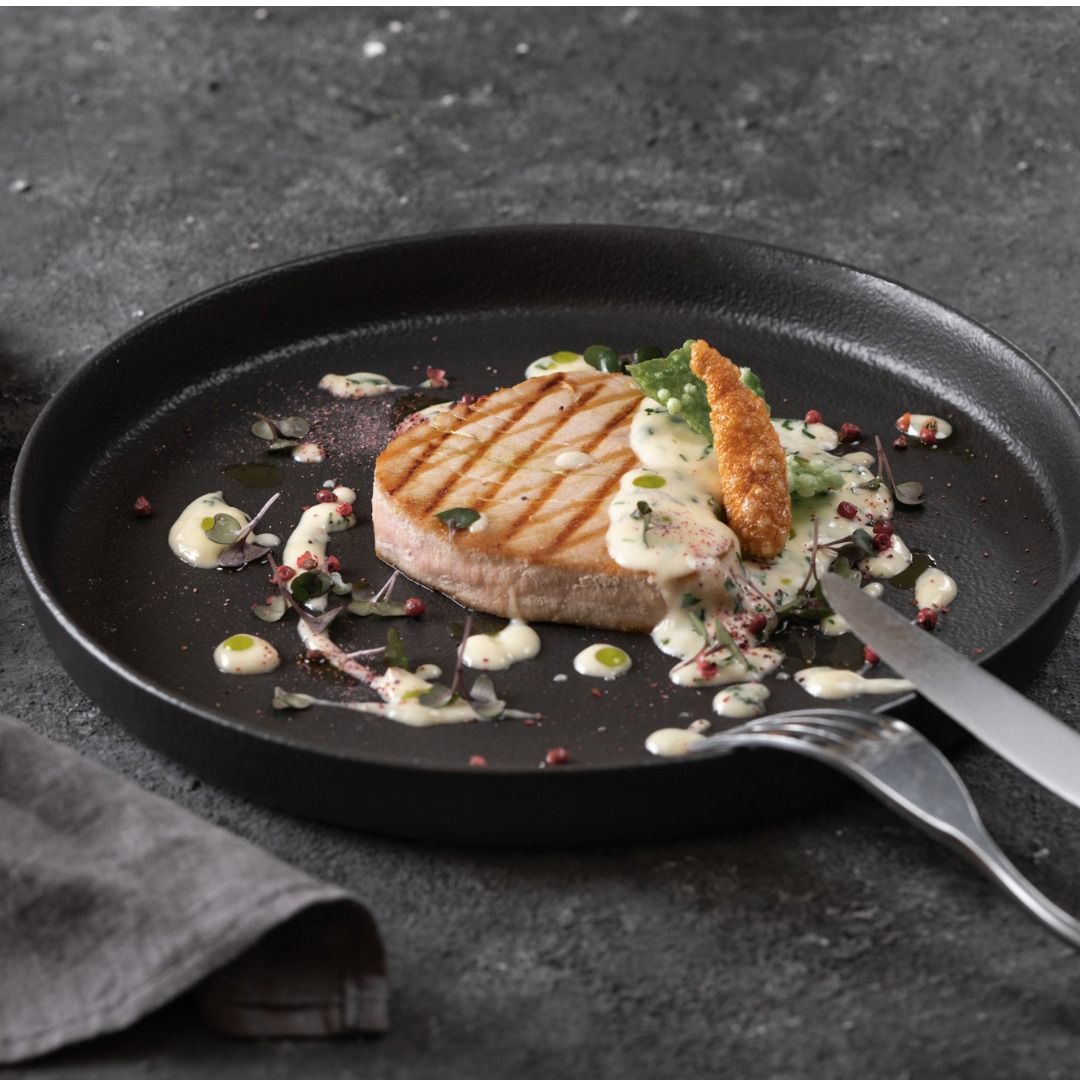 Grilled Swordfish Steaks with Beurre Blanc and Basil Oil
Swordfish has a tender texture and sweet flavour. It is delicious simply grilled and served with a squeeze of lemon and a fresh salad, but it also lends itself to something a bit fancier. This recipe features swordfish accompanied by a classic French Beurre Blanc sauce and a sweet basil oil. It would be perfect for a dinner party or special occasion family meal.
How long will it take?
2 hours
What's the serving size?
Serves 4
---
What do I need?
4 swordfish steaks
Micro herbs to serve
For the Beurre Blanc
250 g unsalted butter, cubed
½ cup dry white wine
¼ cup white wine vinegar
½ tbsp finely chopped shallot
Salt, to taste
For the basil oil
½ cup olive oil
1 cup tightly packed basil leaves
Pinch of salt
How do I make it?
Add wine, vinegar and shallot to a small saucepan over high heat and bring to the boil. Continue boiling until the liquid has reduced down to about 1 tablespoon. Reduce heat to low and add cubes of butter 2 at a time, whisking them into the reduction. Continue until there are only 2 cubes of butter left. Remove from the heat to add the final 2 cubes and whisk them well, so that the sauce s thick and smooth. Season to taste. Strain sauce to remove shallot.
Meanwhile make basil oil by blanching basil leaves in a pot of boiling water for 10 seconds. Remove, strain and dunk in ice water. Remove from water and squeeze to remove excess water. Add leaves to a food processor with olive oil and a pinch of salt. Blend until the basil is pureed. Strain to remove any solids and set aside.
Cook swordfish by heating oil in a grill pan over medium-high heat. Cook for 5 minutes per side or until the flesh feels firm when pressed.
To serve, lay swordfish steak on plate. Drizzle with Beurre Blanc, dot with Basil Oil and garnish with micro herbs.
Tip – Decanting the Beurre Blanc and Basil Oil into squeezy bottles with nozzles will give you better control and overall presentation – an old tomato sauce bottle works well.
---
Share this recipe
---
More recipes like this