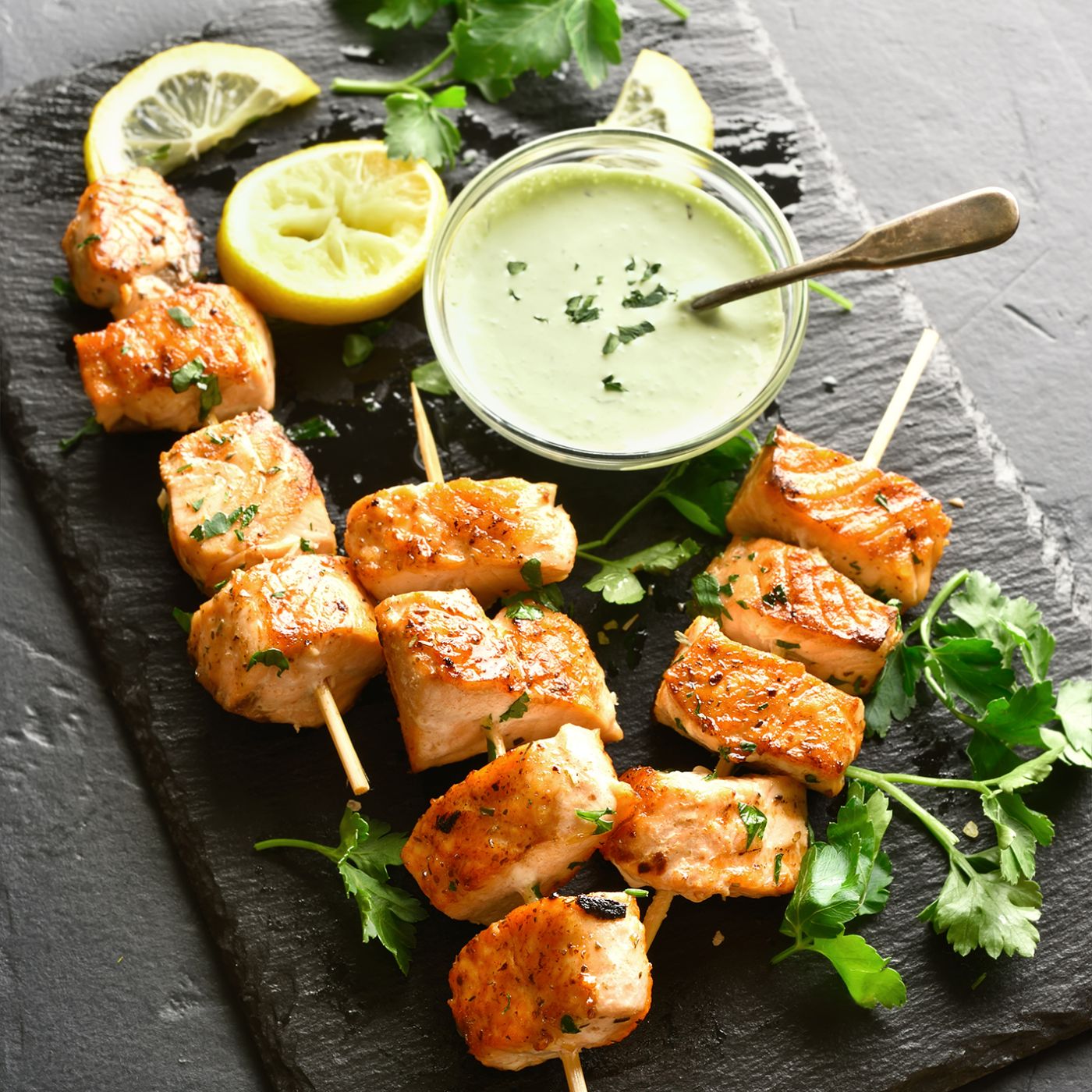 Salmon Skewers with Green Herb Mayonnaise
If easy cooking is what you're looking for, then these salmon skewers are ideal. Prepared simply, they are served with a delicious, herbed mayonnaise, and it all comes together in half and hour. If you're pressed for time, you can use a store-bought mayonnaise and add the fresh herbs to enhance the flavour.
How long will it take?
30 minutes
What's the serving size?
Serves 4
---
What do I need?
600 g salmon fillets, skin-off, cubed
Juice of half a lemon
Olive oil
Salt, to taste
Pepper, to taste
Skewers
Lemon, to serve
For the Green Herb Mayonnaise
2 eggs
2 tsp mustard powder
1 clove garlic
275 mL olive oil
2 tbsp white wine vinegar
1 tbsp chives
75 g spinach leaves
40 g flat-leaf parsley leaves
2 tbsp dill, chopped
Salt, to taste
Pepper, to taste
How do I make it?
Make the Green Herb Mayonnaise by adding eggs to a food processor with mustard powder and garlic. Blitz to combine, then add olive oil in a thin, steady trickle. When all the oil has been added, pour in white wine vinegar and blend, then toss in chives, spinach, parsley and dill and blend. Season, to taste and refrigerate until required.
Place salmon in a bowl with lemon juice, salt, pepper, and a drizzle of olive oil. Massage with your hands and thread cubes onto skewers.
Heat barbecue or a non-stick grill pan or frying pan over medium-high heat. Add skewers to the hot pan and cook for 4-5 minutes, then turn and continue cooking for a further 3 minutes or until the skewers are light pink in colour and the flesh flakes easily.
Serve with mayonnaise and lemon.
---
Share this recipe
---
More recipes like this