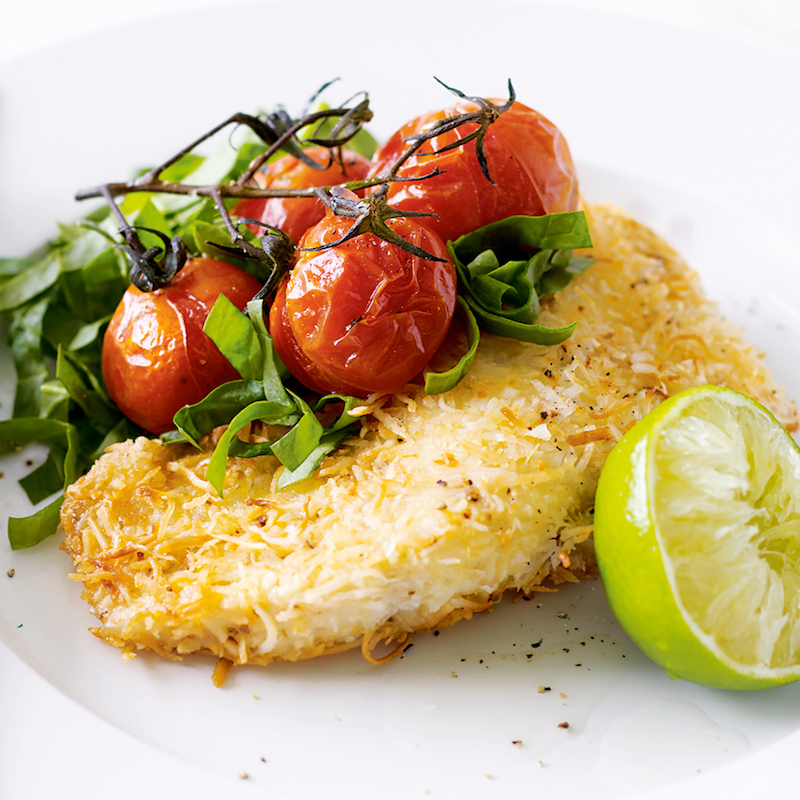 Coconut blue-eye trevalla
The crunch of the coconut adds something special to this dish
How long will it take?
40 minutes
What's the serving size?
Serves 4
---
What do I need?
500g truss cherry tomatoes
3 teaspoons sea salt
2 teaspoons fennel seeds
2 teaspoons coriander seeds
2 teaspoons chilli flakes
1/2 cup (75g) plain flour
1kg blue-eye trevalla fillets
3 eggs, lightly whisked
2 cups (130g) shredded coconut
1/2 cup (125ml) vegetable oil
150g baby spinach leaves, shredded
1/4 cup (60ml) lime juice
How do I make it?
Preheat oven to 200°C. Place the cherry tomatoes on an oven tray and season with salt and pepper. Bake in preheated oven for 10 minutes or until just beginning to split. Remove from oven and set aside to cool.
Place the salt, fennel, coriander and chilli flakes in a mortar and gently pound with a pestle until coarsely crushed. Transfer to a plate and stir through the flour.
Dip each blue-eye fillet into the spiced flour and shake off any excess. Dip into the egg then evenly press the coconut onto the fish. Set aside on a plate.
Heat the oil in a large, shallow frying pan over a medium heat. Add the fish and cook for 2-3 minutes each side or until the coconut is crisp and golden. Transfer the fish to an oven tray and bake for 4-5 minutes or until just cooked when tested.
Place the fish on serving plates and top with tomatoes. Serve with the shredded spinach leaves and drizzle with lime juice.
---
Share this recipe
---
More recipes like this