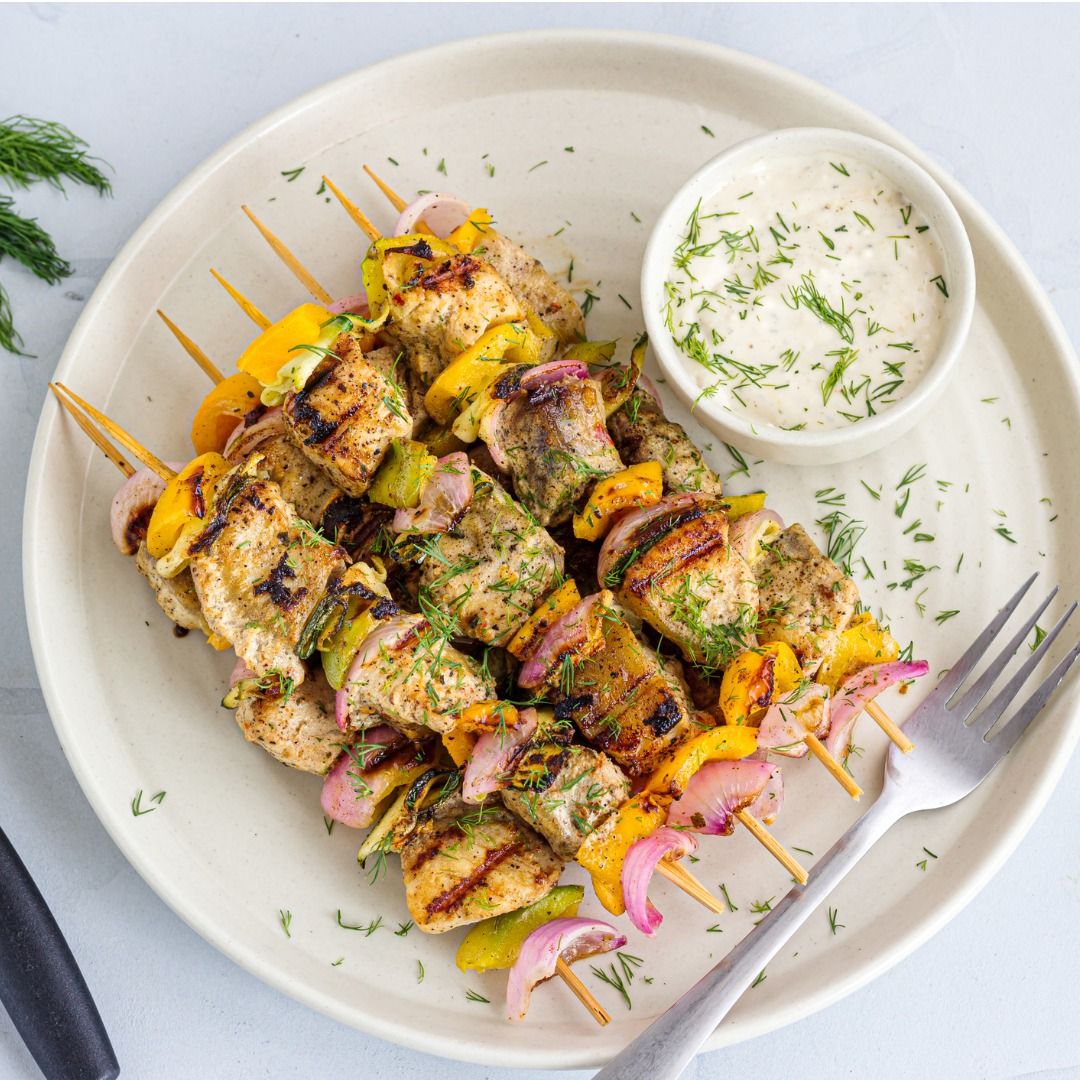 Yellowtail Kingfish Kebabs with Easy Lemon Dill Aioli
Midweek meals can be such a headache. After a long day the last thing you feel like doing is cooking but we've created this fabulous recipe that means that you can have dinner on the table in under 30 minutes. And not only is it tasty, it also features fish and vegetables, so that's even more reason to love it. Give it a try, we know you're going to enjoy it.
How long will it take?
30 minutes
What's the serving size?
Serves 4
---
What do I need?
½ cup mayonnaise
1 tbsp lemon juice
1 tbsp Dijon mustard
1 tbsp white wine
¼ tsp lemon zest
Pinch salt
Pinch freshly ground black pepper
1 bunch dill, divided
2 cloves garlic
3 tbsp olive oil
800 g Yellowtail Kingfish fillets, cut into 3 centimetre cubes
1 large red onion, cut into 2 centimetre pieces
1 yellow capsicum, cut into 2 centimetre pieces
1 small zucchini, cut into 2 centimetre pieces
How do I make it?
If using wooden skewers, soak them in water while you prepare the ingredients.
Add mayonnaise, lemon juice, Dijon mustard, white wine, lemon zest, salt, and peper to a small bowl and whisk together. Chop 2 tablespoons of dill leaves and fold through the mayonnaise mixture. Place in refrigerator until ready to serve.
Take half the remaining dill leaves and finely chop.
In a mortar and pestle grind garlic cloves with a generous pinch of salt, then add 2 tbsp of olive oil and the chopped dill and stir to combine.
Thread fish, onion, zucchini, and capsicum onto skewers and brush with the garlic mixture.
Preheat barbecue or a grill pan over medium heat and add remaining olive oil. Cook kebabs for 10-12 minutes, turning regularly to ensure that they are cooked on all sides.
Serve sprinkled with remaining dill and the Lemon Dill Aioli.
---
Share this recipe
---
More recipes like this