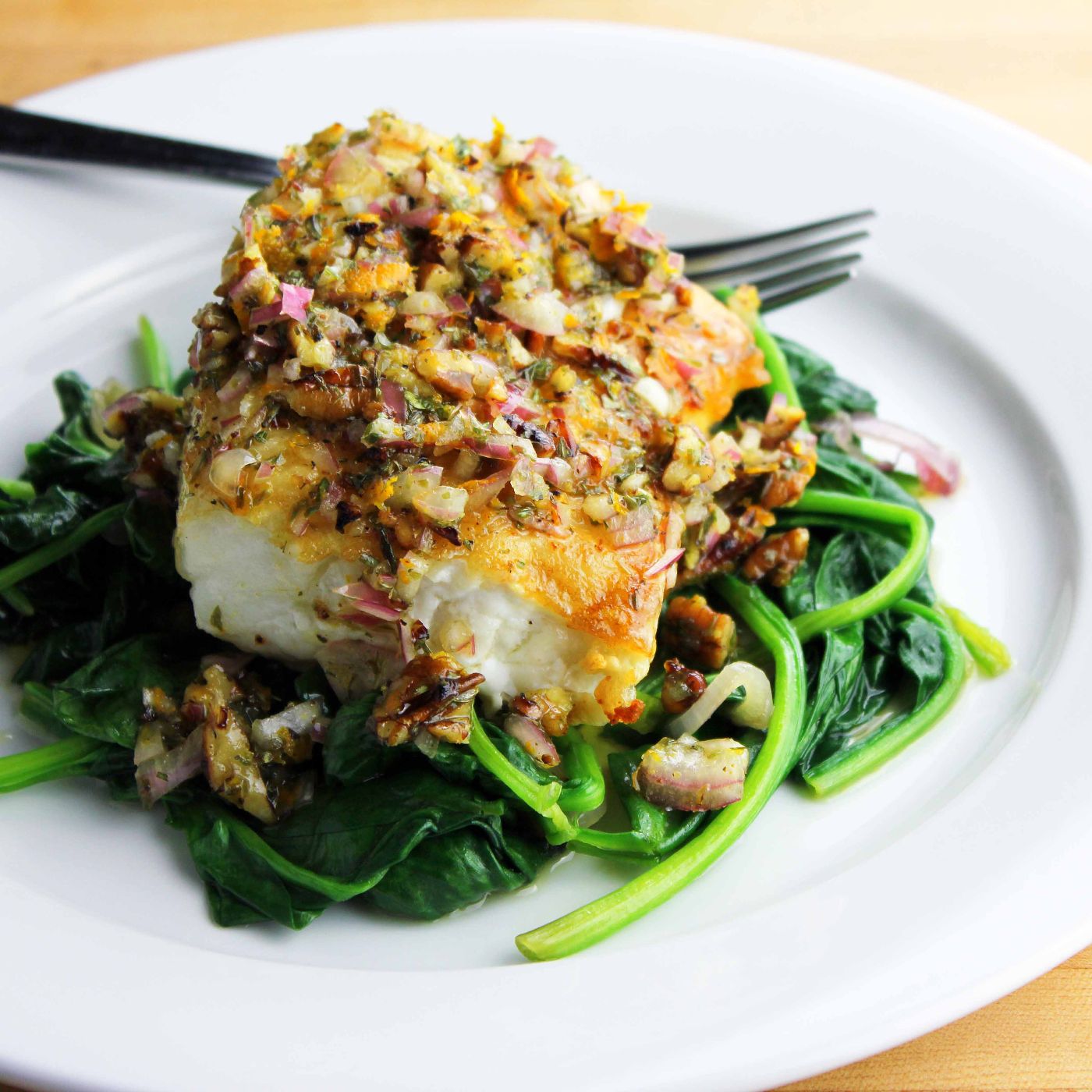 Blue Eye Trevalla with Toasted Pecan and Orange Vinaigrette
Give your mid-week meals a tasty boost with this fabulous trevalla recipe. The vinaigrette features a lovely balance of flavours including orange, honey and toasted pecans. Served on a bed of wilted baby spinach, this is a nutritious meal that only takes 30 minutes to prepare.
How long will it take?
30 minutes
What's the serving size?
Serves 4
---
What do I need?
1/3 cup pecans
½ tbsp Dijon mustard
2 tbsp shallots, diced
2 tbsp apple cider vinegar
½ tbsp water
1 tbsp orange zest, grated
2 tbsp orange juice
½ tbsp honey
2 tbsp olive oil
For the Blue Eye Trevalla
4 x 200 g blue eye trevalla fillets
1 tbsp olive oil
40 g butter
To serve
300 g baby spinach leaves
2-3 tbsp water
How do I make it?
Add pecans to a non-stick frying pan over medium heat. Toast, stirring frequently until fragrant. Remove from heat and set aside to cool.
Add Dijon mustard, shallots, apple cider vinegar, water, orange zest and juice, honey and olive oil to a bowl and whisk to combine.
Roughly chop cooled pecans and add to the bowl with the vinaigrette and stir to combine. Set aside.
Preheat oven to 180C.
Heat oil in a large non-stick frying pan over high heat and add fish. Cook for one minute, then add butter to the frying pan. Transfer the pan to the oven and cook for 10 minutes or until the fish is cooked through.
Meanwhile add spinach to a frying pan with water over high heat. Cover and cook until the spinach has wilted.
Remove fish from oven and set aside to rest for 2 minutes.
To serve, add spinach to plates, top with fish and drizzle with vinaigrette.
---
Share this recipe
---
More recipes like this