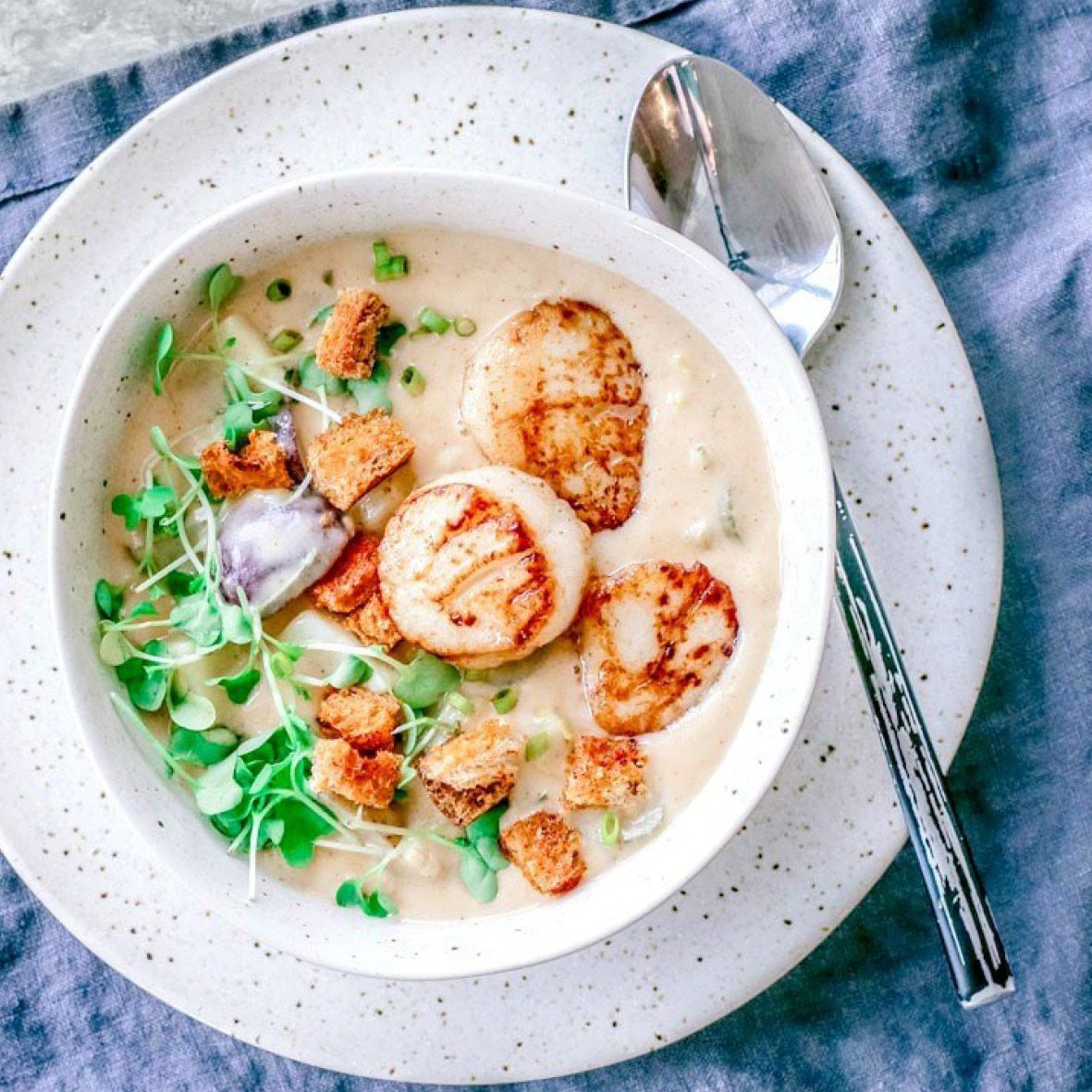 Smokey scallop chowder
Gorgeous plump scallops are the star of the show in this chowder that has a gentle smokiness from the croutons
How long will it take?
50 minutes
What's the serving size?
Serves 6
---
What do I need?
500g scallops
2 tbsp butter
2 tbsp olive oil
1 stick celery, sliced ½ centimetre thick
1 leek, thinly sliced (white and light green parts only)
2 tbsp plain flour
500 ml vegetable stock
1 tbsp freshly squeezed lemon juice
2 large potatoes, cubed
½ cup dry white wine
3 sprigs fresh thyme
1 bay leaf
2 cups cream
¼ cup chopped fresh parsley
Salt and pepper to taste
For the croutons
A couple of slices of day-old bread, roughly chopped
2 tbsp melted butter
2 tsp smoked paprika
How do I make it?
Make croutons by tossing chopped bread in melted butter and sprinkling with paprika. Place on a lined baking tray in a 150C oven and cook, flipping once until bread has a toasty appearance. Remove from oven and set aside to cool.
Pat scallops dry with paper towel and lightly salt them.
Heat 2 tablespoons of butter and the olive oil in a large frying pan over high heat.
When butter is melted and simmering, carefully add scallops to pan ensuring they are not touching each other. If necessary cook scallops in batches.
Sear for 2 minutes on each side or until a golden crust starts to form and the scallop releases easily from the pan.
Remove the scallops from the pan and set aside.
Transfer the butter from the pan into a large stockpot.
Add celery and leek to the pot and cook, stirring occasionally until softened but not browned. Sprinkle with flour and cook for 2 minutes to cook out the flour.
Add stock and lemon juice and whisk until smooth.
Add potatoes, wine, bay leaf, thyme, and pepper and simmer for 10 minutes, or until the potatoes have started to soften.
While potatoes are cooking, cut some of the scallops in half, reserving some whole scallops for serving.
When the potatoes are tender, add cream and cut scallops. Season with salt and pepper to taste.
Let chowder come to a simmer and then remove from heat immediately.
Remove the thyme and bay leaf and discard them.
Serve chowder in bowls, garnished with chopped parsley and smokey croutons and a couple of the whole scallops.
Recipe from killingthyme.net
---
Share this recipe
---
More recipes like this