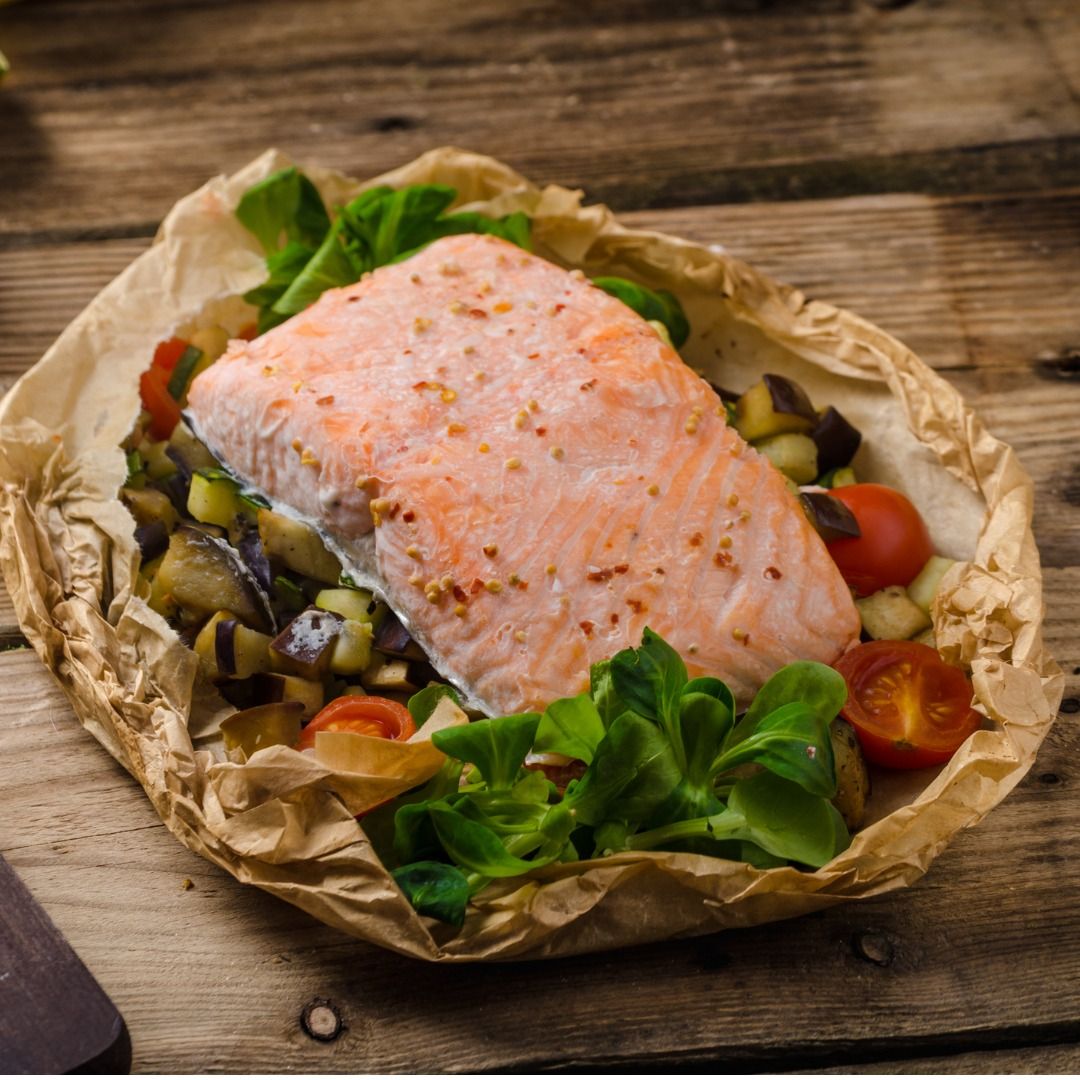 Salmon En Papillote with Mediterranean Vegetables
Cooked in paper, the flavours of this dish are sealed in resulting in a fabulously tasty meal that is simple to make.
How long will it take?
30 minutes
What's the serving size?
Serves 4
---
What do I need?
500 g salmon fillets, cut into 4 pieces
2 small zucchini
1 red capsicum
120 g black pitted olives
250 g cherry tomatoes
2 lemons
Olive oil
Salt
Freshly ground black pepper
How do I make it?
Preheat oven to 180C.
Cut zucchini and capsicum into bite-sized pieces. Chop tomatoes and olives in half. Cut lemons into quarters.
Cut/tear a piece of baking paper to approximately 30 x 40 centimetre size. Fold paper in half, then cut folded paper into a half heart shape. Repeat three times so that you have four pieces of baking paper ready to use.
Open each piece of baking paper, you should have a full heart shaped. Divide the chopped zucchini, capsicum, tomatoes and olives between the sheets of paper, positioning them on one side of the fold. Add a drizzle of olive oil and season with salt and pepper.
Lay the salmon, skin-side down on top of the vegetables and season, then add a lemon wedge to each parcel.
Fold the empty half of the paper over the ingredients and work around the heart shape to fold the edges and create a seal. When you reach the last fold, twist the baking paper several times to make a tight seal and fold it under the parcel.
Place parcels in a baking tray and cook for 25-30 minutes or until the fish is cooked to your liking.
Serve with remaining lemon wedges.
---
Share this recipe
---
More recipes like this