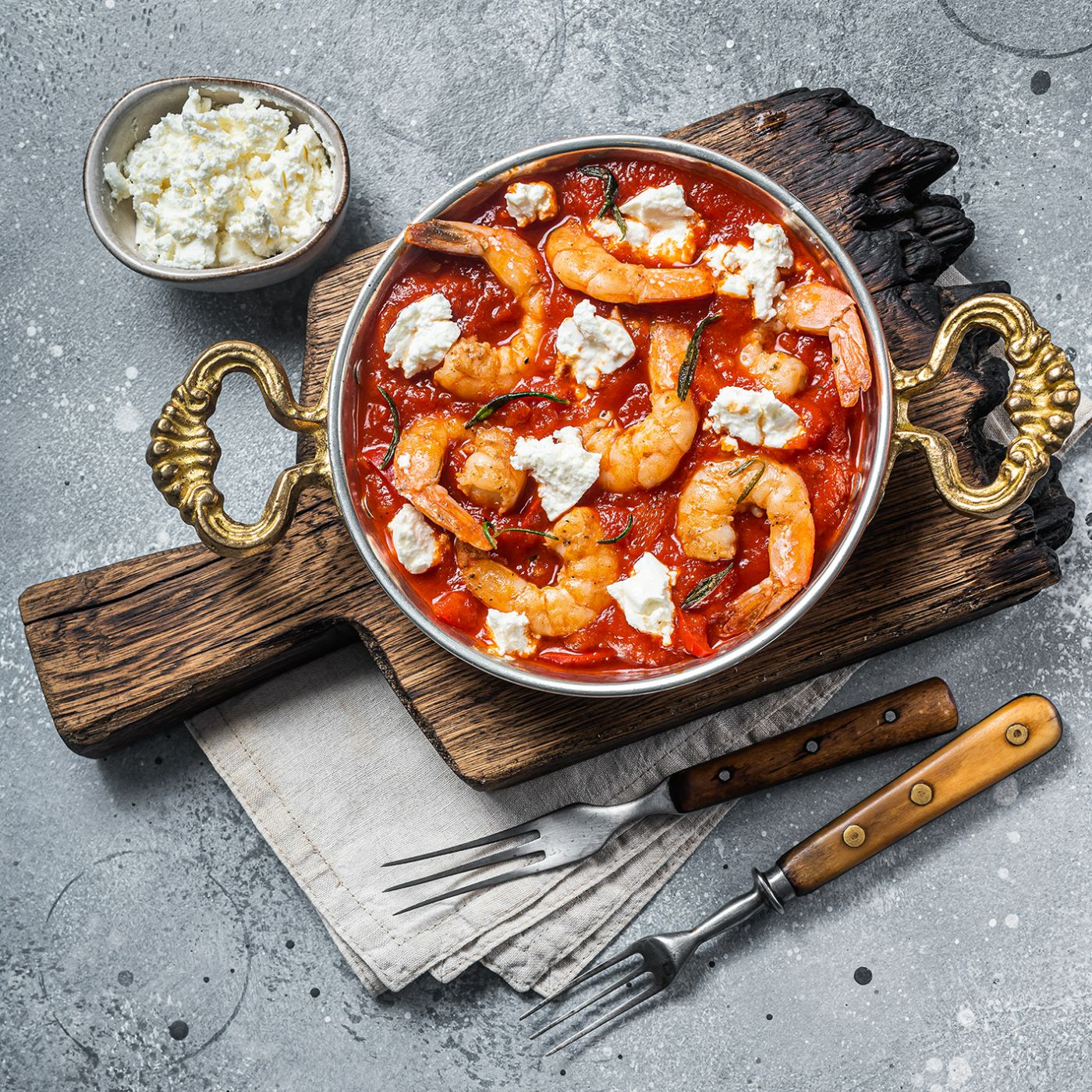 Prawn Saganaki
Featuring prawns in a flavourful tomato sauce topped with salty feta, Prawn Saganaki is a favourite Greek dish. The name "Saganaki" refers to a variety of Greek foods cooked in a two-handled frying pan, including Feta Saganaki, Mussels Saganaki, and Cheese Saganaki.
How long will it take?
30 minutes
What's the serving size?
Serves 6
---
What do I need?
4 large ripe tomatoes
5 tbsp olive oil, divided
1 red onion, finely diced
3 cloves garlic, minced
Pinch of chilli flakes
Salt
Freshly ground black pepper
2 tbsp fresh dill, chopped
24 green prawns, peeled and deveined
60 mL ouzo
250 g feta, crumbled
How do I make it?
Dice tomatoes and place them in a colander to strain excess juice.
Make the sauce by heating 1 tablespoon of olive oil in a frying pan over medium-high heat. Add onion and sauté for 1 minute before adding in garlic and chilli flakes and seasoning with salt and pepper. Sauté ingredients for 1 minute, then add tomatoes and dill. Stir, cover and bring to a boil, then reduce heat to a simmer and cook for 5 minutes or until the sauce has thickened slightly.
Meanwhile, season prawns with salt and pepper. Heat a large frying pan over medium heat and add 4 tablespoons of olive oil. Add prawns, cook for 1 minute, then pour in ouzo. Add sauce to the pan with the prawns and stir. Cover pan with a lid and cook for 2 minutes, then remove from heat and crumble feta over the top.
Serve immediately.
---
Share this recipe
---
More recipes like this