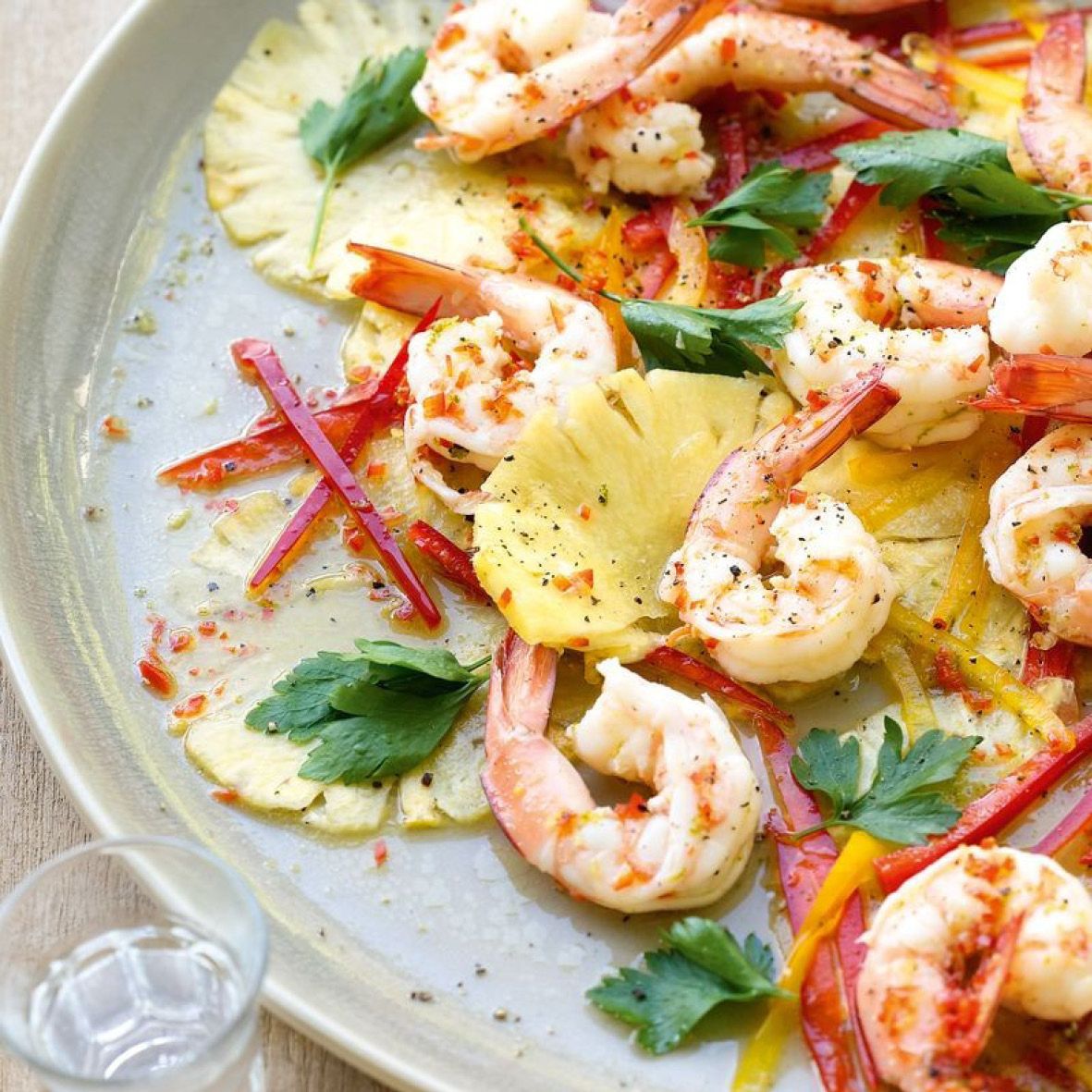 Tequila prawns with pineapple carpaccio
If ever a recipe embodied fun in the sun then this is it! This dish sees the prawns bath in tequila before being cooked and enjoyed alongside the pineapple carpaccio. The flavour of the pineapple is perfectly accented with jalapeno and capsicum and a tequila-infused vinaigrette. To get ultra-thin slices of pineapple, use a mandoline if you have one.
How long will it take?
25 minutes
What's the serving size?
Serves 8
---
What do I need?
1.2kg peeled large green prawns, tails intact
500ml tequila, plus an extra 2 tablespoons
1 ½ fresh pineapples, peeled and thinly sliced
250ml olive oil
2 tsp lime zest, grated
2 tbsp lime juice
2 red capsicum, thinly sliced
2 fresh jalapeno, seeds removed, finely chopped
2 tbsp flat leaf parsley, plus extra for garnish
How do I make it?
Place the prawns, 500ml tequila, 4 tablespoons sea salt and 500 ml of water in a bowl, then cover and marinate in the fridge for 10 minutes.
Spread the pineapple slices evenly over a large serving platter. Drizzle 1/2 cup oil over the pineapple and sprinkle with sea salt.
Make vinaigrette by whisking lime zest and juice with remaining olive oil and tequila. Season with salt and pepper and set aside.
Drain the prawns, reserving the tequila marinade. Place the marinade and 2 cups water in a large frying pan and bring to the boil. Add the prawns and simmer for 60 seconds then remove pan from the heat and stand for 10 minutes or until the prawns are just cooked and almost firm.
Drain the prawns, discarding the cooking liquid, then allow the prawns to cool.
Toss the capsicum, prawns, vinaigrette and chopped parsley in a bowl. Scatter the prawn salad over the pineapple on the serving platter. Garnish with jalapeño and parsley sprigs.
---
Share this recipe
---
More recipes like this