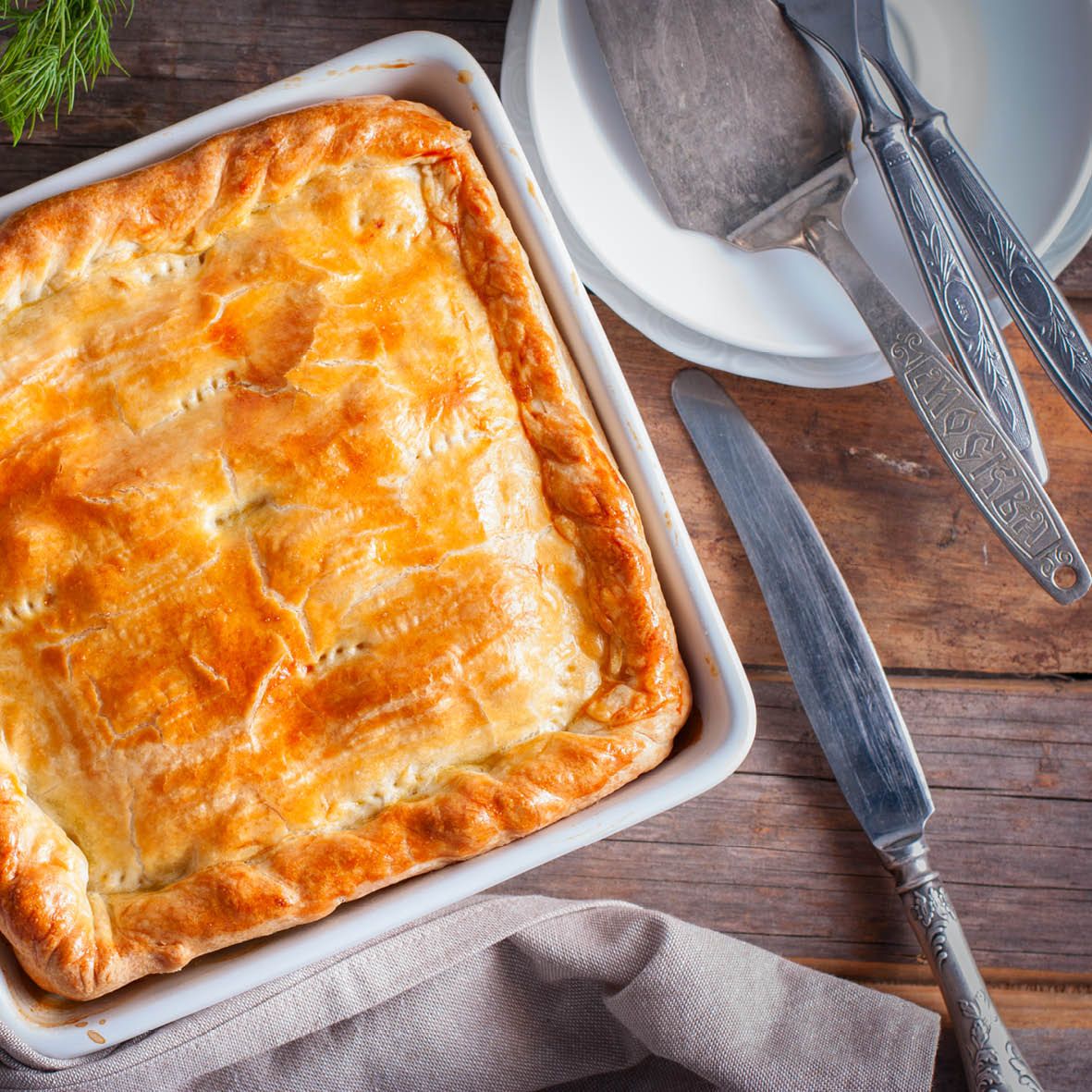 Curried Scallop Pie
Undoubtedly one of Tasmania's favourite dishes, the Curried Scallop or Tasmanian Scallop Pie has been made in seaside bakeries since the 19th century. Ours is made using fresh Tassie scallops in a gently curried sauce with vegetables and is topped with buttery puff pastry.
How long will it take?
1 1/2 hours
What's the serving size?
Serves 4
---
What do I need?
2 carrots, peeled and finely diced
2 potatoes, peeled and finely diced
1 ½ tbsp olive oil
50 g butter
2 onions, peeled and finely diced
3 cloves garlic, peeled and finely diced
1 tbsp curry powder
100 mL dry white wine
1 cup peas
125 mL cream
500 g scallops
Cooking spray
3 sheets puff pastry, thawed
1 egg yolk, beaten
How do I make it?
Preheat oven to 180C.
Toss carrots and potatoes in olive oil and place in a baking tray. Cook for 15-20 minutes or until golden brown. Set aside.
Add butter to a frying pan over low heat. When butter has melted, add onions and cook gently for 3 minutes, stirring regularly to ensure they don't brown. When onions have softened, add garlic and cook for a further 1 minute. Increase heat to medium, then add curry powder and cook for 1 minute before adding white wine, peas and cream. Stir and allow to simmer until the mixture has thickened. Add carrot and potato to the mixture and set aside to cool.
Meanwhile grease a casserole dish with cooking spray. Take 2 sheets of pastry and line the base and sides of the casserole dish with it, being careful to join the edges together. Fill with pie weights and blind bake for 15 minutes or until the pastry has started to turn golden.
Remove pie base from oven and increase heat to 210C.
When curry mix has cooled, pat scallops with paper towel to remove excess moisture and then add scallops to the mix and stir to combine. Spoon scallop mixture into the casserole dish and top with remaining sheet of puff pastry. Brush with egg yolk and bake in the oven for 25 – 30 minutes or until the pastry is golden brown.
---
Share this recipe
---
More recipes like this