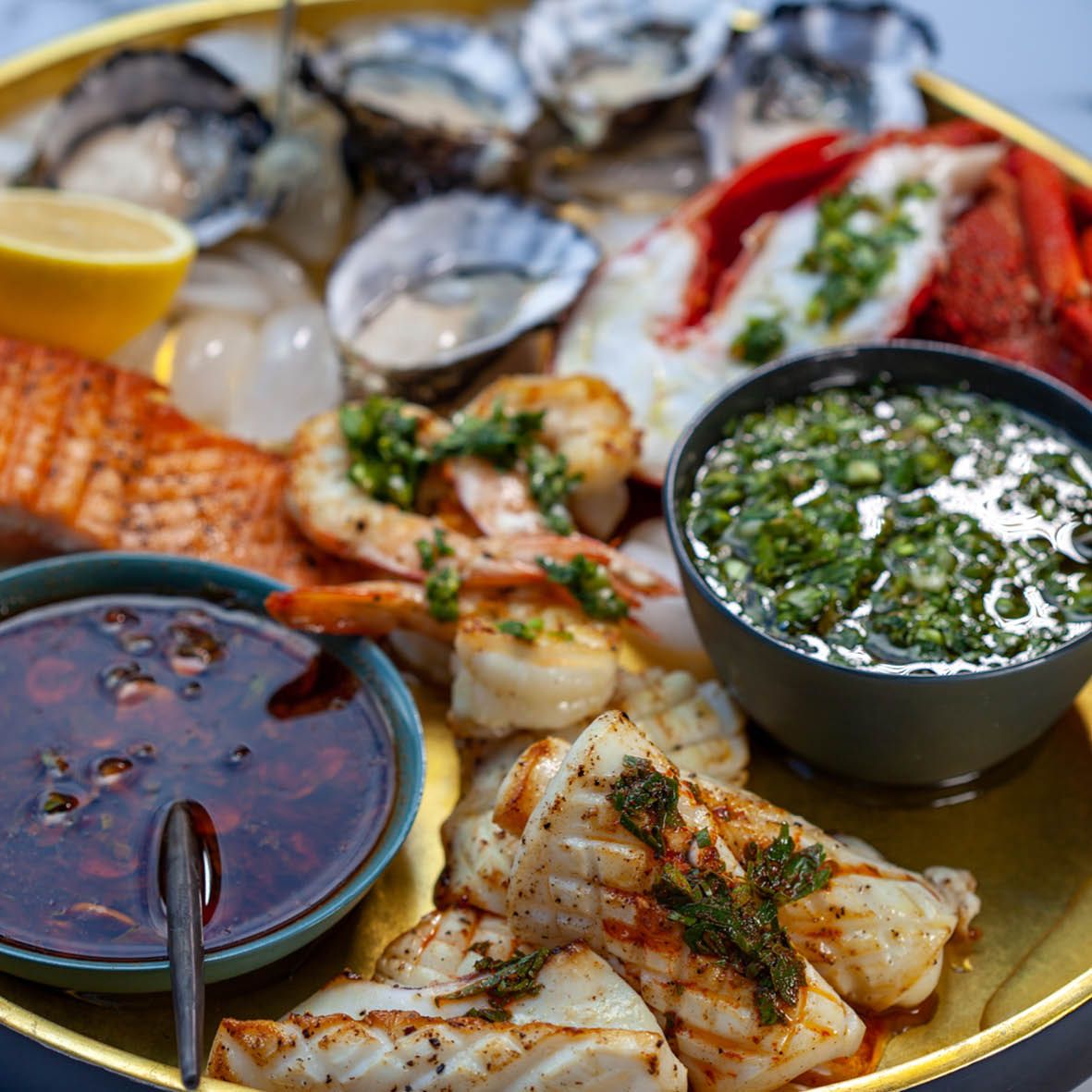 Seafood Platter with Coriander-Tarragon Salsa Verde and Lemon-Paprika Dressing
It's not Easter without fresh seafood and this is the perfect way to create a platter full of flavour and variety. We have created two dipping sauces to accompany the seafood.
How long will it take?
30 minutes
What's the serving size?
Serves 4-6
---
What do I need?
1 crayfish, cooked and halved
12 large green prawns, deveined and butterflied
400g salmon fillets
2 squid tubes, cleaned, scored and sliced into bite-sized pieces
12 oysters
1 large or 2 small lemons, sliced into rounds
For the Lemon-Parprika Dressing
4 tbsp olive oil
¼ cup freshly squeezed lemon juice
2 tbsp chopped flat leaf parsley
2 cloves garlic, thinly sliced
2 tsp paprika
For the Coriander-Tarragon Salsa Verde
2 tbsp spring onion, finely chopped (white and light green parts only)
Juice of 2 limes
1 tsp capers, finely chopped
½ tsp salt
1 ½ cups coriander leaves, finely chopped
¼ cup tarragon leaves, finely chopped
1/3 cup olive oil
How do I make it?
To make the Lemon-Paprika Dressing
Whisk olive oil, lemon juice, parsley, garlic and paprika in a small bowl. Cover and chill in the fridge until ready to serve.
To make Coriander-Tarragon Salsa Verde
Mix spring onions and lime juice together in a bowl and leave for 10 minutes. Add salt and capers and mash with a fork. Add coriander, tarragon and olive oil and season with salt if needed. Refrigerate until serving.
Brush prawns, salmon and squid with olive oil and season. Cook on high heat on the barbecue or in a grill pan until cooked to your liking.
To serve arrange cooked seafood on a platter with oysters, crayfish, dressings and lemon slices.
---
Share this recipe
---
More recipes like this