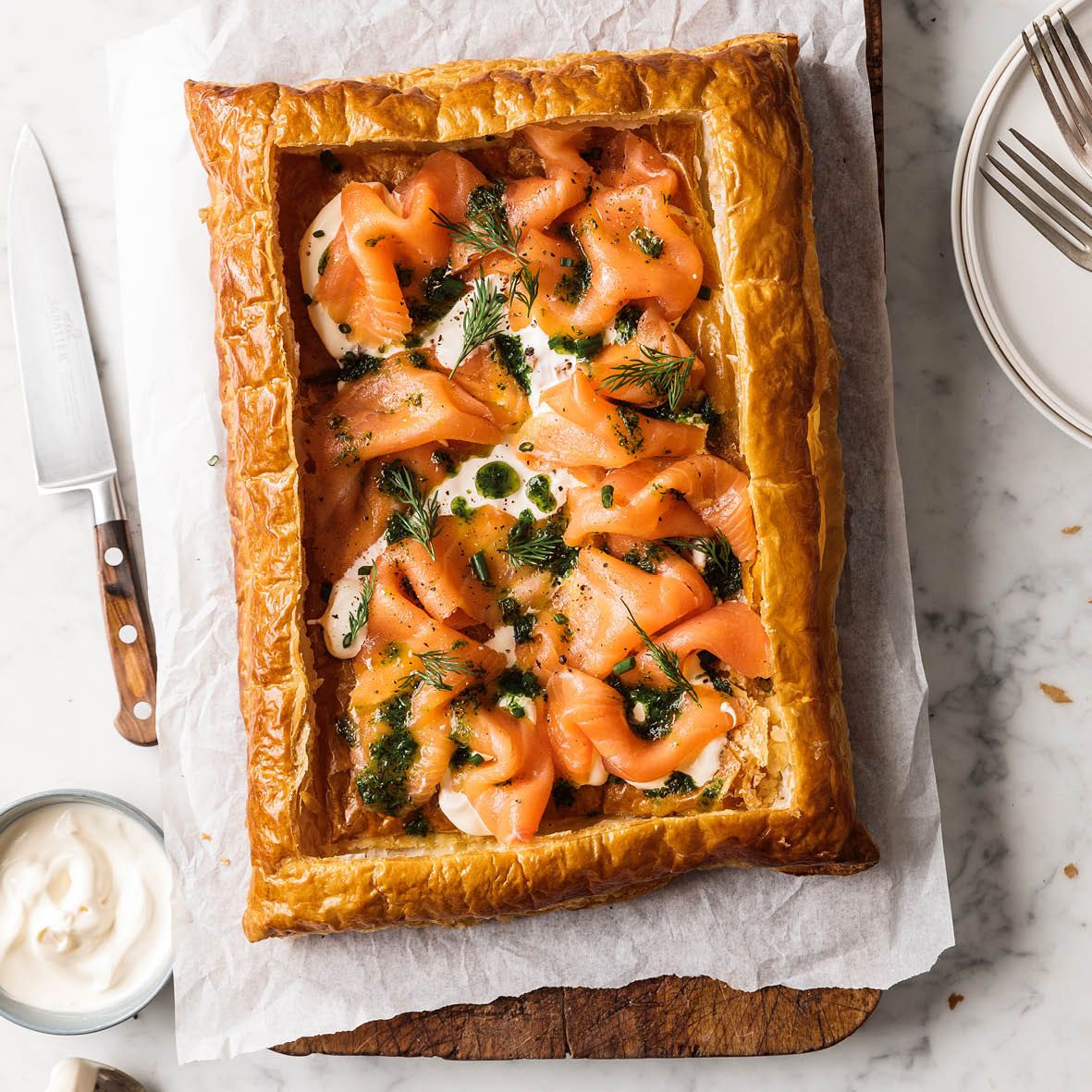 Huon Smoked Salmon Tart
A fast and fabulous lunch idea from our friends at Huon Salmon. Because it is so quick and easy to make, this recipe is ideal for when unexpected guests drop in; you'll have a tasty Tart on the table in less than 30 minutes.
How long will it take?
30 minutes
What's the serving size?
Serves 4-6
---
What do I need?
200g Huon Premium Cold Smoked Salmon
1 large sheet of puff pastry
1 egg
200g crème fraiche
For the Green Drizzle
1 tbsp chives, chopped
¼ cup dill, chopped
2 tbsp lemon juice
2 tbsp lemon zest
¼ cup of olive oil
How do I make it?
First make the drizzle. Reserve 1 tbsp of dill for garnishing, and blend remaining ingredients until smooth, check the seasoning and set aside.
Preheat oven to 200C
Place the pastry sheet on a baking tray lined with paper. Using a small knife, score (do not cut all the way through the pastry) a parallel line about 3cm in from each side to create a 2cm border around the edge of the pastry.
Use a fork to prick all over the surface of the pastry inside the border. Beat the egg in a little bowl and brush all over the surface of the tart. Scatter with a little sea salt.
Cook in the oven till puffed and golden, about 15 minutes.
Remove from heat, and transfer to a serving tray. Lightly spread the crème fraiche over the surface of the tart inside the border. Arrange Huon Salmon slices on top of crème fraiche, then use a dessert spoon to drizzle the dressing over the tart. Scatter reserved dill fronds over the top and serve with a large green salad.
---
Share this recipe
---
More recipes like this