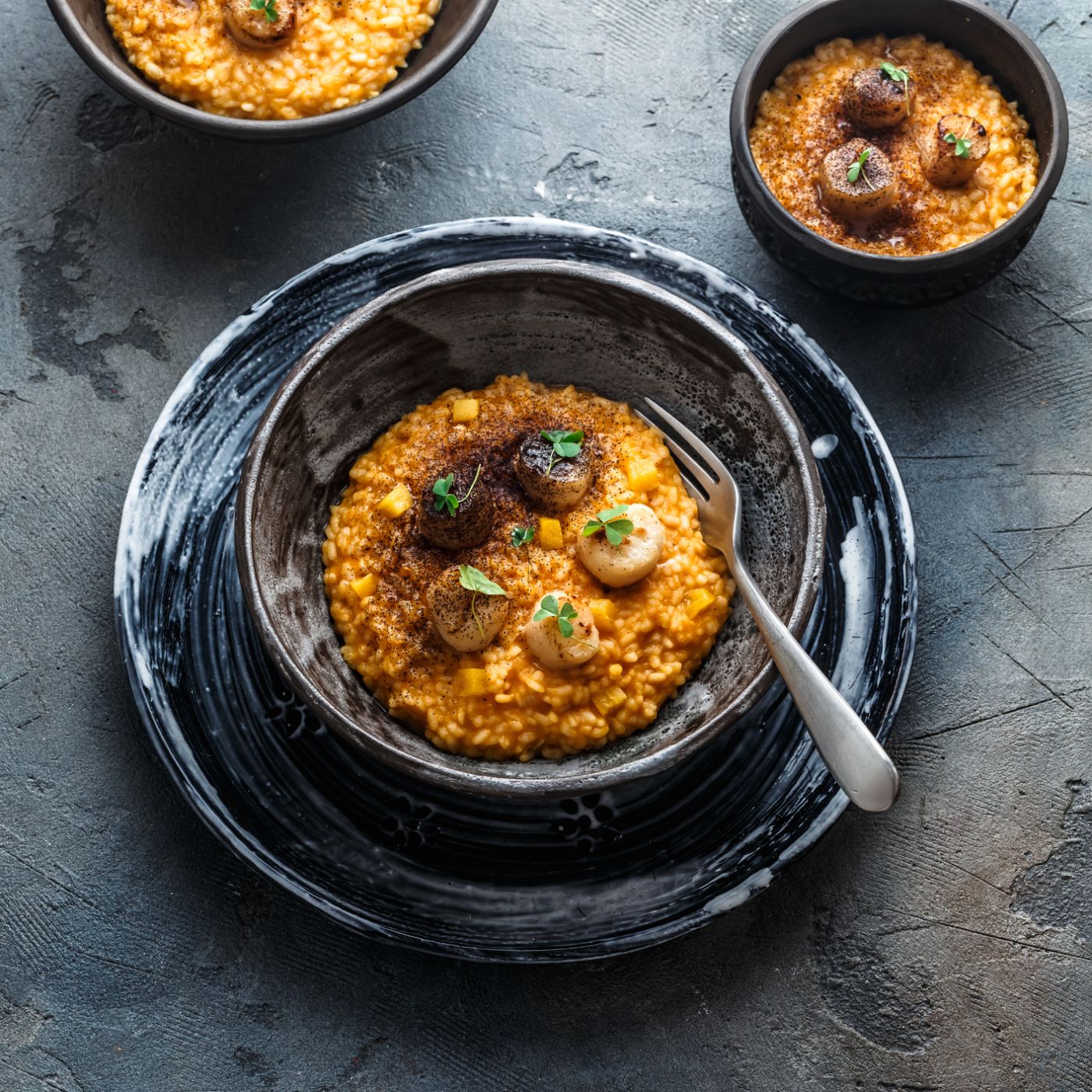 Butternut Pumpkin & Scallop Risotto
Cosy and comforting, this creamy risotto is exactly what you need for a chilly Tassie evening.
How long will it take?
1 ¼ hours
What's the serving size?
Serves 4
---
What do I need?
600 g butternut pumpkin, peeled and diced
2 tbsp cream
1 tbsp water
2 tbsp brown sugar
¾ tsp ground cinnamon
¼ tsp ground nutmeg
1 L vegetable stock, divided
6 tbsp unsalted butter, divided
4 tbsp olive oil, divided
1 small brown onion, diced
2 cloves garlic, minced
400 g arborio rice
60 g mascarpone cheese
40 g parmesan cheese, grated
Salt, to taste
Freshly ground black pepper, to taste
16 scallops
How do I make it?
Bring a large pot of water to the boil over high heat. Add pumpkin and cook until tender, then drain and set aside to cool slightly. When cooled use a stick blender or food processor to blitz the pumpkin with the cream and 1 tbsp water to a smooth puree.
Add puree, brown sugar, cinnamon, nutmeg, and 60 mL stock to a saucepan over low heat and gently simmer, stirring often, for 5 minutes. While simmering, gradually add 4 tbsp butter to the pan, stirring to incorporate. Remove from heat and set aside.
Add remaining stock to a clean saucepan set over low heat and warm.
Place a large saucepan over medium heat and heat remaining 2 tbsp butter with 2 tbsp olive oil. Add onion and garlic and sauté until the onion has softened. Toss in rice and stir to coat with the olive oil and butter. Cook rice for 3 minutes, then add ¼ cup stock, and stir well. Allow the liquid to evaporate, then add another ¼ cup and repeat until all stock is used and the rice is cooked. Reduce heat to low and fold the pumpkin mixture through the rice. When the pumpkin is incorporated with the rice, add mascarpone and parmesan and stir to combine. Taste and season if desired. Reduce heat to very low and cover with a lid to keep warm while you cook the scallops.
Heat remaining 2 tbsp olive oil in a frying pan over high heat. Pat scallops with paper towel to remove excess moisture and add to pan. Cook for 3 minutes per side, or until cooked through.
To serve, divide risotto between bowls and top with scallops.
---
Share this recipe
---
More recipes like this