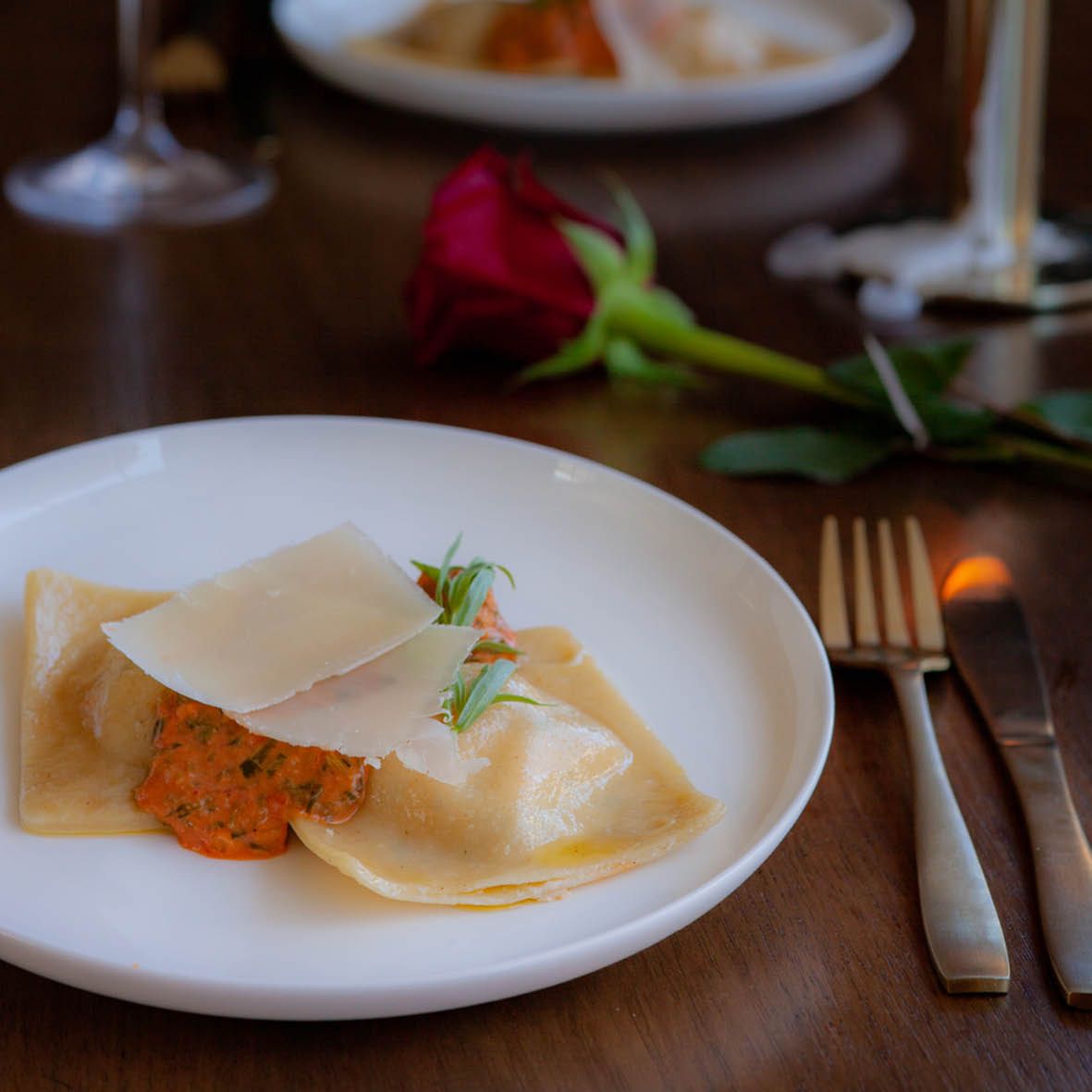 Crayfish and Prawn Ravioli with Tomato Tarragon Sauce
A creamy tarragon and tomato sauce matches beautifully with homemade crayfish and prawn ravioli. If you have a pasta machine you can make your own pasta dough, or take a shortcut as we have and use store-bought fresh lasagne sheets.
How long will it take?
1 hour
What's the serving size?
Serves 4
---
What do I need?
100 g cooked prawn meat, chopped
100 g cooked crayfish meat, chopped
75 g salted butter
1 garlic clove, crushed
¼ tsp smoked paprika
2 tbsp flat leaf parsley, chopped
Zest of ½ lemon
½ tsp lemon juice
Salt and freshly ground black pepper
½ cup ricotta
250 g fresh pasta dough – you can make your own or use fresh lasagne sheets
For the Sauce
1 tbsp extra virgin olive oil
1 tbsp salted butter
½ small brown onion, diced
2 cloves garlic, minced
½ can crushed tomatoes
½ cup cream
¼ cup parmesan, grated
2 tbsp flat leaf parsley, chopped
2 tbsp tarragon, chopped
Salt and pepper to taste
How do I make it?
Brown the butter in a large frying pan over medium heat. Remove from the heat and immediately stir through the garlic and paprika. Add the crayfish, prawns, parsley, lemon juice and zest and a pinch of salt and pepper. Stir to combine and set aside to cool. When cooled stir through the ricotta until well combined.
Place tablespoons of filling 2.5 centimetres apart over half a lasagne sheet. Use a little water to brush around the filling and then fold the sheet over the fillings, pressing down to seal. Cut into squares and continue until you have used all the filling. Keep the ravioli covered under a damp tea towel to stop them drying out.
Make sauce by heating butter and olive oil in a frying pan over medium heat. Add onion and cook until soft, then add garlic and cook for another minute. Add tomatoes and season. Reduce heat to low and cook for 5-10 minutes, stirring occasionally until the sauce has thickened slightly. Add cream, parmesan, parsley and tarragon and cook for a further 5 minutes.
Bring a saucepan of salted water to a boil. Cook the ravioli in batches for a couple of minutes or until they float. Drain and divide ravioli between bowls, top with sauce and garnish with herbs and parmesan.
---
Share this recipe
---
More recipes like this