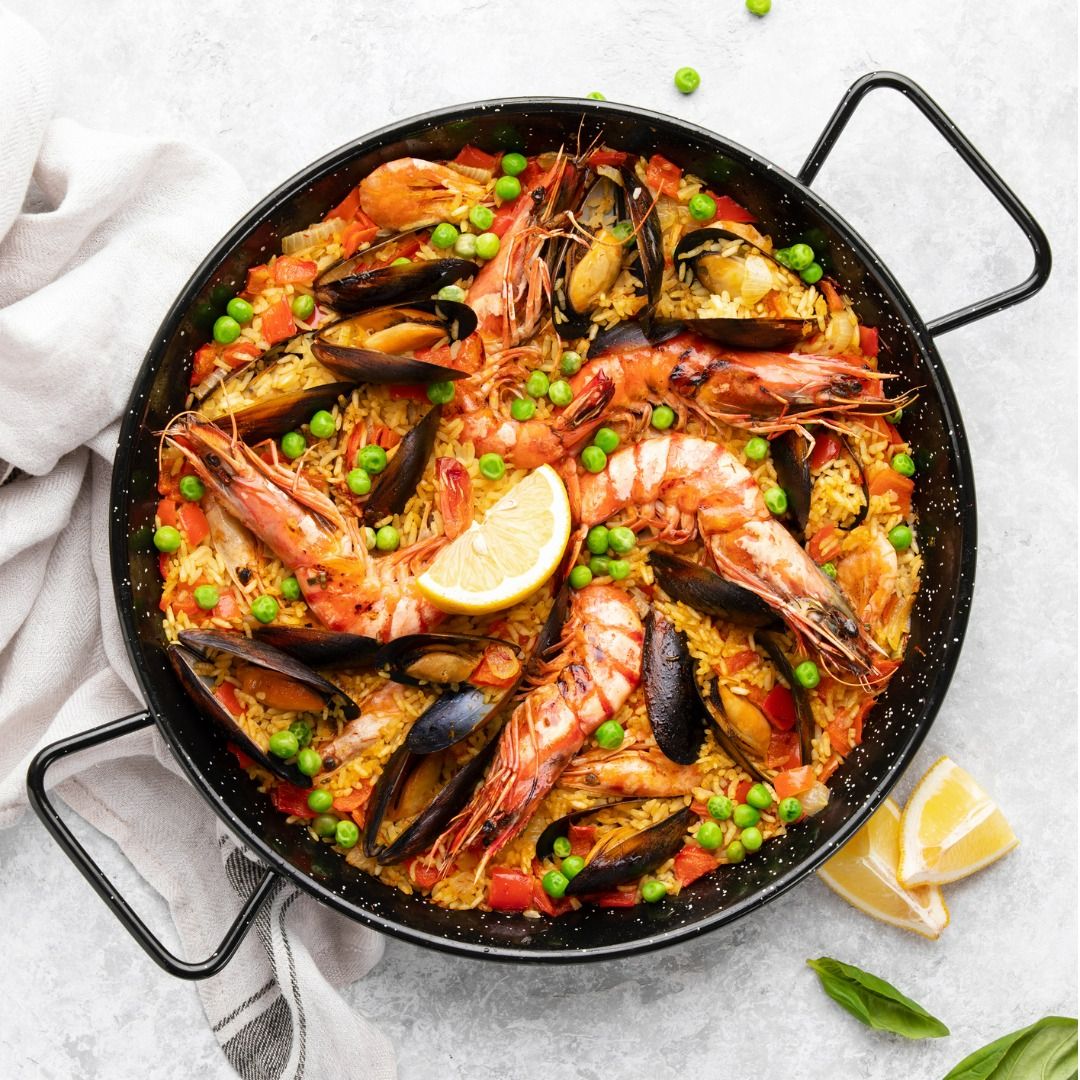 Seafood Paella
There's a good reason why Paella is such a beloved dish and that's because it's very, very delicious. It's also really easy to make and totally customisable so you can add or remove ingredients to suit your taste. You may want to add chorizo or chicken, or substitute scallops or white fish instead of mussels, or green beans instead of peas, and that's absolutely fine – you do you. No matter whether you follow this recipe exactly or add your own flair, we know that you'll love this Spanish classic.
How long will it take?
1 hour
What's the serving size?
Serves 6
---
What do I need?
1 cup white wine
3 cups vegetable stock
1 generous pinch Saffron threads
3 tbsp olive oil
1 large brown onion, finely chopped
3 cloves garlic, chopped
2 cups Bomba Paella Rice or medium grain rice
1 tsp sweet paprika
1 tsp cayenne pepper
½ tsp chilli flakes
2 large tomatoes, finely chopped
100 g frozen peas
12 large green prawns
12 mussels
Lemon wedges to serve
How do I make it?
Add wine and stock to a large saucepan over medium heat and bring to a gentle simmer. Reduce heat and add saffron. Allow to simmer for 30 seconds then remove from heat and cover to keep warm.
Heat a large paella pan or a large deep frying pan over medium-high heat. Add olive oil, then add onion and sauté, stirring frequently for 2 to 3 minutes or until onions are translucent. Add garlic and cook for a further 1 minute, then add rice and stir to coat.
Add wine and stock mixture to the pan, along with paprika, cayenne pepper, chilli flakes, tomatoes, and peas. Stir, then bring to a boil and reduce heat to low, and cook covered, without stirring, for 15 minutes.
Remove cover and arrange prawns on top of the rice and cook for a further 10 minutes or until prawns are cooked.
While prawns cook, steam mussels by putting them in a large saucepan or frying pan with a couple of centimetres of water and cover with a tight fitting lid. Discard any mussels that do not open. Arrange mussels on top of the rice and serve paella with lemon wedges.
---
Share this recipe
---
More recipes like this