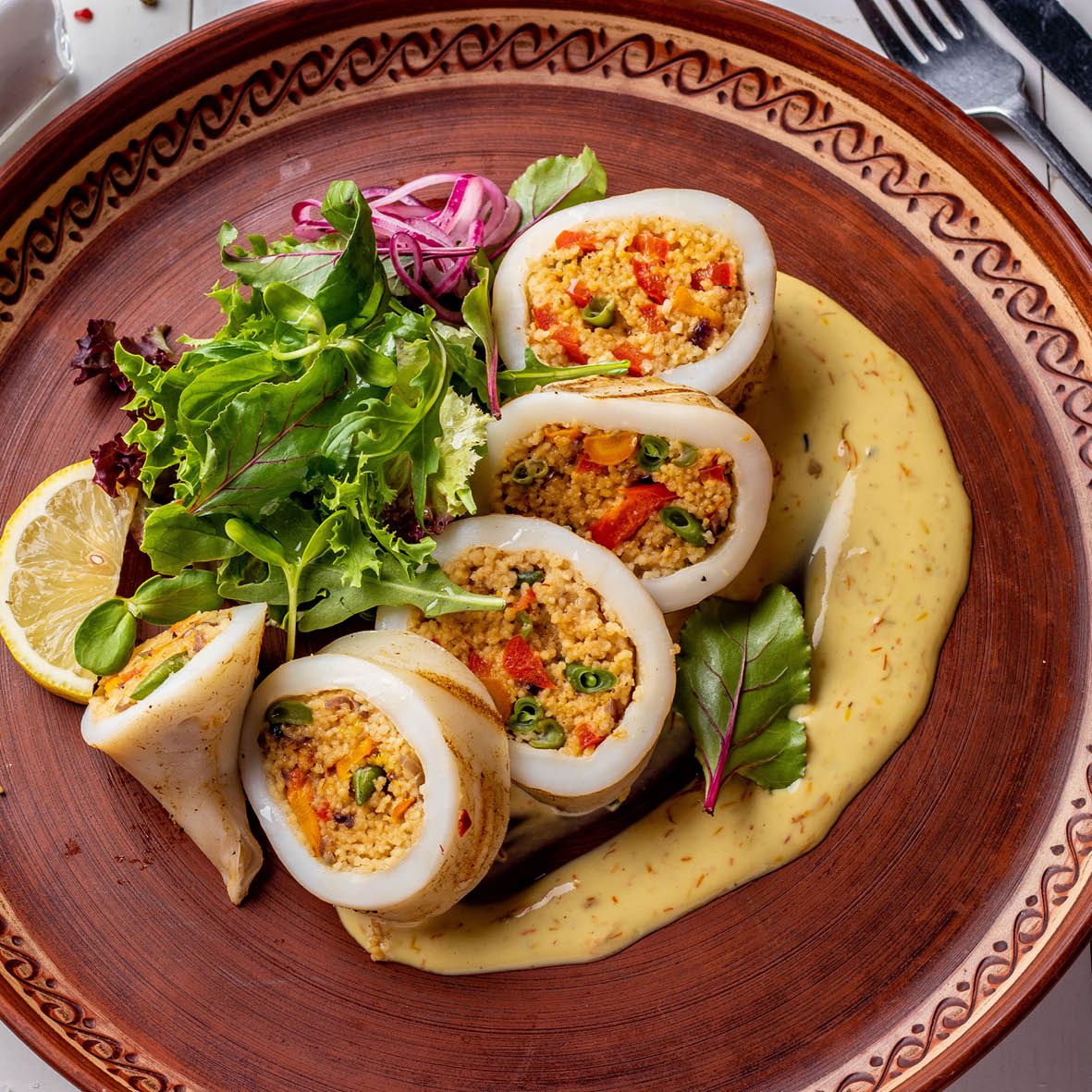 Spiced couscous stuffed squid
Break out of your mid-week meal routine with this tasty stuffed squid. It's a deceptively simple recipe, with most of the hands-on time being devoted to chopping the vegetables that form part of the couscous stuffing. It's important to fill the squid tubes so that they are firm otherwise they will collapse when cooking.
How long will it take?
30 minutes
What's the serving size?
Serves 4
---
What do I need?
1 cup vegetable stock
60 mL olive oil
1 tbsp butter
1 cup couscous
½ red capsicum, finely chopped
1 spring onion, sliced into thin rounds
1 clove garlic, finely chopped
1 tsp smoked paprika
1 tsp grated lemon rind
1 small red chilli, seeds removed, finely diced
4 squid tubes
Green salad leaves to serve
Lemon wedges to serve
How do I make it?
Preheat oven to 180C.
Add stock to a medium sized saucepan and bring to a boil. Add remaining ingredients and stir to combine. Cover with a lid and remove from heat. Set aside for 5 to 10 minutes, until the couscous can be fluffed with a fork.
Pat squid tubes with paper towel inside and out. Stuff the couscous mixture into squid tubes, adding enough mixture to make the tubes firm, then seal the end with a skewer or toothpick.
Place filled squid tubes in a baking tray and brush with a little olive oil, then cook in the oven for 15 minutes.
Remove from oven and let rest for 5 minutes before slicing and serving with a simple green salad and lemon wedges.
---
Share this recipe
---
More recipes like this