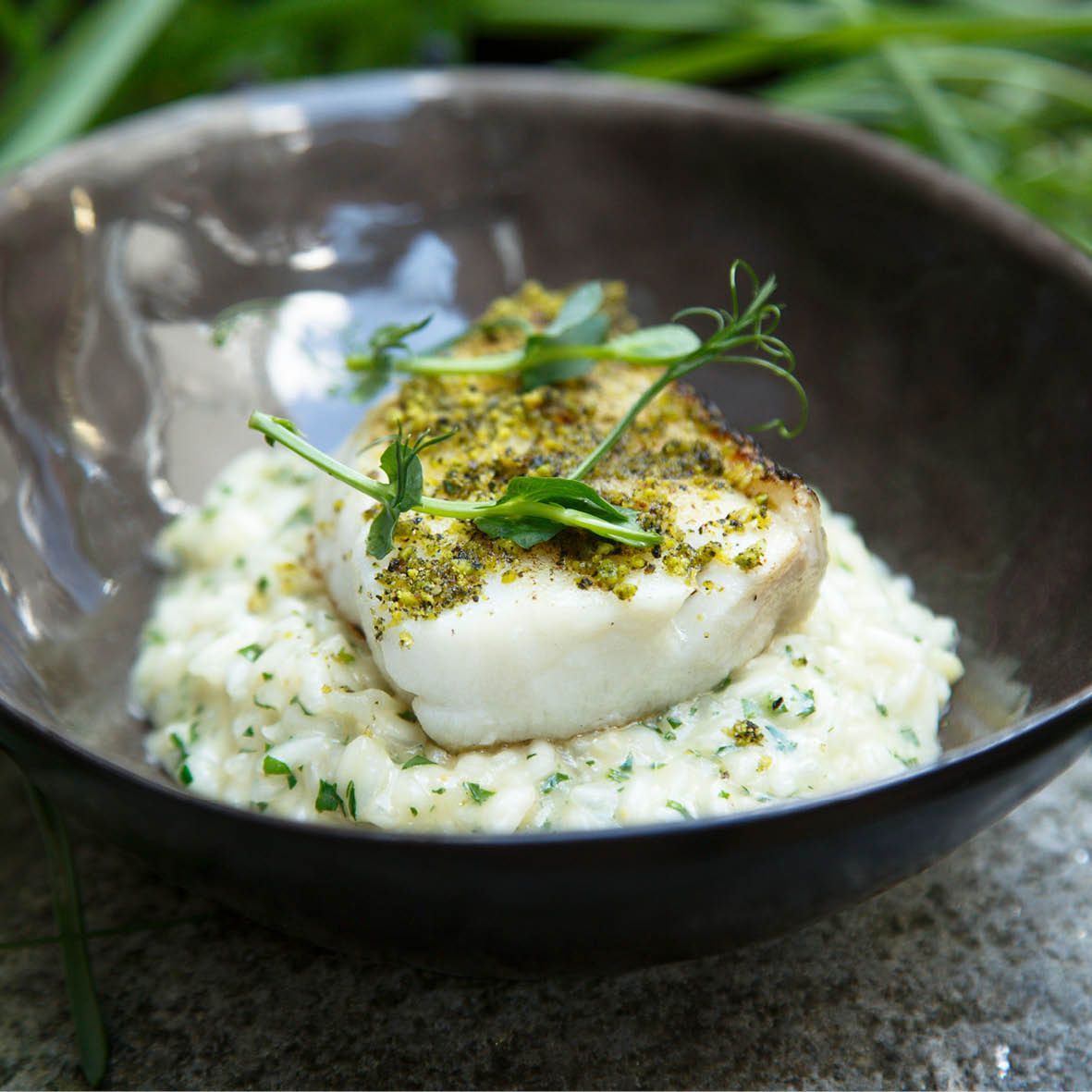 Lemon and Chive Risotto with Herb Crusted Pink Ling
A creamy risotto topped with herb crusted pink ling.
How long will it take?
40 minutes
What's the serving size?
Serves 4
---
What do I need?
For the Herb Crusted Pink Ling
¼ cup parsley
¼ cup basil leaves
1 tbsp fresh chives
2 tbsp lemon zest
2 slices day old bread, crusts removed, coarsely torn
Salt and freshly ground black pepper
4 x 150g pink ling fillets
For the Risotto
1.25 litres chicken stock
1 tbsp olive oil
1 onion, diced
2 cloves garlic, finely diced
2 cups Arborio rice
125 ml white wine
Zest and juice of 2 lemons
60g parmesan, finely grated
3 tbsp fresh chives, finely chopped
Lemon wedges to serve
How do I make it?
To make the Herbed Fish
Place all ingredients except pink ling in a food processor and blitz until very finely chopped. Season with salt and pepper.
Place breadcrumb mixture on a large plate. Add the fish fillets and press to coat one side.
Place fish fillets, crumb-side-up, on a lined baking tray. Bake for 12 minutes or until the fish flakes easily when tested with a fork.
To make the risotto
Place stock in a large saucepan and heat until simmering. Heat oil in a heavy based frypan at medium heat.
Add onion and cook for two minutes, add garlic and cook for two minutes. Turn up the heat and add Arborio rice and stir constantly for two minutes until heated through.
Pour in wine, cook until wine has almost evaporated.
Add ½ cup of warm stock to the frying pan, turn the heat down to a simmer and stir until stock absorbed, then add another ½ cup of stock.
Add zest and juice of lemons. Continue adding stock, stirring and allowing each addition to be absorbed before adding the next.
After 15 minutes, taste the rice, it should be soft. If not, keep adding stock and stirring until rice is cooked.
Check the consistency of the risotto, if it is a bit gluggy, add more stock or boiled water if you are out of stock.
Stir the chives and parmesan into the risotto and allow to rest for two minutes.
Serve the fish on a pile of risotto with a lemon wedge.
---
Share this recipe
---
More recipes like this