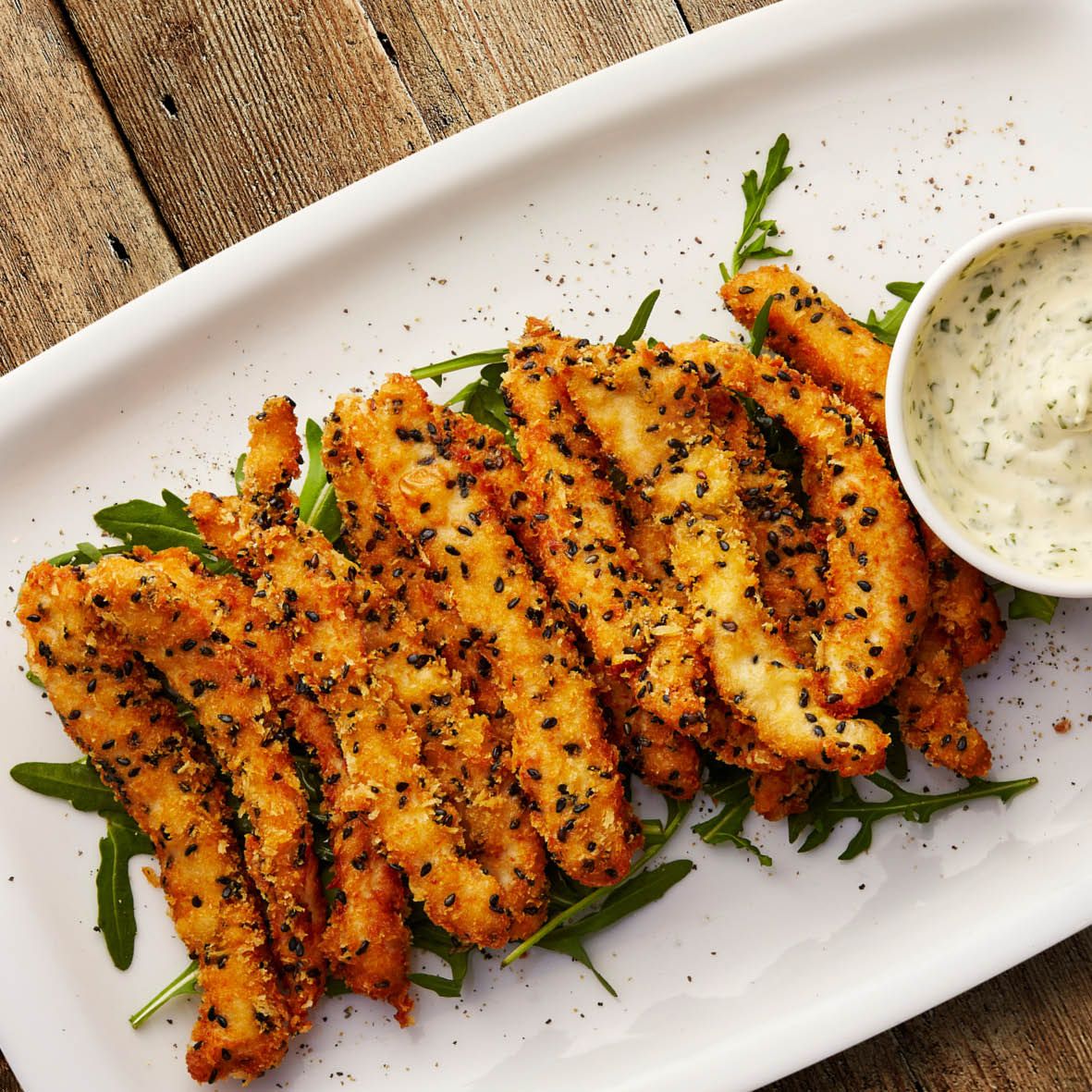 Black Sesame Blue Eye Trevalla Goujons with Homemade Tartare Sauce
Fantastic as a mid-week meal accompanied by some homemade chips, these Goujons are also a great finger food if you're entertaining.
How long will it take?
45 minutes
What's the serving size?
Serves 4
---
What do I need?
For the Homemade Tartare Sauce
1 medium free range egg yolk
Pinch of mustard powder
½ tsp white wine vinegar
Pinch of salt
150 mL sunflower oil
Juice of ½ lemon
1 tbsp capers, drained
1 tbsp gherkins, diced
1 shallot, finely chopped
1 tbsp dill, finely chopped
For the Blue Eye Trevalla Goujons
3 tbsp plain flour
½ tsp salt
Pinch of ground black pepper
1 free range egg
85 g breadcrumbs
2 tbsp black sesame seeds
500 g blue eye trevalla, cut into finger-width lengths
Sunflower oil, for frying
How do I make it?
Make Tartare Sauce by adding the egg yolk to the bowl of an electric blender with mustard powder, white wine vinegar and salt. Blend ingredients together and then slowly drizzle the sunflower oil into the bowl, blending while you pour. Continue until all oil has been added, then whisk in lemon juice.
Stir capers, gherkin, shallot and dill into the mixture and then refrigerate while you make the goujons.
Mix flour, salt and pepper together on a plate. In a separate bowl mix breadcrumbs with sesame seeds. Place egg in a bowl and gently whisk.
Working one piece at a time, dip fish into the flour, shake off excess, then dip in egg and finally coat with the sesame mixture. Set aside on a plate and repeat for remaining pieces of fish.
When all pieces of fish are coated, refrigerate them for 15 minutes.
Meanwhile heat a frying pan over medium heat and add fill to about 2 centimetres depth. When the oil is hot, add fish in batches and cook for 2 minutes per side, or until it is golden brown.
Drain on paper towel and serve with tartare sauce.
---
Share this recipe
---
More recipes like this