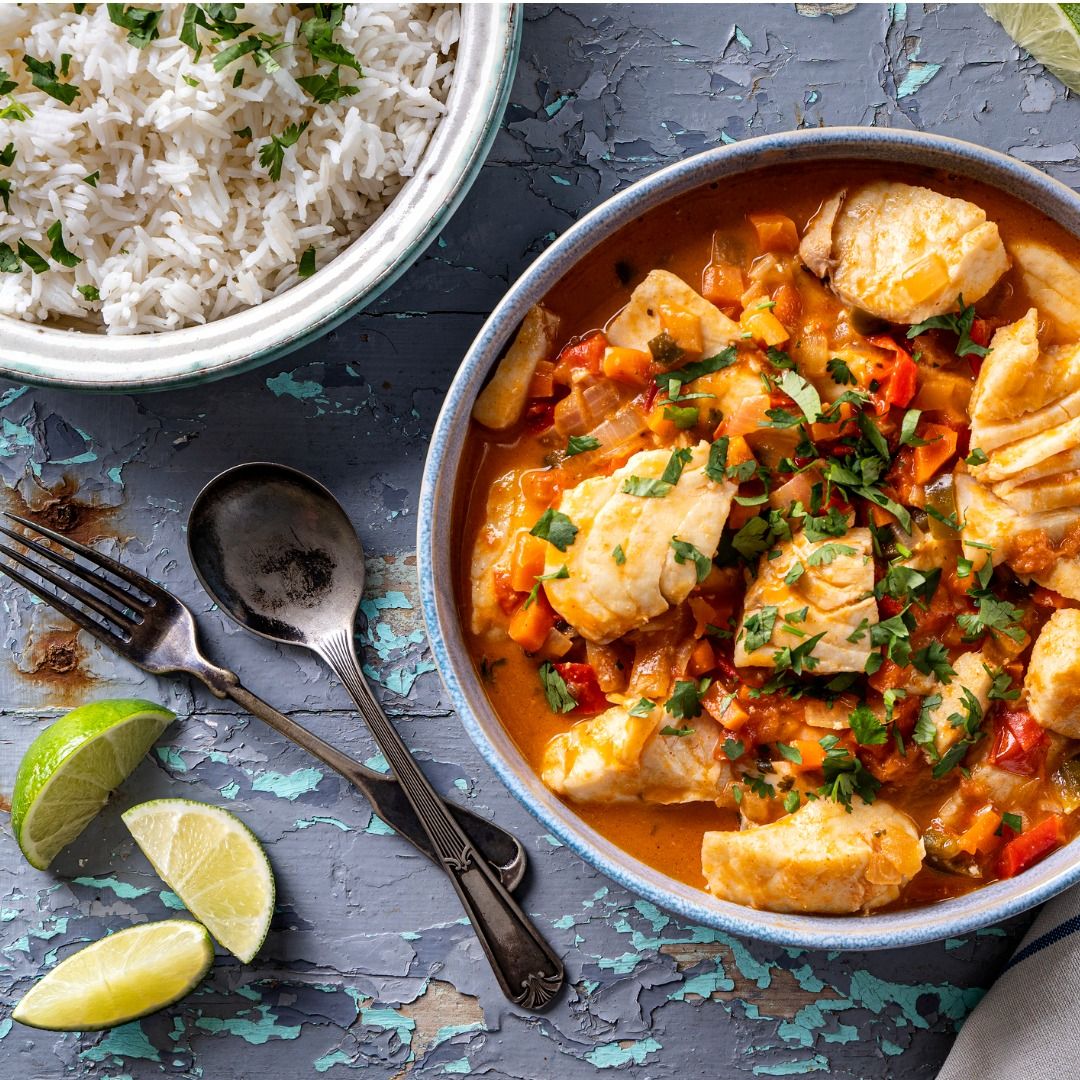 Brazilian Fish Stew (Moqueca)
Moqueca (pronounced "mo-KEY-ca") is a traditional Brazilian fish dish that has a fantastic depth of flavour. Similar in taste to a Thai red curry but with a milder flavour it is quick and easy enough to make for a mid-week meal. We have used pink ling but you can use any firm fish to make Moqueca, including salmon, barramundi, trout, bream or trevalla.
How long will it take?
35 minutes
What's the serving size?
Serves 4
---
What do I need?
700 g pink ling fillets
½ tsp salt
¼ tsp freshly ground black pepper
Zest of 1 lime
1 tbsp lime juice
3 tbsp olive oil
1 small brown onion, finely diced
½ tsp salt
1 cup diced carrot
1 red capsicum, diced
3 cloves garlic, roughly chopped
1 ½ tsp brown sugar
1 ½ tsp cumin powder
1 ½ tsp paprika
1 cup fish or chicken stock
410 g can crushed tomatoes
400 mL can coconut milk
½ cup chopped coriander or parsley
Lime wedges to serve
How do I make it?
Pat fish dry with paper towel and then chop into 5 centimetre pieces. Add fish to a bowl with ½ teaspoon salt, lime zest and juice, and pepper. Mix to combine and coat the fish. Cover and refrigerate for 15 minutes.
Heat 2 tablespoons olive oil in a large frying pan over high heat. Add fish and cook until just cooked through. Remove from pan and set aside.
Reduce heat to medium high and add remaining olive oil to the same frying pan. Add onion and salt and sauté for 2 minutes or until the onion starts to turn translucent, then reduce heat to medium and add carrot, red capsicum, and garlic and cook for 5 minutes, stirring often. Add brown sugar, cumin, paprika, fish stock, tomatoes, and coconut milk and stir. Cover and simmer on medium low heat for 10 minutes.
Return fish to the stew and simmer for 2-3 minutes.
Taste sauce and add additional salt, pepper or lime juice if desired.
Garnish with coriander or parsley and serve with lime wedges.
---
Share this recipe
---
More recipes like this