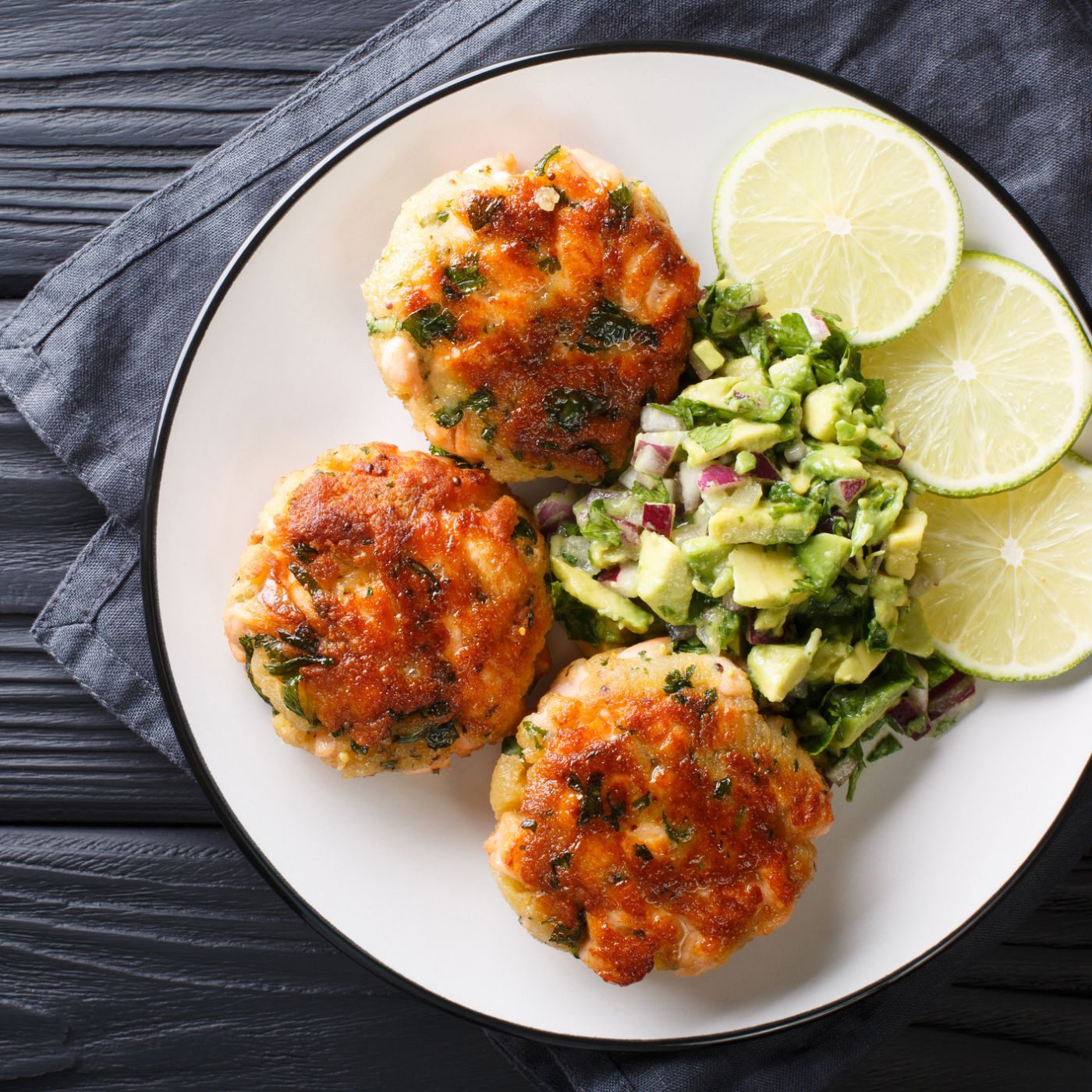 Salmon Fritters with Avocado Salsa
With their crisp, golden exterior and deliciously tasty interior, these fritters are the perfect family dinner.
How long will it take?
30 minutes
What's the serving size?
Serves 4
---
What do I need?
1 cup breadcrumbs
1 small brown onion, grated
1 clove garlic, minced
2 spring onions, finely sliced
1/3 cup dill, roughly chopped
2 eggs
½ cup grated parmesan
Salt, to taste
Freshly ground black pepper, to taste
400 g cooked salmon, or use 400 g tinned salmon in springwater, drained
3 tbsp vegetable oil, divided
For the avocado salsa
3 avocados, diced
1 small red onion, finely diced
½ cup chopped coriander leaves
1 chilli, deseeded and finely diced (optional)
Juice of 1 ½ limes
How do I make it?
Preheat oven to 220C.
Place breadcrumbs in a bowl with onion and mix well. Add garlic, spring onions, dill, eggs, parmesan, salt and pepper, and mix.
If using cooked salmon, flake the salmon into the mixture and fold through gently to retain some chunks. If using canned salmon, fold through mixture.
Use a large spoon or ¼ cup measuring cup to scoop out mixture and shape into round fritters.
Pour 2 tbsp vegetable oil onto a baking tray and place in the oven for 1 -2 minutes or until the oil is hot. Arrange fritters on the tray and brush the tops with reserved oil. Cook for 15 minutes, then flip and cook for a further 5 minutes.
Meanwhile make the avocado salsa by combining all ingredients in a large bowl. Toss and season to taste.
Serve fritters with salsa and lime.
---
Share this recipe
---
More recipes like this