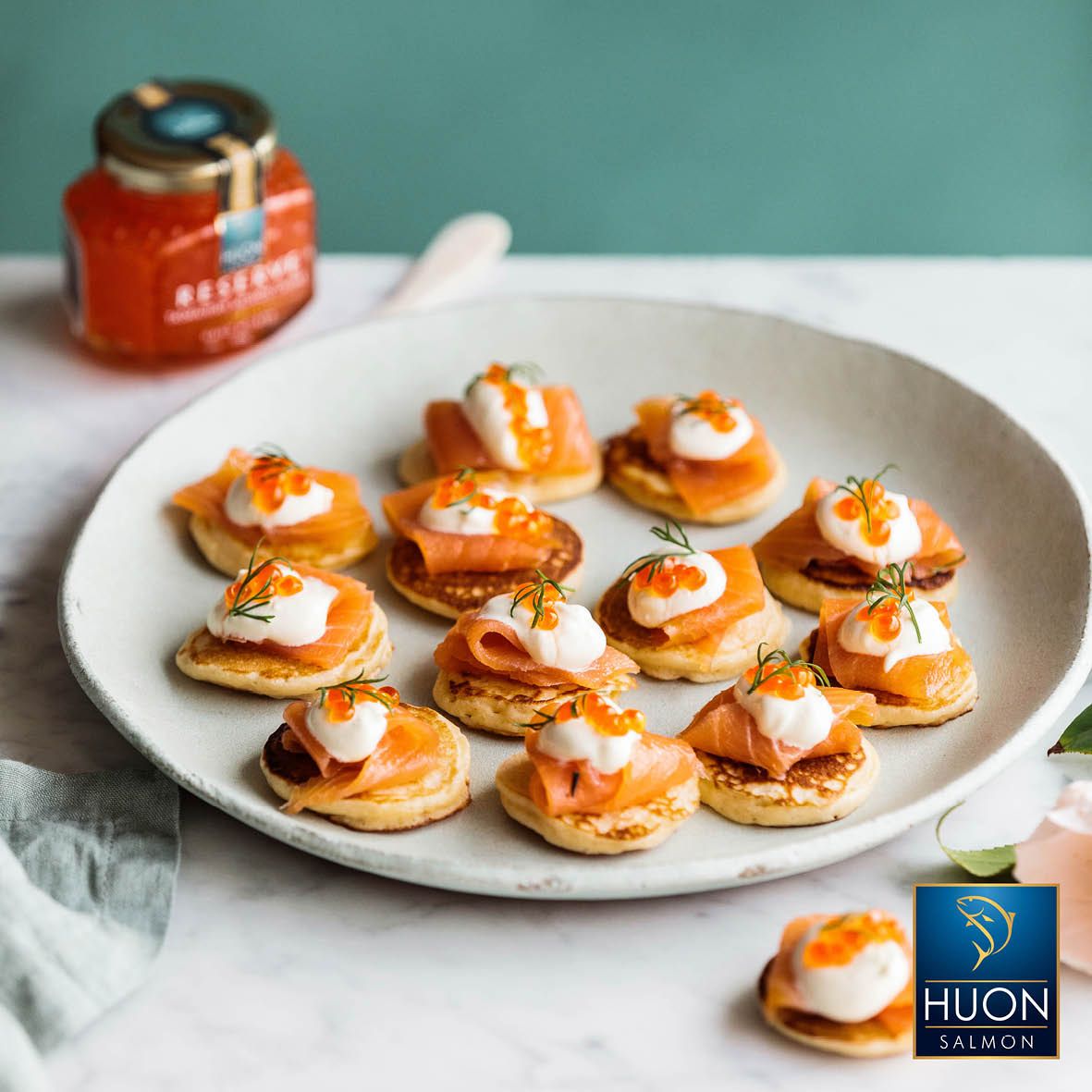 Mini Buckwheat Blini
These blinis will have your guests requesting a weekly dinner party invite – they are that good!
How long will it take?
35 minutes
What's the serving size?
Makes 40 to 45
---
What do I need?
7 gm dried yeast (1 sachet)
150ml lukewarm milk
2 tsp sugar
70g plain flour
50g buckwheat flour
2 eggs, separated
40g butter, melted and cooled, plus a little extra for cooking
For the toppings
Huon cold smoked salmon
Crème fraiche
Fresh dill
How do I make it?
In a large bowl, stir the yeast into the warm milk, then mix in the sugar, flours, egg yolks and a large pinch of salt.
Gently stir to make a smooth, thick batter. Cover with a damp tea towel and set aside in a warm place to prove for 30 minutes. The batter should be foamy and thick. Stir through the melted butter.
In a clean bowl, whisk egg whites with a pinch of salt until soft peaks form then, gently fold into the batter.
Brush a non-stick frying pan with a little of the extra butter and heat over medium heat. Add heaped teaspoon sized dollops of batter in the pan, trying to make them as even as possible and being careful not to overcrowd the pan. Cook until bubbles form on the surface (2-3 minutes) and the batter begins to set around the edges.
Flip and cook until golden, another 2 – 3 minutes, then transfer to a wire rack to cool. You can overlap the blini but don't stack them. Repeat with remaining batter.
Top with crème fraiche then Huon Smoked Salmon and a little fresh sprig of dill to garnish.
Blini are best eaten on the day of making.
Recipe from Huon Salmon
---
Share this recipe
---
More recipes like this