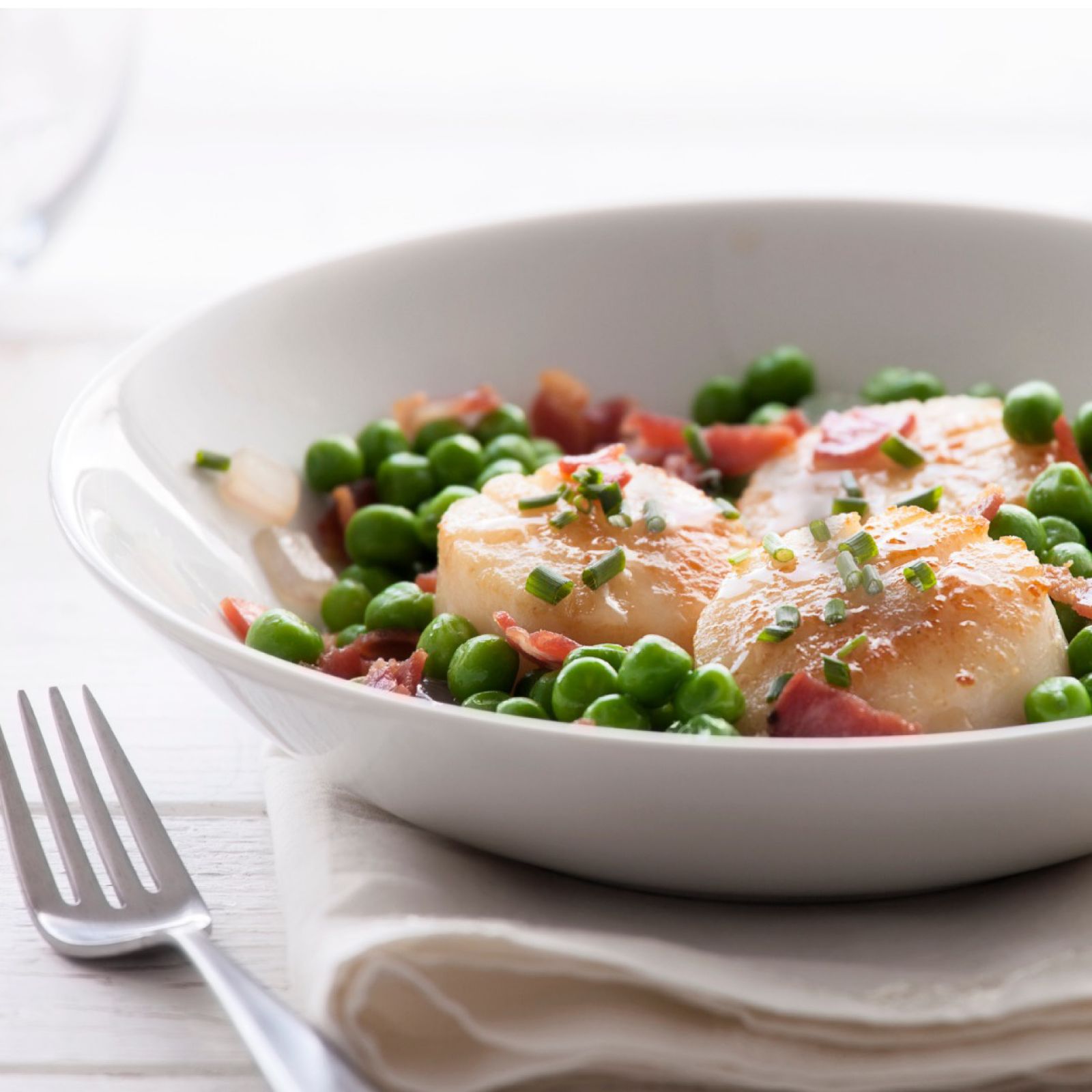 Seared scallops with mint, peas and bacon
Buttery scallops and smoky bacon are balanced by sweet peas and mint in this dish. All you need is two pans, a handful of ingredients, and 22 minutes to pull it off.
How long will it take?
22 minutes
What's the serving size?
Serves 4
---
What do I need?
700g scallops
Salt
Freshly ground black pepper
85g bacon, cut into 1cm strips
2 cups fresh or frozen peas
1 medium shallot, coarsely chopped
1 ½ tsp lemon juice
1 tbsp olive oil
3 tbsp fresh mint leaves, coarsely chopped, divided
How do I make it?
Pat scallops dry with paper towel and season on both sides with salt and pepper.
Bring 1 cup water to the boil in a small saucepan. Add peas and ½ tsp salt and cook until the peas are bright green and tender, about 2 minutes for fresh and 4 minutes for frozen. Drain the peas through a strainer and reserve the cooking liquid.
Meanwhile, add bacon to a large frying pan and heat over medium-high. Cook bacon, stirring occasionally, until fat starts to render, about 3 minutes. Add shallot and cook, stirring, until softened and lightly browned. When the bacon is crisp use a slotted spoon to transfer the bacon and shallot to a small bowl. Add ½ cup of cooked peas to the bacon mixture.
Puree lemon juice, 1/8 tsp salt, 1/8 tsp pepper and the remaining peas with ½ cup of the reserved pea cooking liquid in a blender. Add in olive oil and puree until smooth. Add 2 tspb mint leaves and puree until just combined but pieces of mint are still visible. Divide the pea puree among 4 plates.
Heat frying pan until it is nearly smoking with the fat from the bacon that remains in the pan. Working in batches and adding more oil if needed, sear scallops until a golden brown crust has formed, about 2 ½ minutes per side. Top pea puree with scallops and the bacon-pea mixture then sprinkle with remaining mint.
Recipe from epicurious.com
---
Share this recipe
---
More recipes like this