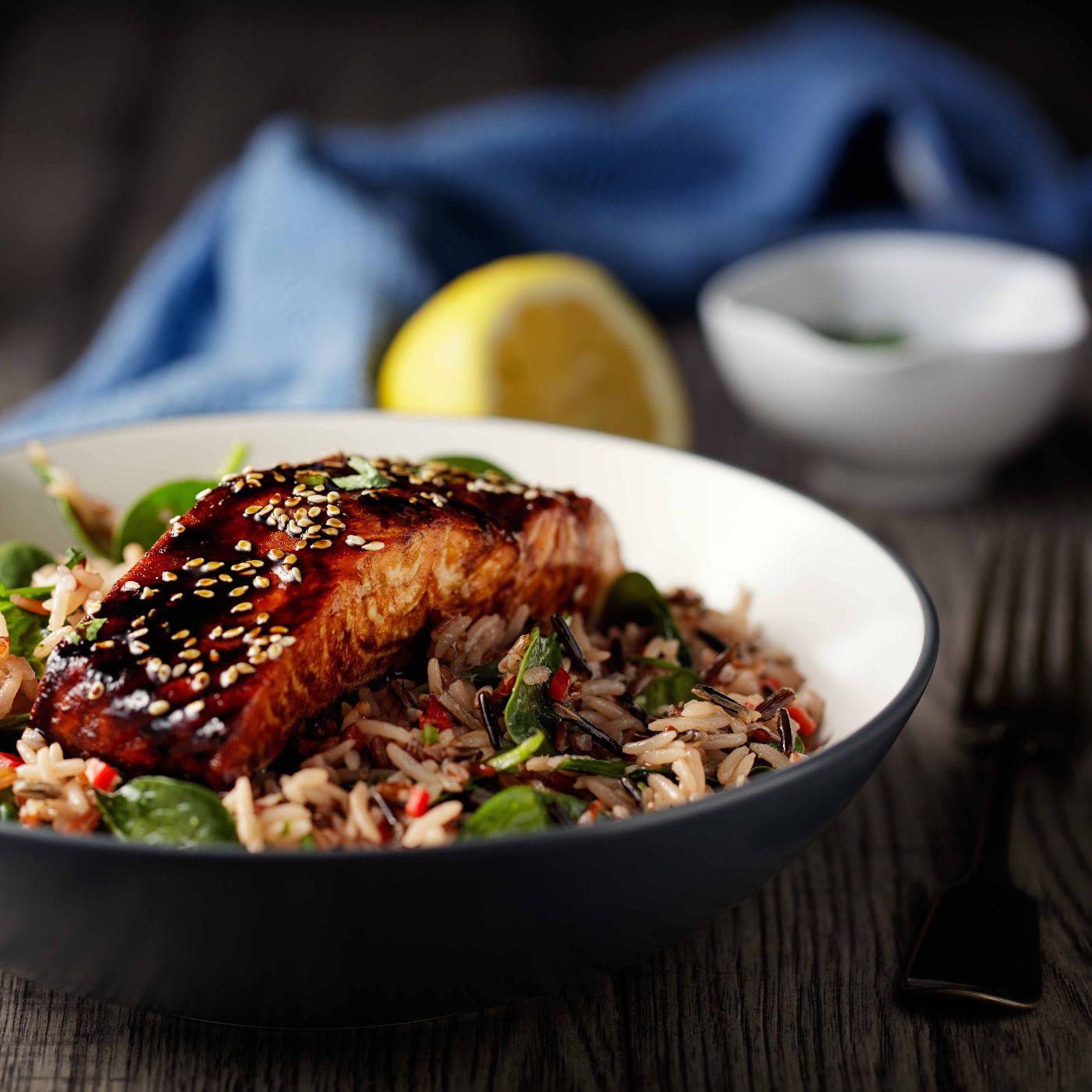 Rice Salad with Teriyaki Salmon
Heading into the warmer months, we're always on the lookout for fresh and flavourful meals that the whole family will enjoy, and this salmon definitely fits the bill. The cold rice salad has flavour, texture and is the perfect choice to compliment the teriyaki salmon.
How long will it take?
45 minutes, plus marinating time
What's the serving size?
4
---
What do I need?
For the Salad
¾ cup medium grain rice, rinsed
¼ cup black rice, rinsed
2 ¾ cups water
1 tsp salt
½ tsp orange zest
¼ cup freshly squeezed orange juice
1 ¼ tbsp olive oil
2 tbsp apple cider vinegar
1 ¼ tbsp runny honey
½ tsp Dijon mustard
Pinch of freshly ground black pepper
1/3 cup toasted pecans, roughly chopped
¼ cup roasted and salted pepita seeds
½ apple, peeled, cored and finely diced
1 red chilli, deseeded and finely diced
100 g baby spinach leaves
For the Salmon
2 cm piece of fresh ginger, finely sliced
2 garlic cloves, peeled and finely sliced
3 tbsp soy sauce
2 tbsp maple syrup
1 tbsp mirin
Olive oil
4 salmon fillets (about 500 g in total)
Sea salt and freshly ground black pepper
How do I make it?
Add both rices and water to a saucepan with salt. Bring to a boil, then reduce heat to low, cover and simmer until the rice is tender. Drain rice and set aside to cool.
Whisk orange zest and juice, olive oil, apple cider vinegar, honey, Dijon mustard and black pepper together in a large bowl. Add cooled rice, pecans, pepita seeds, apple, chilli and spinach and toss to combine. Set aside in the fridge while you prepare the salmon.
Add ginger and garlic to a bowl and mix with soy sauce, maple syrup, mirin and a drizzle of olive oil.
Place salmon in a dish, season with salt and pepper and pour the soy sauce mixture over them. Cover with cling film and set aside in the fridge to marinate for up to 2 hours, but at least 20 minutes.
Place a large frying pan over medium heat and add a dash of olive oil. When hot, add the salmon, skin-side down, reserving the marinade. Cook for 2 minutes, then pour in the reserved marinade and cook for a further minute or so, until the salmon fillets are opaque halfway up the sides. Turn them over and cook on the other side for 3-4 minutes, basting with the sauce so tha the salmon is well coated. Add a splash of water if the sauce is too thick.
Serve salmon fillets on the Rice Salad and spoon any teriyaki sauce left in the pan over the salmon.
---
Share this recipe
---
More recipes like this