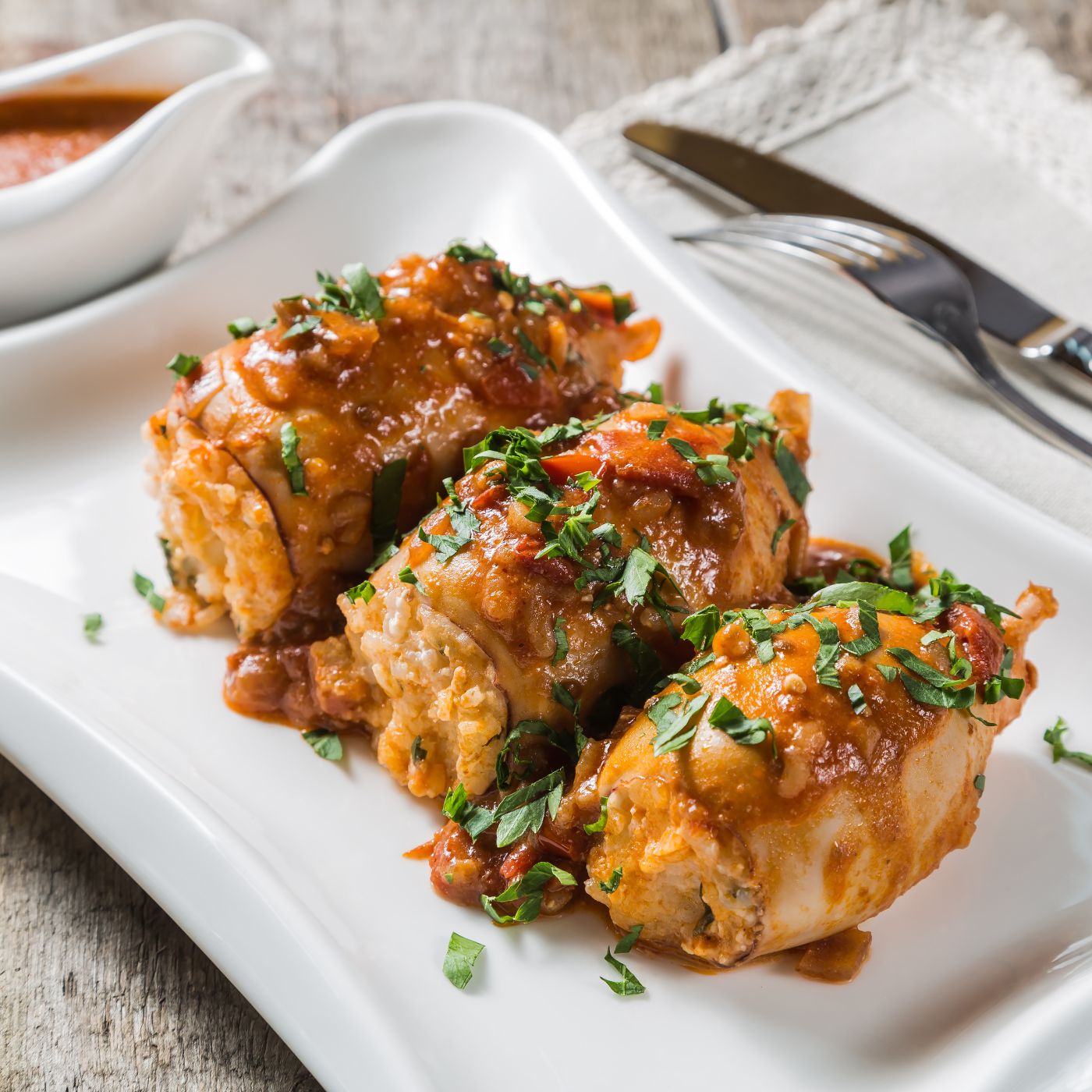 Greek Baked Squid
Irresistibly delicious rice, olives, herbs, and feta cheese are packed inside squid tubes and baked in a tomato sauce.
How long will it take?
1 ½ hours
What's the serving size?
Serves 4
---
What do I need?
225 mL olive oil, divided
1 brown onion, finely diced
1 cup grated carrot
1 tomato, finely diced
½ cup dill, chopped
½ cup flat leaf parsley, chopped
½ tbsp dried oregano
1 cup medium grain rice
½ cup white wine
1 ¼ cups passata, divided
1 tsp salt
½ tsp freshly ground black pepper
1 tbsp finely grated lemon zest
150 g feta, crumbled
½ cup pitted kalamata olives, chopped
1 kg squid tubes
½ cup water
How do I make it?
Heat 125 mL olive oil in a large saucepan over medium heat. Add onion and cook until soft, then add carrots and cook for a further 2 minutes. Add tomato, dill, parsley, and oregano and cook, stirring frequently for 2 minutes.
Add rice to saucepan and stir well to coat, then add wine and ½ cup of passata, and stir. Toss in salt, pepper, and lemon zest, and cook for 5 minutes. Remove from heat and set aside to cool slightly.
Preheat oven to 190C. Grease the bottom of an ovenproof dish with 20 mL olive oil.
Add feta and olives into the rice mixture and stir to combine.
Use a spoon to fill each squid tube about halfway with the rice mixture, then use a toothpick to close the tube. Repeat for remaining squid tubes and rice mixture, then arrange stuffed squid in the ovenproof dish.
Combine remaining passata with water and 80 mL olive oil in a small bowl and pour over the squid. Cover loosely with aluminium foil, and bake for 30 minutes, then remove foil and cook for a further 15 minutes, adding more water to the pan if needed.
Serve squid drizzled with sauce from the pan.
---
Share this recipe
---
More recipes like this