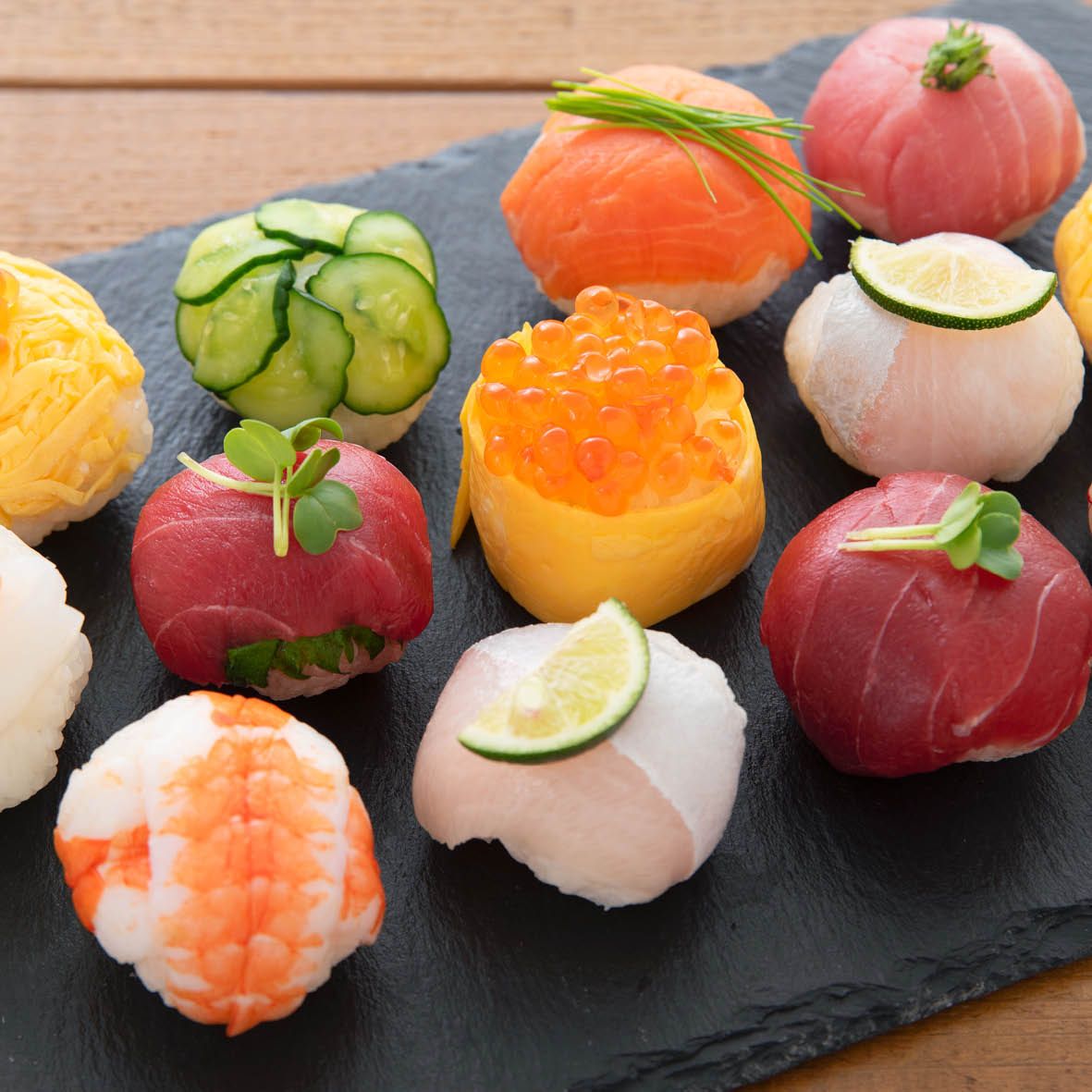 Temari Sushi
Round balls of sushi rice are the blank canvas for your creativity with this Temari Sushi. Decorate them with your choice of ingredients to create colourful and fun party bites.
How long will it take?
1 hour
What's the serving size?
Makes about 18 balls
---
What do I need?
4 cups sushi rice
Water
½ cup rice wine vinegar
½ cup sugar
Pinch of salt
For the toppings
Avocado
Smoked salmon
Sushi grade salmon
Sushi grade tuna
Prawns
Radish
Cucumber
Chives
Caviar
Nori
Egg
How do I make it?
Cook rice according to packet directions.
While rice is cooking heat vinegar, salt and sugar in a saucepan until sugar and salt have dissolved.
When rice is cooked transfer it to a large bowl and immediately pour vinegar mixture over the top. Mix and then cover while it cools to prevent drying out.
To assemble Temari Sushi lay a piece of clingfilm on work surface. Add about 2 tablespoons of rice to the centre. Draw the ends of the clingfilm together and twist to form a ball.
Open up the clingfilm, remove the rice ball and place it on a plate or serving platter. Cover with a damp tea towel and repeat with remaining rice.
When all balls are made, it's time to decorate them using toppings of your choice. For flat ingredients like smoked salmon or radish slices, lay the topping on the rice, then cover with clingfilm and twist to close. This will help the toppings stick to the rice.
Refrigerate, covered for up to 1 hour before serving.
TOP TIPS
- Use cookie cutters to make fun shapes to decorate your sushi
- Temari Sushi is best eaten the day it is made.
- Refrigerating for longer than 1 hour may alter the texture of the rice, making it hard, so it is best to prepare the sushi as close to serving time as possible.
---
Share this recipe
---
More recipes like this