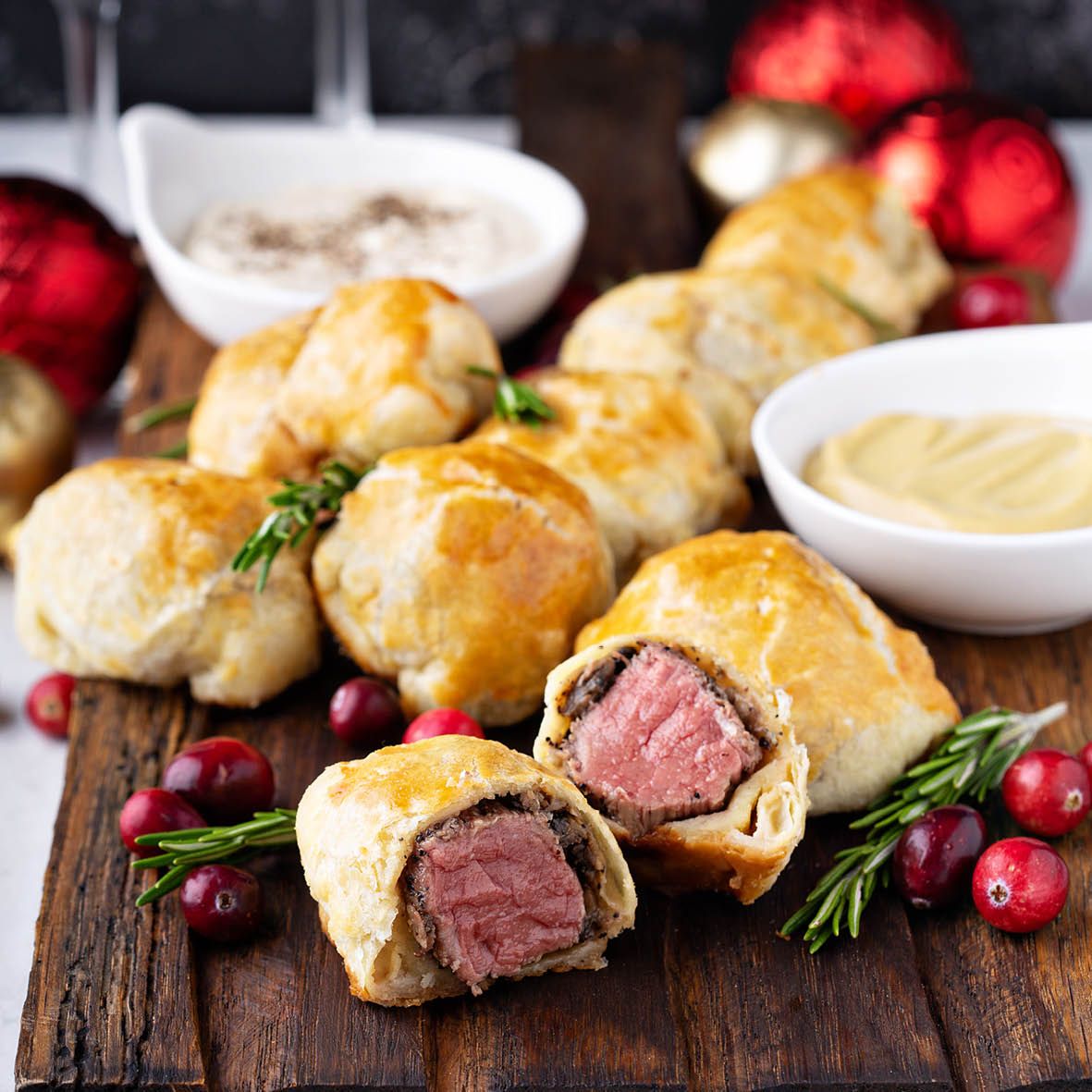 Beef Wellington Bites with Horseradish Cream Dipping Sauce
Delightful bites of tender beef and a moreish mushroom filling encased in buttery puff pastry.
How long will it take?
1 hour
What's the serving size?
Makes approximately 24 pieces
---
What do I need?
700 g beef tenderloin
½ tsp salt
¼ tsp freshly ground black pepper
1 tbsp olive oil
4 sheets frozen puff pastry, defrosted
¼ cup Dijon mustard
1 egg, lightly beaten
For the filling
1 tbsp butter
2 shallots, very finely diced
200 g button mushrooms, very finely diced
1 tbsp Worcestershire sauce
For the Horseradish Cream
1 cup sour cream
¼ cup mayonnaise
3 tbsp horseradish
2 tbsp apple cider vinegar
½ tbsp Dijon mustard
How do I make it?
Line two baking trays with baking paper.
Cut beef into 3 centimetre cubes and season with salt and pepper. Heat olive oil in a large frying pan over medium heat. Add beef to the pan and sear on all sides, about 1 minute. Transfer beef to a plate lined with paper towel.
In the same frying pan, melt butter over medium heat. Add shallots and mushrooms and sauté until tender. Pour in Worcestershire sauce and stir to combine. Cook for a further minute then remove from heat.
Lay pastry out and cut each sheet into 6 pieces. Spread mustard into the centre of each square of pastry, then top with mushroom mixture and a piece of beef. Fold pastry edges together over the beef, pressing together to seal the pastry. Place on a baking tray and brush with egg wash.
Bake for 10 – 15 minutes or until the pastry is golden-brown and puffed.
Combine all Horseradish Cream ingredients together in a bowl and serve with the bites as a dipping sauce.
TOP TIPS
Don't overcrowd the frying pan when cooking the beef or it will stew and become tough. Instead, work in batches and transfer cooked pieces to a paper-towel lined plate.
There is no need to wipe out the frying pan after cooking the beef. Any residual juices will add extra flavour to the filling.
Ensure that the beef and the filling have cooled to room temperature before adding to the pastry.
---
Share this recipe
---
More recipes like this