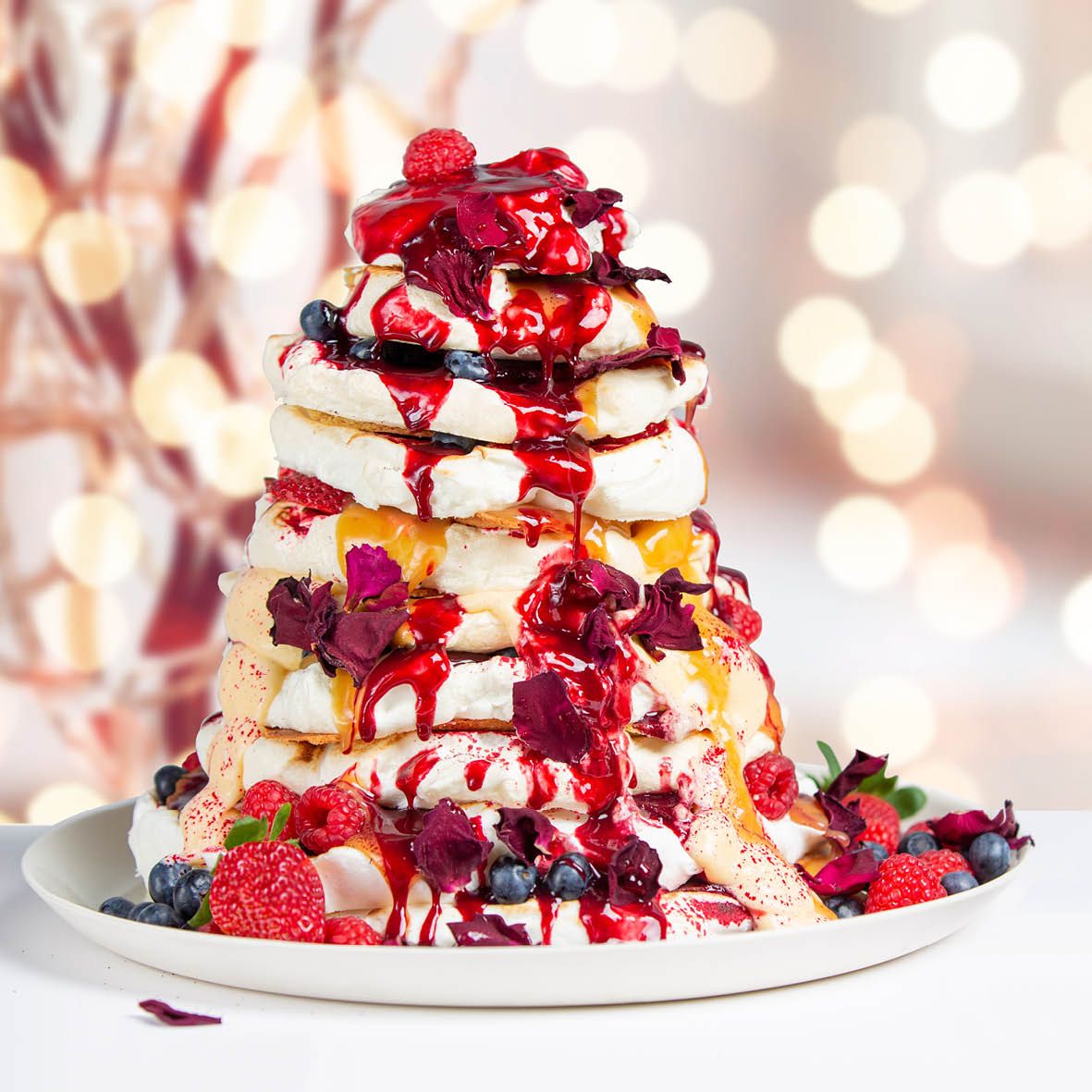 Celebration Pavlova Tower
A pavlova is almost mandatory for at Tassie Christmas and this recipe created by our Chef Rick will leave a lasting impression on your guests. Layers of pavlova and crispy wafer biscuit are sandwiched with crème patisserie and drizzled in Island Berries Salted Caramel Sauce and Raspberry Coulis and decorated with fresh Tasmanian berries for the ultimate Christmas dessert.
How long will it take?
2 hours
What's the serving size?
Serves 25
---
What do I need?
For the pavlova
24 egg whites (1 litre)
6 cups caster sugar
4 tbsp cornflour
6 tsp white vinegar
Colour powder/dark cocoa/dehydrated berries (optional)
For the wafer biscuits
8 egg whites
300g caster sugar
200g plain flour
200g unsalted butter, melted and cooled to room temperature
200g flaked almonds
For the Crème Patisserie
8 egg yolks
120g caster sugar
50g plain flour
4 tsp cornflour
560ml milk
Vanilla bean or essence (optional)
For Serving
Island Berries Salted Caramel Sauce
Island Berries Raspberry Coulis
Fresh berries of your choice
How do I make it?
To make the pavlova
Preheat oven to 100C. Place the egg whites in the bowl of an electric mixer and whisk on high speed until soft peaks form. Add sugar, 1 tablespoon at a time, whisking until each addition is dissolved before adding more.
When all the sugar has been added, scrape down the sides of the bowl and whisk for a further 10-15 minutes or until the mixture is thick and glossy. Place the cornflour and vinegar in a small bowl and mix until smooth. Add the cornflour mixture to the egg white mixture and whisk for 30 seconds or until well combined.
Spoon the mixture onto trays lined with silicone or baking paper. Use a spatula to shape the mixture into circles ranging from 20cm diameter down to 3-4cm diameter. Ideally you should have 6-7 circular meringues. Cook in oven for 90 minutes.
To make the wafer biscuits
Preheat oven to 190C. Line a baking tray with baking paper.
Combine egg whites and caster sugar in a bowl. Add flour and butter and stir with a wooden soon. Stir in almonds.
Using 2 tablespoons to spoon the batter, spread 5 or 6 circles on the tray, varying sizes to match your meringue sizes. Bake for 5 minutes or until lightly brown.
To make the crème patisserie
Beat egg yolks and sugar for a few minutes until pale and slightly thickened. Whisk in the flours. Heat the milk in a saucepan until starting to boil. Whisk the milk into the egg mix.
Put the whole lot back into the pan, stirring all the time until thick and simmering.
To assemble
On a large sturdy platter layer the meringue, crème patisserie, and wafer starting with the largest circle of each and working up to the smallest. Ideally this dessert should be assembled immediately before serving.
Drizzle with salted caramel and raspberry coulis and decorate with fresh berries.
---
Share this recipe
---
More recipes like this