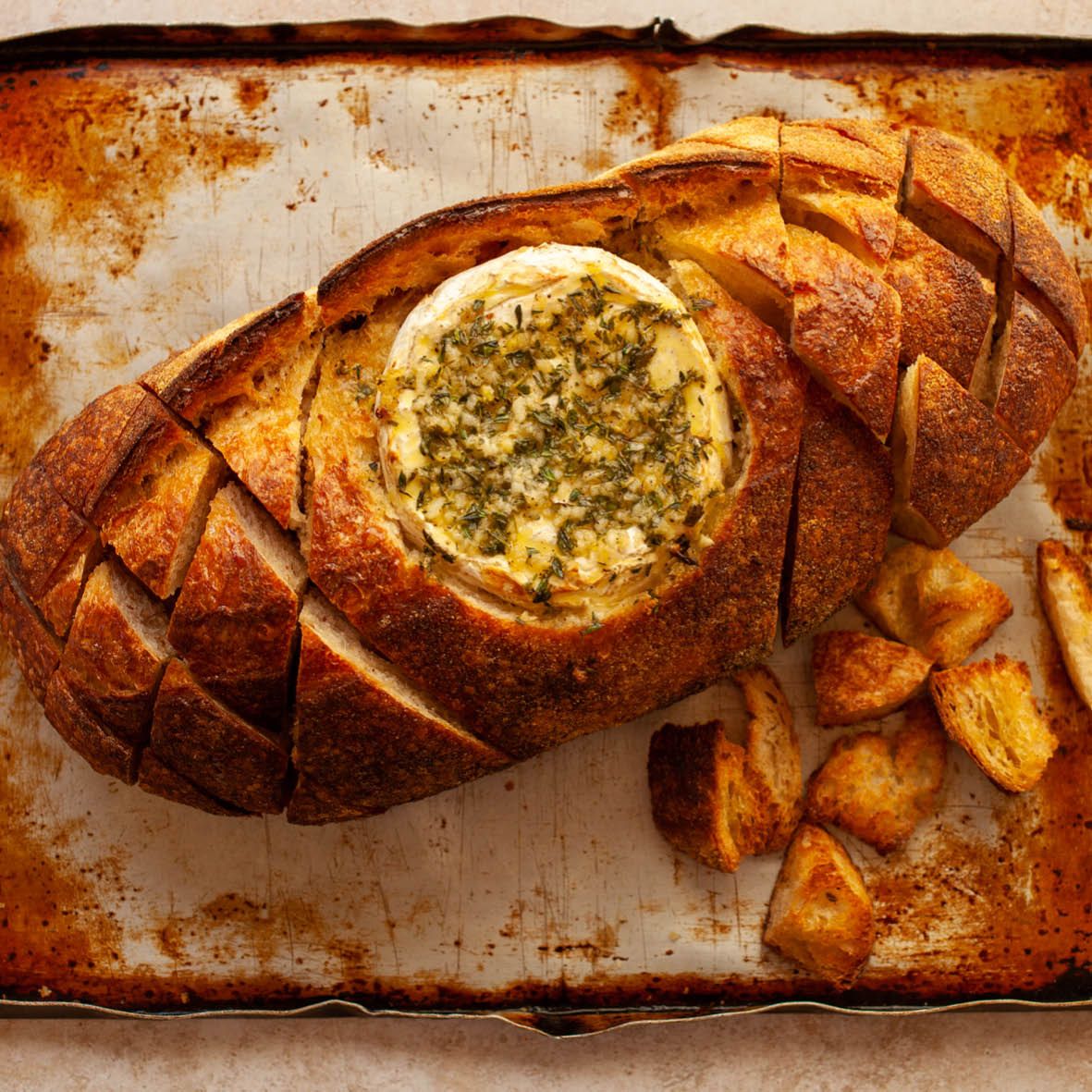 Cheat's Fondue
Going out for drinks is so 2019! Instead, why not have a virtual drinks and nibbles session with friends via Skype, Zoom or Facetime. To make the party at home even more enjoyable, we've created this cheesy Cheat's Fondue, that will be the perfect accompaniment to a glass of wine. The sourdough bread creates the perfect bowl to nestle the creamy brie and you can tear off pieces to dip into the cheese.
How long will it take?
30 minutes
What's the serving size?
Serves 4
---
What do I need?
1 sourdough loaf. You can use other bread but make sure it is a loaf with a firm texture and a nice crust.
250g Mon Pere brie
2 cloves garlic, minced
1 tbsp fresh thyme leaves, finely chopped
2 tbsp white wine
3 tbsp olive oil
2 tsp honey
Salt and pepper
How do I make it?
Preheat oven to 180C.
In a bowl mix garlic, thyme, 2 tbsp olive oil and wine and season with salt and pepper. Set aside.
Cut a hole in the top of the bread just deep enough to fit the brie. Reserve the bread that you cut from the hole for later.
Place the brie in the hole and gently pour the garlic and thyme mix over the cheese in the hole.
Using a serrated knife cut the remainder of the loaf in a criss-cross pattern, ensuring you don't cut all the way through.
Place the loaf on a lined baking tray and drizzle with honey.
Cut the reserved bread into crouton-sized chunks and add to the baking tray and drizzle with remaining olive oil.
Bake in the oven for about 20 minutes or until the cheese is melted and the bread is golden. Serve with the extra croutons and pull scored pieces from the loaf to dip into the cheese.
---
Share this recipe
---
More recipes like this