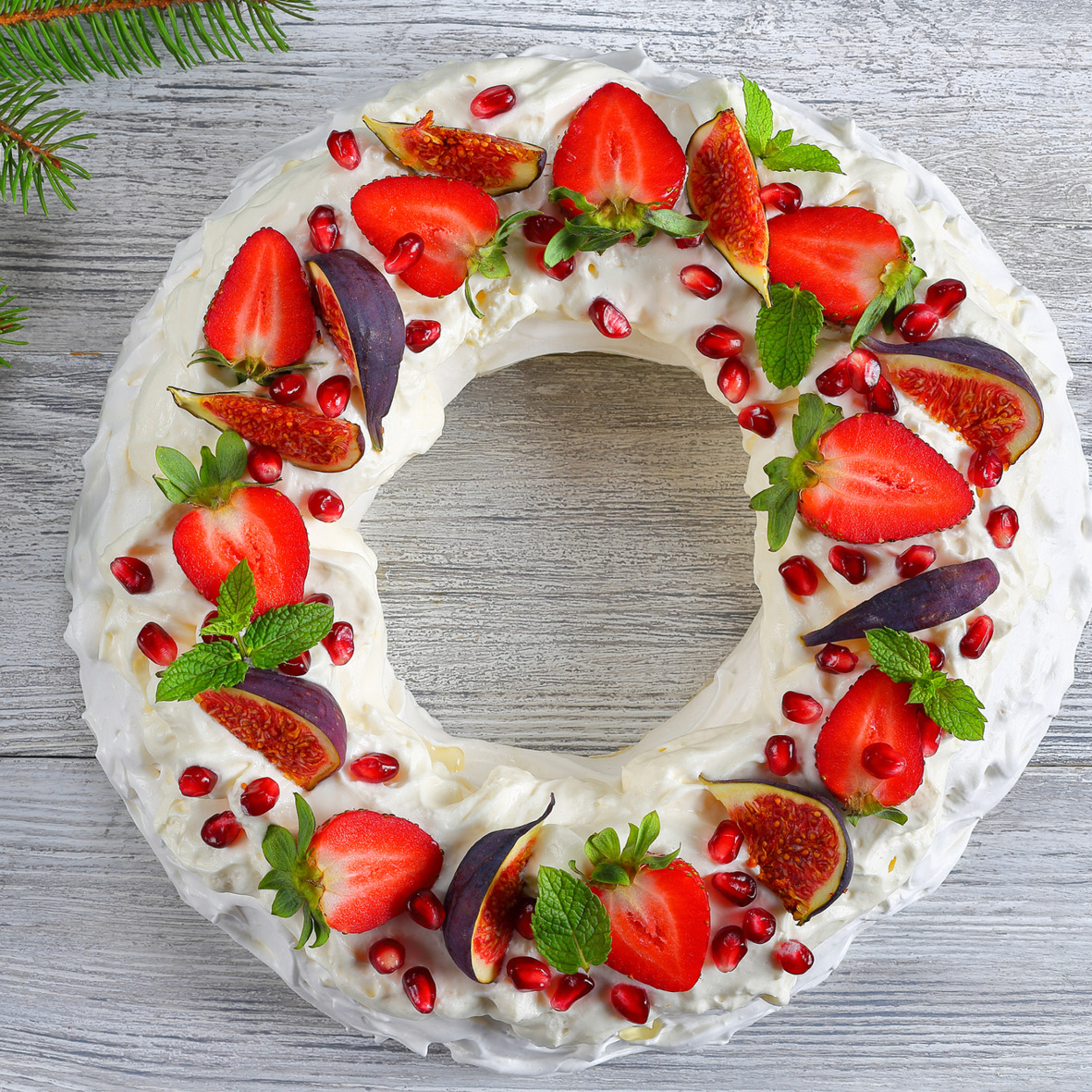 Festive pavlova wreath
Undoubtedly the most delicious Christmas wreath you'll ever see. This will look a treat on your Christmas table and is simple to make. Decorate with seasonal fruit for a truly festive treat. This will keep undecorated in an airtight container for up to 3 days as long as it is not too humid. Undecorated pavlova should not be put in the fridge or it will become soft. Decorated pavlova should be kept in the fridge.
How long will it take?
2 ½ hours plus cooling time
What's the serving size?
Serve 10
---
What do I need?
5 egg whites, room temperature
A pinch of salt
1¼ cup caster sugar
2 teaspoons cornflour
1 teaspoon white vinegar
300ml heavy cream
Seasonal fruit to serve
How do I make it?
Preheat the oven to 120°C.
Place some baking paper on an oven tray and using a pencil, draw a 24cm circle in the middle of it, and a smaller 12cm inside the large circle. This will give you the guidelines for your wreath. Turn the baking paper over so the drawn circle is underneath, but still visible.
Place the egg whites in the bowl of your electric mixer with the pinch of salt and beat the egg whites on moderate speed until they start to hold stiff peaks. A little at a time, add the sugar and keep beating on high until the mixture is stiff and glossy. Sift in the cornflour and add the vinegar and fold with a large metal spoon until combined.
Using a large spoon, dollop the mixture onto the baking paper in large dollops between the drawn circles to make a wreath shape. Slightly level the top so that it creates a good surface to add the cream later on.
Bake in oven for 2 hours. It is important that you don't open the oven while the pavlova is cooking.
Turn the oven off and let the pavlova cool completely in the oven, oven door closed, for several hours, or overnight.
Transfer the pavlova to a serving plate.
Whip the cream and spread over the pavlova.
Top with seasonal fruit of your choice and serve immediately.
---
Share this recipe
---
More recipes like this