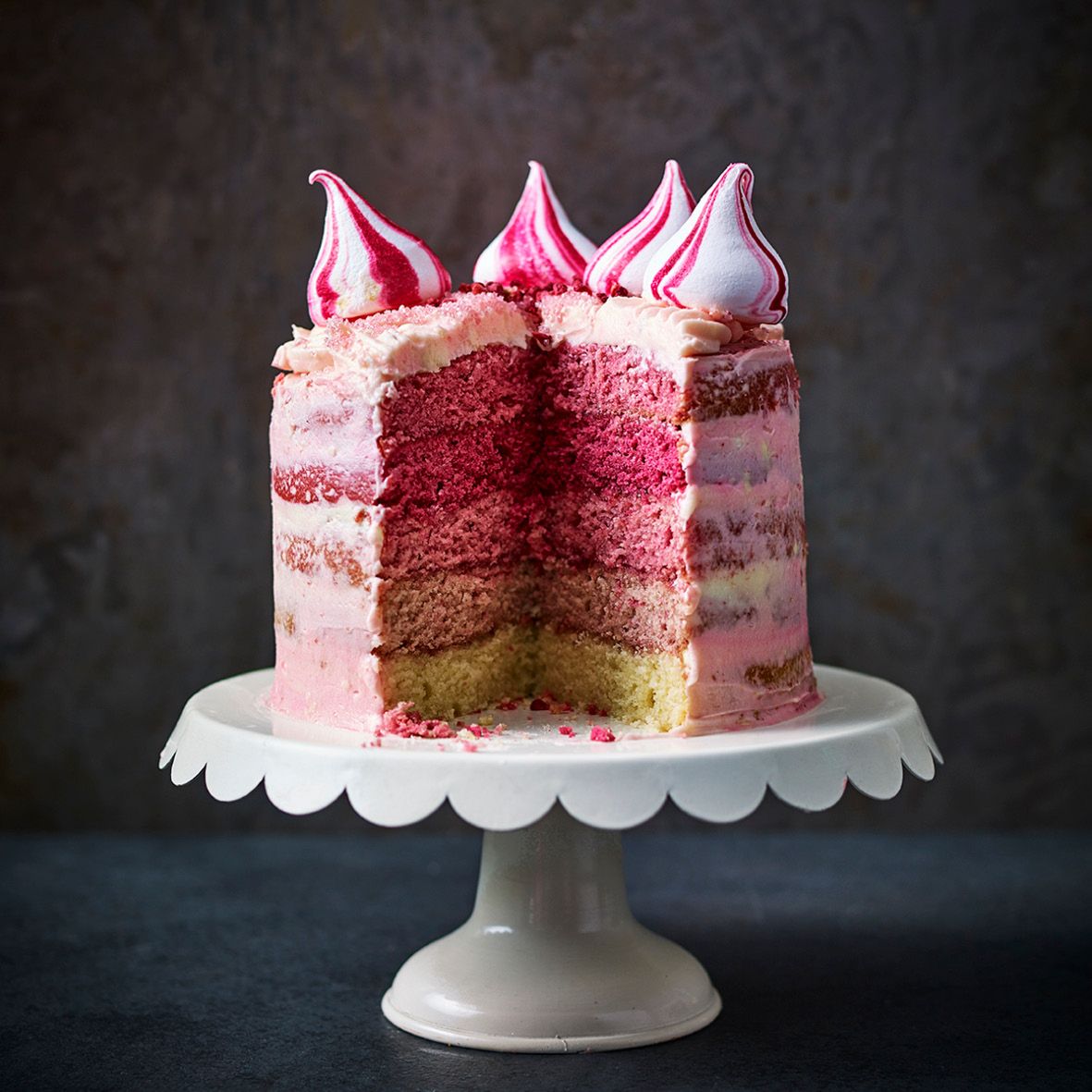 Mother's Day ombre cake
Treat your mum this Mother's Day with this Ombre Cake, topped with raspberry ripple meringue kisses. It makes the perfect centrepiece for a Mother's Day afternoon tea celebration.
How long will it take?
1 ½ hours
What's the serving size?
Serves 12
---
What do I need?
5 large eggs
300g butter
300g caster sugar
300g self-raising flour
Finely grated zest of 1 lemon
Pink and red food colouring
5 x 15cm cake tins
For the filling and frosting
5 tbsp raspberry jam
300g icing sugar
125g cream cheese
Pink food colouring
For the meringue kisses
2 egg whites
100g caster sugar
½ tsp cornflour
½ tsp white vinegar
Red or pink food colouring
How do I make it?
Grease and line the base of the cake tins. Heat the oven to 180°C.
Put the margarine, sugar, eggs and flour in the bowl of an electric blender with the lemon zest and juice. Mix together for a few minutes until smooth.
Take five bowls and evenly divide the mixture between them (to get an even looking cake, weigh each bowl of mixture). Keep 1 bowl uncoloured. Add a drop of pink colouring to one bowl and an increasing amount of pink colouring to each bowl, adding a drop of red colouring to the last 2 sponges for a stronger colour. Stir each one to evenly to mix in the colour. Spoon the different cake mixtures into the 5 tins.
Bake for 15 minutes or until a skewer inserted in the centre comes out clean. Remove cakes from tins and cool on a wire rack.
Blend the butter and icing sugar and a drop of pink colouring together in a blender until smooth and well combined, add the cream cheese and pulse for just a few seconds to mix in.
Put the plain cake onto a cake stand, cover with a spoonful of raspberry jam. Repeat with the remaining cakes, so that the darkest colour is on the top.
Spread a thin layer of frosting over the sides of the cake, using a palette knife, so that you can still see the cake layers.
Pipe or spread the rest of the frosting on top of the cake.
To make the raspberry ripple meringue kisses; heat the oven to 100C. Whisk the egg whites in a clean grease-free bowl until stiff peaks form. Gradually whisk in the sugar, just 1tbsp at a time, to make a glossy meringue. Combine the cornflour and vinegar and stir in.
Line a baking tray with baking paper. Use a skewer to mark the inside of a disposable piping bag with lines of pink or red food colouring. Spoon in the meringue and snip off the end of the piping bag. Pipe peaked meringues onto the prepared tray and bake for 1 hour until firm. Turn off heat and leave to cool in the oven.
Decorate top of cake with meringues.
Recipe and image from foodiefelicity
---
Share this recipe
---
More recipes like this