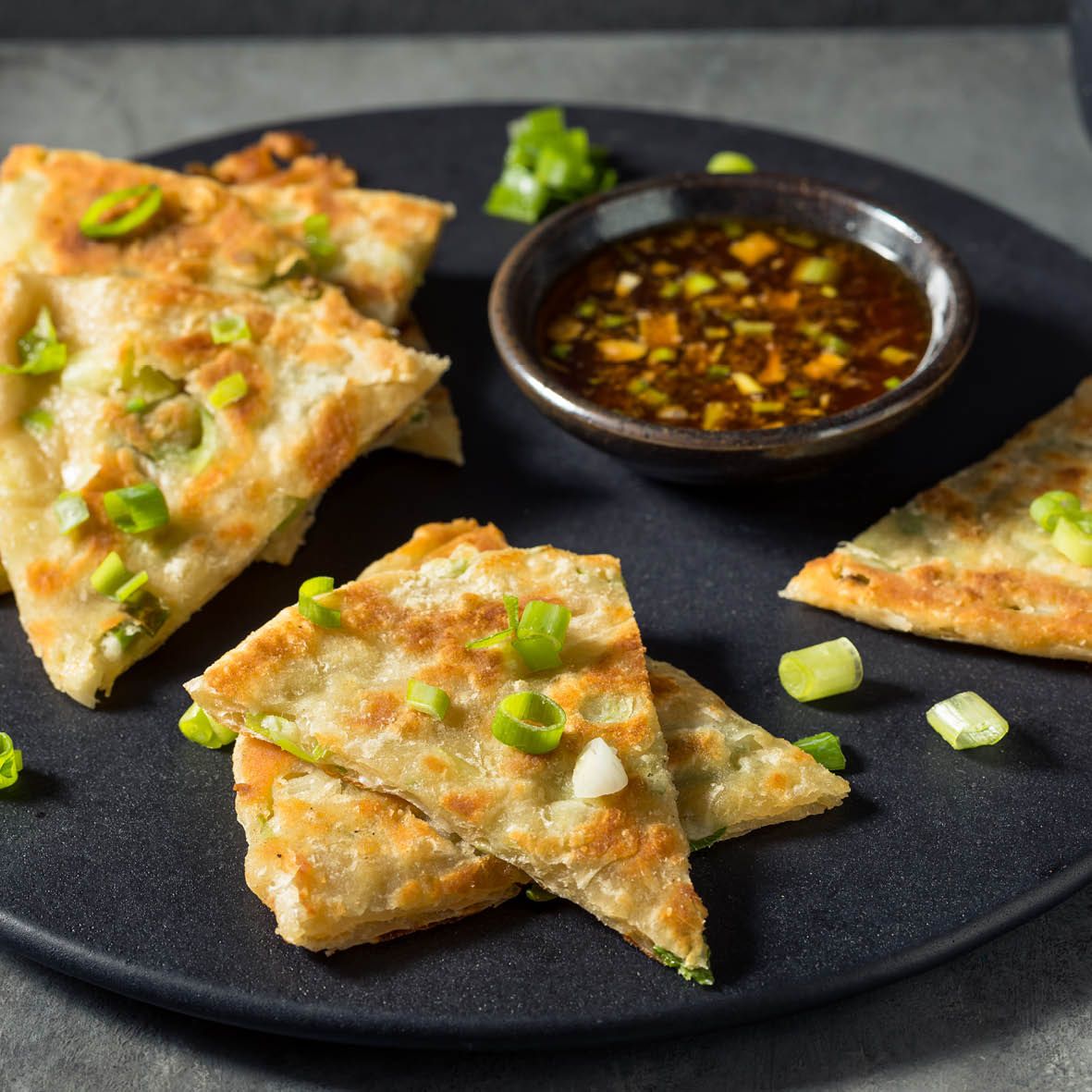 Spring Onion Pancakes
Now here's a party food that will have your guests begging for the recipe. These are crispy, flaky and unashamedly moreish.
How long will it take?
45 minutes
What's the serving size?
Serves 8
---
What do I need?
500 g plain flour
480 mL boiling water
120 mL plus 4 tbsp vegetable oil
4 tbsp sesame oil
200 g thinly sliced spring onions
For the dipping sauce
4 tbsp rice wine vinegar
4 tbsp soy sauce
1 spring onion, thinly sliced
Pinch of chilli flakes
How do I make it?
Add flour and water to a large bowl and mix until a dough forms. Tip dough onto a lightly floured surface and knead until smooth and slightly tacky.
Place dough in a clean bowl and cover with clingfilm. Set aside to rest for 30 minutes.
Meanwhile, mix 4 tablespoons of vegetable oil with the sesame oil and set aside.
Make the dipping sauce by combining all ingredients in a bowl. Set aside.
After resting time, separate the dough into eight balls. Working one ball at a time, roll out into a 20-centimetre round and brush lightly with the oil mixture. Roll tightly and then twist into a spiral. Fold the spiral in half and then roll it out again into a 20-centimetre round. Brush with oil again and add some of the thinly sliced spring onions. Roll again, then twist into a spiral, then roll out again into a 20-centimetre round. Repeat for the remaining dough balls.
Add 15 mL of vegetable oil to a 20-centimetre frying pan over medium-high heat. Add pancake and cook until golden on one side, then flip and cook the other side until golden. Remove from heat and place on a plate or tray lined with paper towel. Season wit salt while still warm. Repeat for remaining pancakes.
To serve, cut pancakes into triangles and serve with dipping sauce.
Tip – These freeze well so you can make them ahead of time and freeze them with baking paper separating them. When ready to serve, simply defrost and then heat in a frying pan.
---
Share this recipe
---
More recipes like this