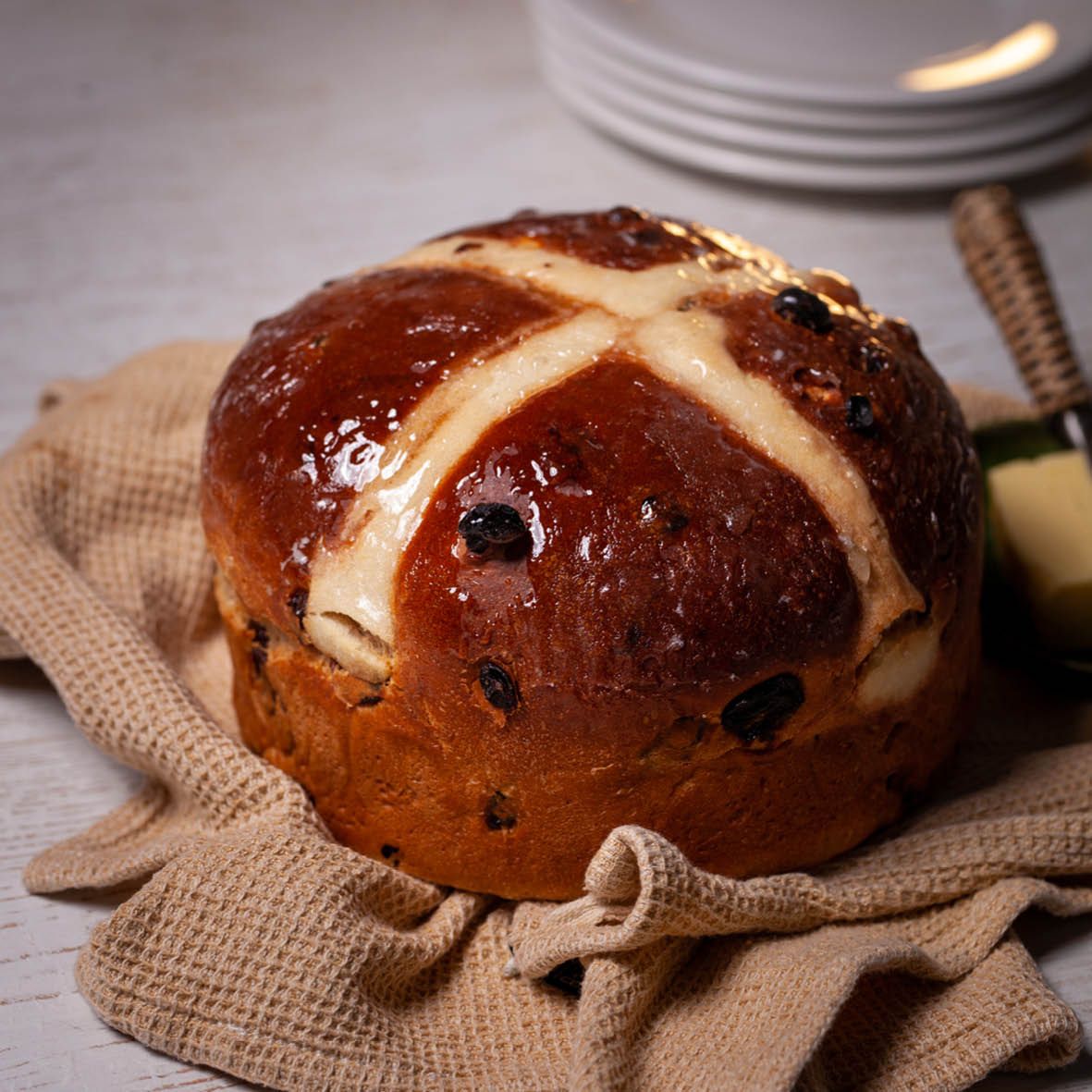 Easter Bread
This gently spiced loaf is a fantastic addition to your Easter menu with the fruity aroma filling your home as it bakes. Enjoy it warm with butter, and toast leftovers for breakfast the next day.
How long will it take?
2 ½ hours
What's the serving size?
Serves 6
---
What do I need?
200 mL milk
1 tsp caster sugar
7 g sachet yeast
400 g baker's flour
2 tsp ground cinnamon
½ tsp ground nutmeg
1 tsp salt
50 g light brown sugar
50 g unsalted butter, melted and cooled
1 egg, lightly beaten
175 g mixed dried fruit
2 tbsp plain flour
4 tbsp cold water, divided
2 tbsp caster sugar
How do I make it?
Heat the milk to lukewarm. Whisk in the caster sugar, yeast and 100g of baker's flour until smooth. Cover and place in a warm spot for 15 minutes, or until bubbles form on the surface.
Grease and line an 18 centimetre round cake tin.
Sift remaining baker's flour, cinnamon, nutmeg, and salt into the bowl of an electric mixer. Add brown sugar, melted butter, egg, and yeast mixture. Using a dough hook attachment, beat for 5 minutes or until the dough is smooth and elastic. Add the dried fruit and beat to combine.
Gently knead the dough on a lightly floured surface to form a ball. Transfer the dough into a clean, greased bowl, cover and place in a warm spot to rise until doubled in size, roughly 1 ½ hours.
Turn the dough out and knead on a lightly floured surface to form a smooth ball. Place into the prepared springform pan, cover with oiled clingfilm and set aside in a warm place until almost doubled again and an indent remains when gently touched.
Preheat oven to 180C.
Combine plain flour and 2 tablespoons of cold water in a bowl and mix to make a smooth paste. Place mixture into a piping bag with a plain nozzle. If you don't have a piping bag, use a sandwich bag with the corner snipped off. Pipe a cross onto the top of the bread.
Bake for 30 minutes, or until golden brown and cooked through. Allow to cool for 10 minutes in the pan, then remove from pan and cool on a wire rack.
While the bread is cooling, make a glaze by adding remaining 2 tablespoons of water to a small saucepan with 2 tablespoons of caster sugar. Heat over medium-low heat until the sugar has dissolved, and liquid reduced by half. Brush the glaze over the bread and leave to set.
---
Share this recipe
---
More recipes like this