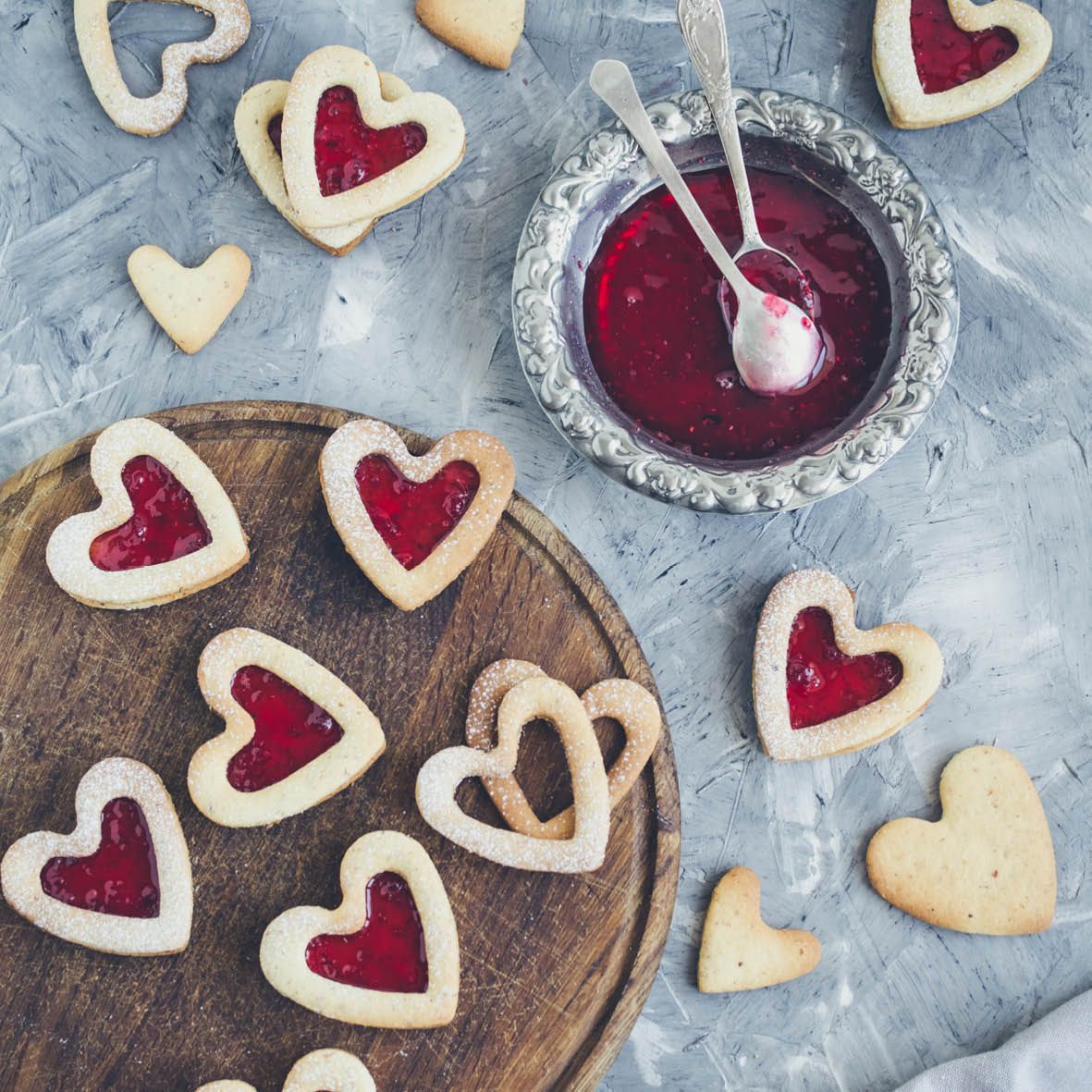 Valentine's Day cookies
These cute heart shaped biscuits are beautifully buttery and have a lovely balance of flavours. Fill them with raspberry or strawberry jam or for something different try lemon curd or chocolate.
How long will it take?
1 hour
What's the serving size?
Makes approximately 24 cookies
---
What do I need?
2 ¼ cups plain flour
½ tsp ground cinnamon
½ tsp salt
½ tsp baking powder
¾ cup slivered almonds
¼ cup brown sugar
1 cup unsalted butter, softened
½ cup icing sugar, plus extra for dusting
1 egg
1 tsp vanilla extract
¼ tsp almond extract
225g raspberry or strawberry jam
How do I make it?
Sift flour, cinnamon, salt and baking powder together into a large bowl.
Pulse almonds and brown sugar in a food processor until finely ground and set aside.
Using the paddle attachment of an electric blender whip together butter and icing sugar until creamy. Add egg, vanilla and almond extracts and mix.
Add pulsed almond mixture to blender and slowly add flour mixing until combined.
When well mixed removed dough from blender and form it into a ball. Place it on a sheet of Multix Greener Clingfilm and flatten into a disc shape. Cover with the clingfilm and put in the fridge to chill for 2 hours.
Preheat oven to 180C.
Cut disk in half and roll out each portion on a floured surface to approximately 3 millimetres thickness. Using a cookie cutter cut out heart shapes, then use a smaller cookie cutter to cut smaller hearts into the centres of half the hearts that you have cut.
Transfer cookies to a lined baking tray, spacing them about 2.5 centimetres apart.
Bake for 10 to 12 minutes or until the edges are lightly golden. Allow to cool on baking tray.
When cooled, dust cookies with the heart cutouts with icing sugar and spread jam over the whole hearts. Place the heart cutout cookies on top of the whole hearts to sandwich together. Store cookies in an airtight container.
---
Share this recipe
---
More recipes like this