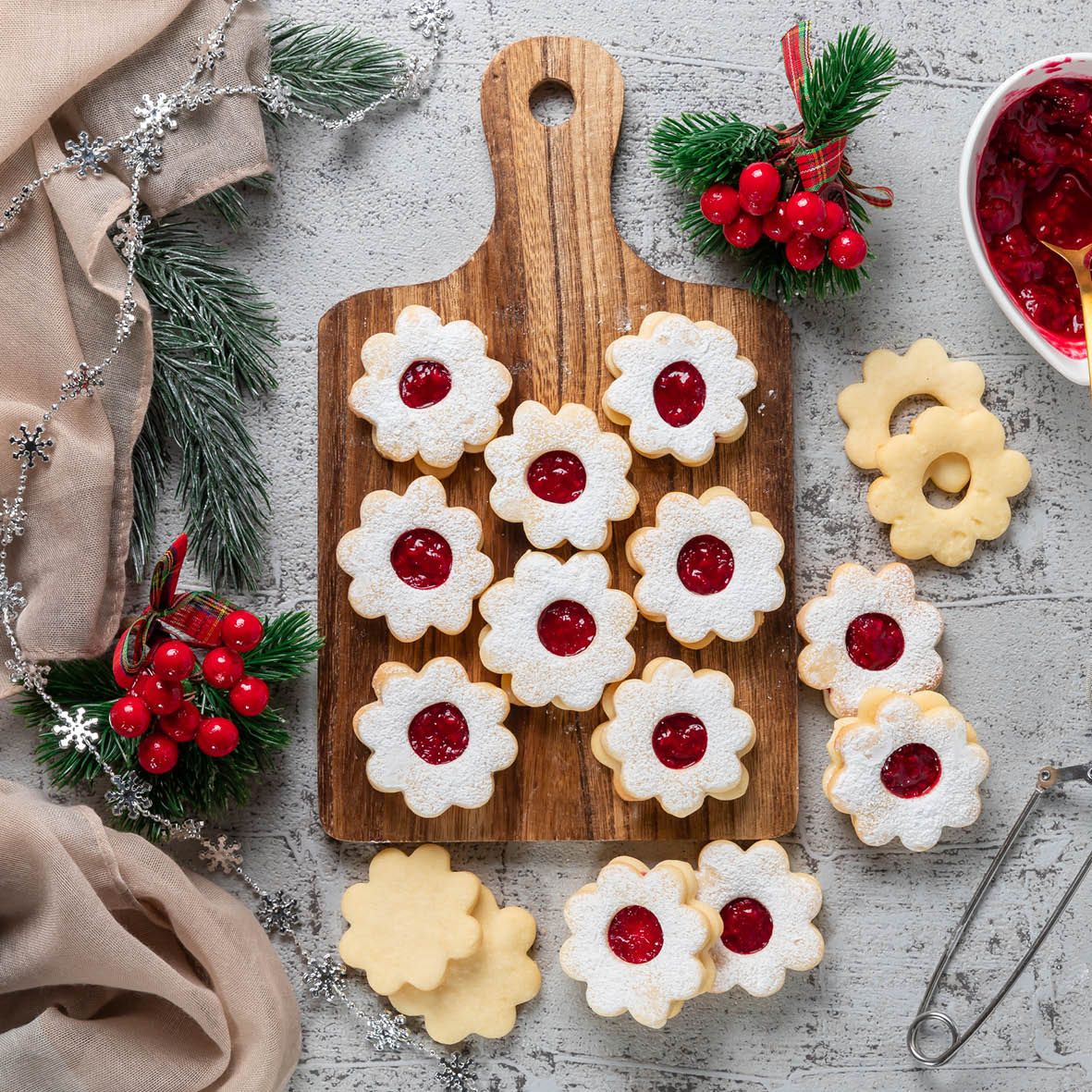 Linzer Cookies
Originating in Austria, Linzer Cookies are buttery and delicate, and a favourite traditional Christmas treat. We have used raspberry jam to fill ours but you can use any jam of your choice.
How long will it take?
2 ¼ hours
What's the serving size?
Makes 32 cookies
---
What do I need?
225 g butter
120 g icing sugar, sifted plus extra for dusting
2 egg yolks
½ tsp salt
½ tsp ground cinnamon
1 tsp vanilla extract
30 ml lemon juice
300 g plain flour
100 g almond flour
160 g raspberry jam
How do I make it?
Cream butter in a stand mixer on medium speed until creamy, about 1 – 2 minutes. Add icing sugar and blend to combine.
Add egg yolks and mix, then add salt, cinnamon, vanilla and lemon juice and mix.
Reduce speed to low and gradually add in flour and almond flour.
Divide mixture in half and form each piece into a disc, about 2 ½ centimetres thick. Wrap in clingfilm and chill for at least 1 hour.
Preheat oven to 175C. Line 2-3 baking trays with baking paper.
Roll dough discs out on a lightly floured surface to approximately ½ centimetre thickness. Cut out cookies using the larger cookie cutter and place half on baking trays, leaving 3-4 centimetres space between them (these will be the base of your Linzer Cookies). With the remaining cookies, use the smaller cutter to cut out the shape in the centre of the cookie to make the "window". You should have a total of approximately 64 cookies – 32 bases and 32 tops.
Bake each baking tray for 10 minutes or until the cookies look dry on the top. Remove from oven and allow to cool completely.
To assemble, dust the cut-out cookies with icing sugar. Spread jam on each of the base cookies, then place the cut-out cookies on top and gently press down so that the jam is showing through the "window".
TOP TIPS
- You will need two cookie cutters – one to make the basic shape and a smaller one to cut out the shape in the centre to reveal the jam.
- You can make the cookie dough up to 2 days in advance and keep in the fridge.
- It is important to keep filled cookies in an airtight container to prevent the cookies going soggy.
- You can store unfilled cookies in an airtight for up to a week and then fill them when you are ready to package them up for gifts.
---
Share this recipe
---
More recipes like this