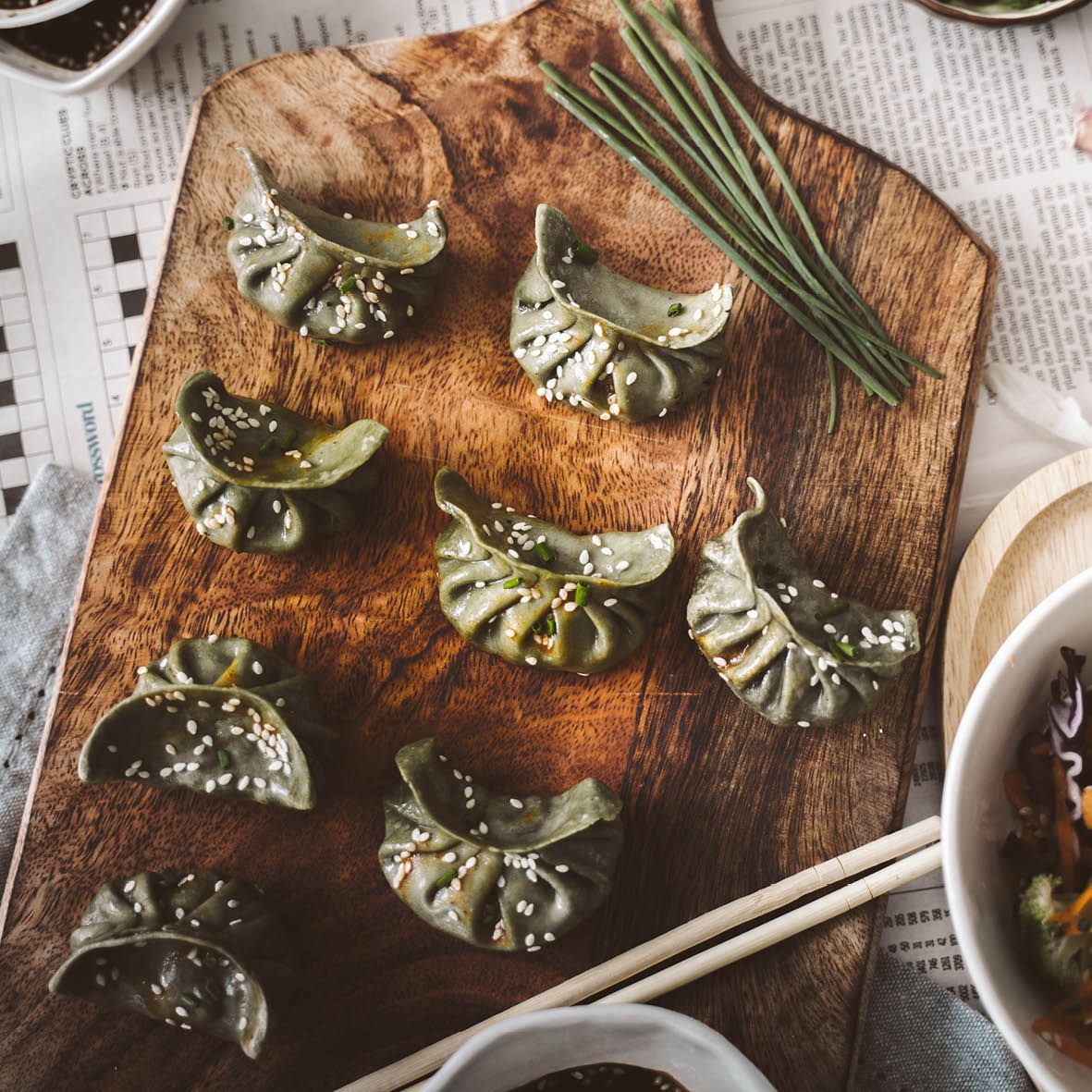 Spinach Potstickers
These vegetarian dumplings are made with a spinach dough, giving them their green hue. Filled with fresh vegetables they are excellent for entertaining. You may want to make a double batch, as these will disappear quickly!
How long will it take?
Takes 1 ½ hours
What's the serving size?
Makes about 40 dumplings
---
What do I need?
For the spinach dough
150 g spinach
300 g plain flour, plus extra for dusting
For the filling
200 g pak choy
60 g carrot
5 dried shitake mushrooms, rehydrated
30 g vermicelli noodles, soaked
1 egg
1 spring onion, finely chopped
½ tsp minced ginger
1 pinch ground Sichuan pepper
1 tbsp vegetable oil
1 tsp salt
3 tbsp olive oil
How do I make it?
Bring a pot of water to the boil over high heat. Add spinach, then quickly remove and drain. Transfer spinach to a food processor and puree. Pass puree through a fine
sieve and reserve the liquid and solids in separate bowls.
Place flour in a bowl and add 150 mL of the sieved liquid and bring together to form
a dough. Set aside to rest for 30 minutes.
Meanwhile, make the filling by adding
pak choy, carrot, shitake mushrooms and half the noodles to a food processor. Blitz to mince the vegetables and noodles, then remove from food processor and squeeze any excess water from the vegetables using your hands. Stir in spinach puree solids and egg.
Add spring onion, ginger and Sichuan pepper on top of the mix. Heat vegetable oil and pour over the mixture. Chop remaining noodles into small pieces and add, then add salt and mix everything together.
Divide dough into 2 equal pieces. Roll each into a log shape, then cut into equal sized pieces. Press each piece into a small disc shape using your hand. Use a small rolling pin to flatten into a thin disc.
Place a spoonful of the filling into the middle of a disc. Fold and seal. Repeat for remaining dough and mixture.
Heat a large frying pan over high heat. Add olive oil and cook dumplings in batches. When the bottom of the dumplings are browned, pour in water to cover the dumplings by
one-third, then cover with a lid. Leave to cook until all the water has evaporated. Serve hot with a dipping sauce of your choice.
Top Tip
Make these dumplings in advance to save time when entertaining. When you have assembled them lay them on a lined baking tray and place in the freezer. Once frozen, place them in an airtight container and store in the freezer. They can be cooked from frozen using the same cooking procedure.
---
Share this recipe
---
More recipes like this