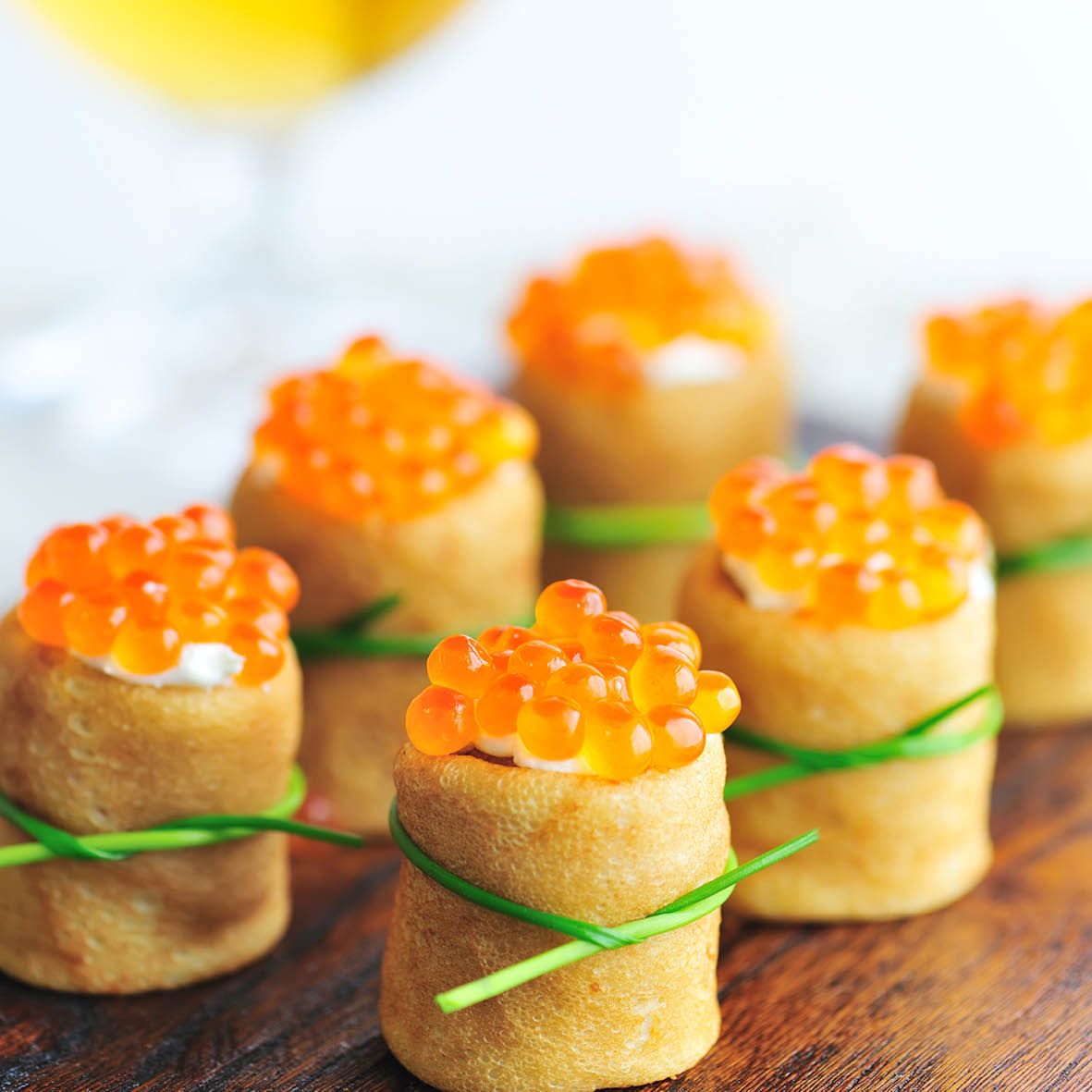 Huon Reserve Hand Milked Trout Caviar in Blini Baskets
Impress your guests with this twist on the classic blini
How long will it take?
30 minutes
What's the serving size?
Makes 12 blini
---
What do I need?
2/3 cup plain flour
1/3 cup buckwheat flour
¾ tsp salt
½ tsp baking powder
¾ cup + 2 tbsp milk
1 large egg
1 tbsp melted unsalted butter
1 tbsp unsalted butter
For filling
½ cup crème fraiche
2 tbsp fresh dill chopped
50 g Huon Reserve Hand Milked Trout Caviar
Bunch of chives
How do I make it?
Combine flours, salt and baking powder in a bowl. Whisk milk, egg and 1 tbsp melted butter together in a separate bowl. Add into flour mixture, stirring until combined.
Heat 1 tbsp butter in a frying pan over medium-low heat. Add batter to pan, pouring into rectangle shapes approx 10 centimetres long x 4 centimetres wide. Cook until bubbles form and then flip and continue cooking until brown on both sides. Place on a plate lined with paper towel to absorb excess butter. Repeat until all mixture is used.
Combine crème fraiche and dill together in a small bowl.
To assemble, spread a thin layer of the crème fraiche and dill mixture on one side of the blini. Roll blini and secure with a chive. Stand blini up and add a little more crème fraiche to the top and then finish with caviar.
---
Share this recipe
---
More recipes like this