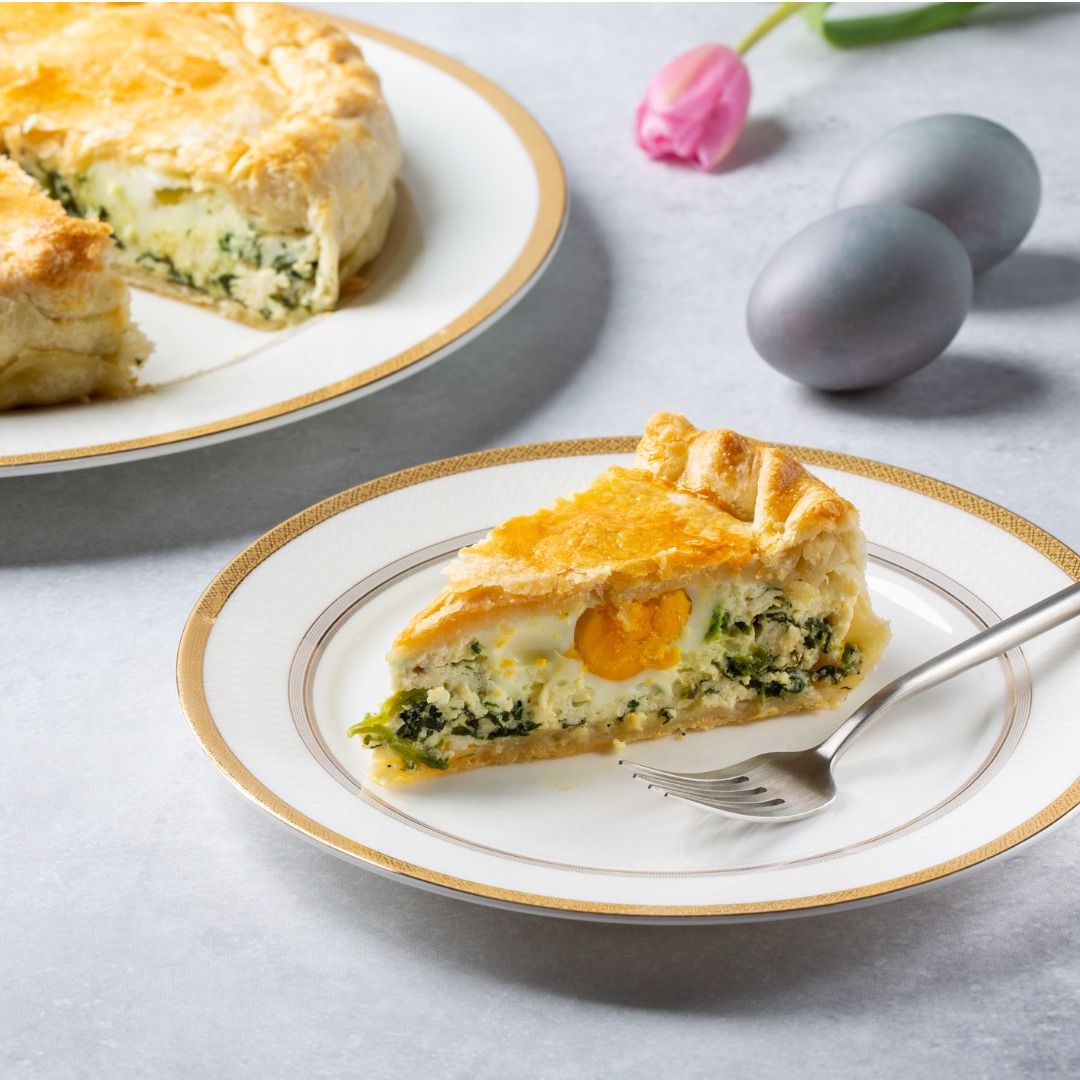 Torta Pasqualina (Easter Pie)
Torta Pasqualina is a traditional Italian Easter dish featuring silverbeet, eggs and ricotta. Originating in the north-west of Italy, it was originally made with 33 layers of pastry, to represent the years of Jesus' life. Our version doesn't have that level of detail, however it is a delicious addition to your Easter table.
How long will it take?
2 ½ hours
What's the serving size?
Serves 6
---
What do I need?
50 mL olive oil
1 brown onion, finely diced
2 cloves garlic, bruised with the blade of a knife
800 g silverbeet leaves, washed and roughly chopped
Salt
Freshly ground black pepper
500 g ricotta
7 eggs
2 sheets puff pastry, thawed
How do I make it?
Heat olive oil in a large pan with a lid. Add onion and garlic, and cook, stirring frequently until the onion is soft and translucent. Remove garlic and discard. Add silverbeet, season with salt and pepper and stir well. Continue cooking for 2 -3 minutes or until the silverbeet has wilted.
Drain silverbeet in a colander, removing as much liquid as possible, then set aside to cool. When cooled add to a bowl with ricotta and 1 egg and stir to combine.
Grease a 20 centimetre springform pan and line base and sides with puff pastry. Spoon spinach mixture into the pan and then place in the fridge to chill for 30 minutes.
Remove from fridge and use the back of a spoon to make five wells in the spinach mixture. Break one egg into each hole.
Lay a sheet of pastry over the top of the pan, folding the edges in.
Beat remaining egg and brush half of it over the top of the pastry. Return to fridge for another 30 minutes.
Preheat oven to 180C.
Remove pie from the fridge and brush with the remaining beaten egg. Bake in the oven for 1 hour, or until the pastry is golden brown.
---
Share this recipe
---
More recipes like this