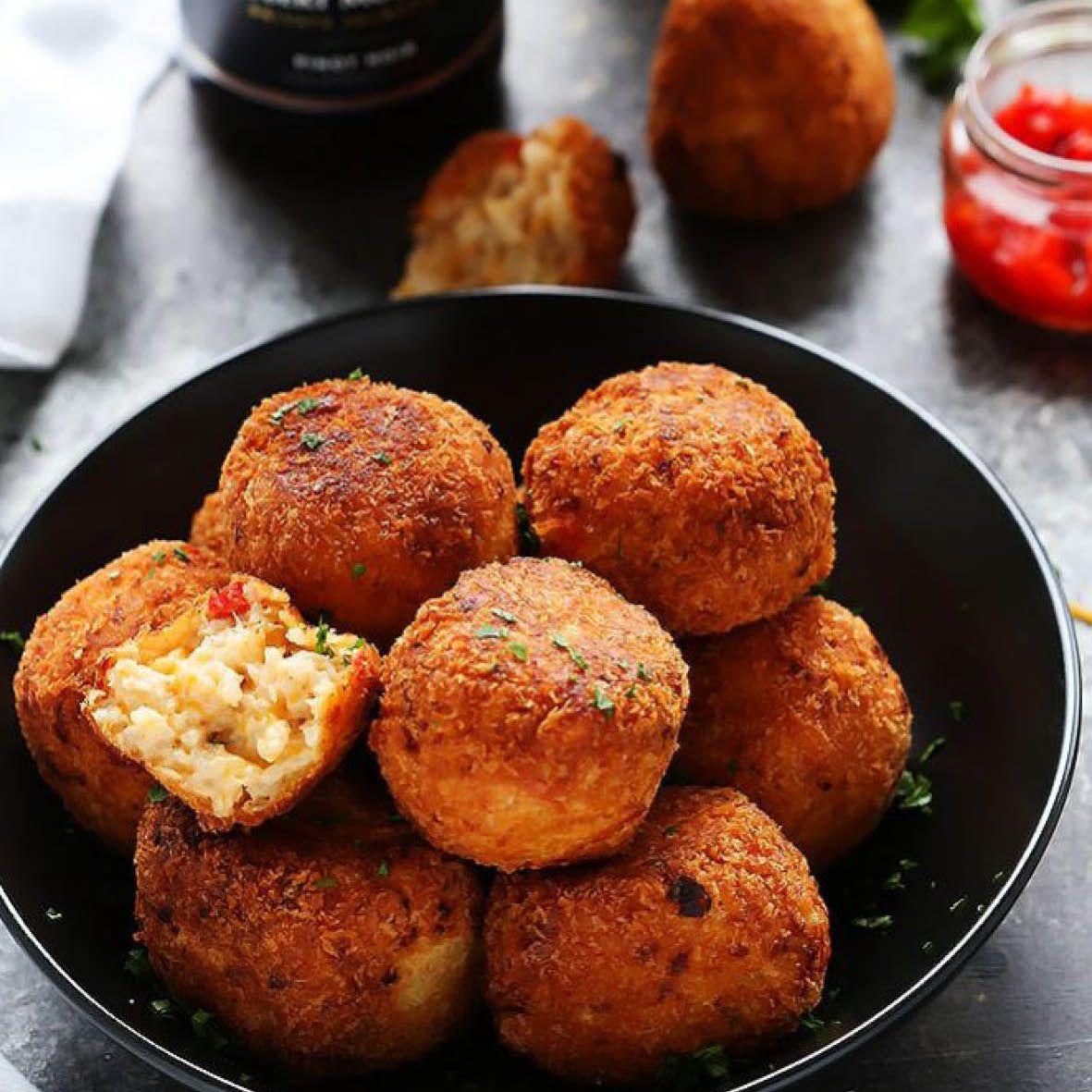 Chilli Cheese Arancini
A perfect party appetiser featuring creamy risotto and spiced cheese coated in a panko crumb.
How long will it take?
1 hour 10 minutes
What's the serving size?
Serves 12
---
What do I need?
For the Risotto
4 tbsp butter
4 cloves garlic, minced
2 small brown onions, finely diced
3 cups Arborio rice
1 cup dry white wine
7 cups chicken or vegetable stock
2 cups milk
For the Chilli Cheese
2 eggs
2 cups cheddar cheese
225 g cream cheese
½ cup mayonnaise
½ tsp garlic powder
½ tsp cayenne pepper
½ tsp onion powder
2 jalapenos, seeded and very finely diced
2 small red chillis, seeded and very finely diced
For the Crumb
1 cup flour
6 eggs, beaten
4 cups panko breadcrumbs
1 tsp salt
Pinch of black pepper
Vegetable oil
How do I make it?
Preheat oven to 180C.
In an oven-proof casserole dish, melt butter over medium heat. Add onion and garlic and cook for 5 minutes or until soft. Add rice and cook until it becomes translucent, then add wine and increase heat to medium-high. Cook until all the liquid has evaporated.
Add stock and milk and bring to a simmer, cover and transfer to oven. Bake for 30 minutes or until all liquid is absorbed and rice is tender. Remove from oven and allow to cool.
Combine Chilli Cheese ingredients in a bowl. Add Chill Cheese mix to the cooled rice and mix to combine. Cover and place in the fridge for at least 2 hours, preferably overnight.
Make the coating by mixing together flour, salt and pepper in a shallow bowl. Put eggs in a second bowl and panko crumbs in a third bowl.
Scoop out large spoonfuls of the rice mixture and roll them into balls. Coat the balls in the flour mix, then the eggs and then the crumbs.
Cook balls by adding vegetable oil to a frying pan to a depth of about 2.5 centimetres. Heat oil over medium-high heat. Cook balls in the oil in batches, turning frequently so that they cook evenly. Remove when they are a deep golden brown. Drain on paper towel.
---
Share this recipe
---
More recipes like this