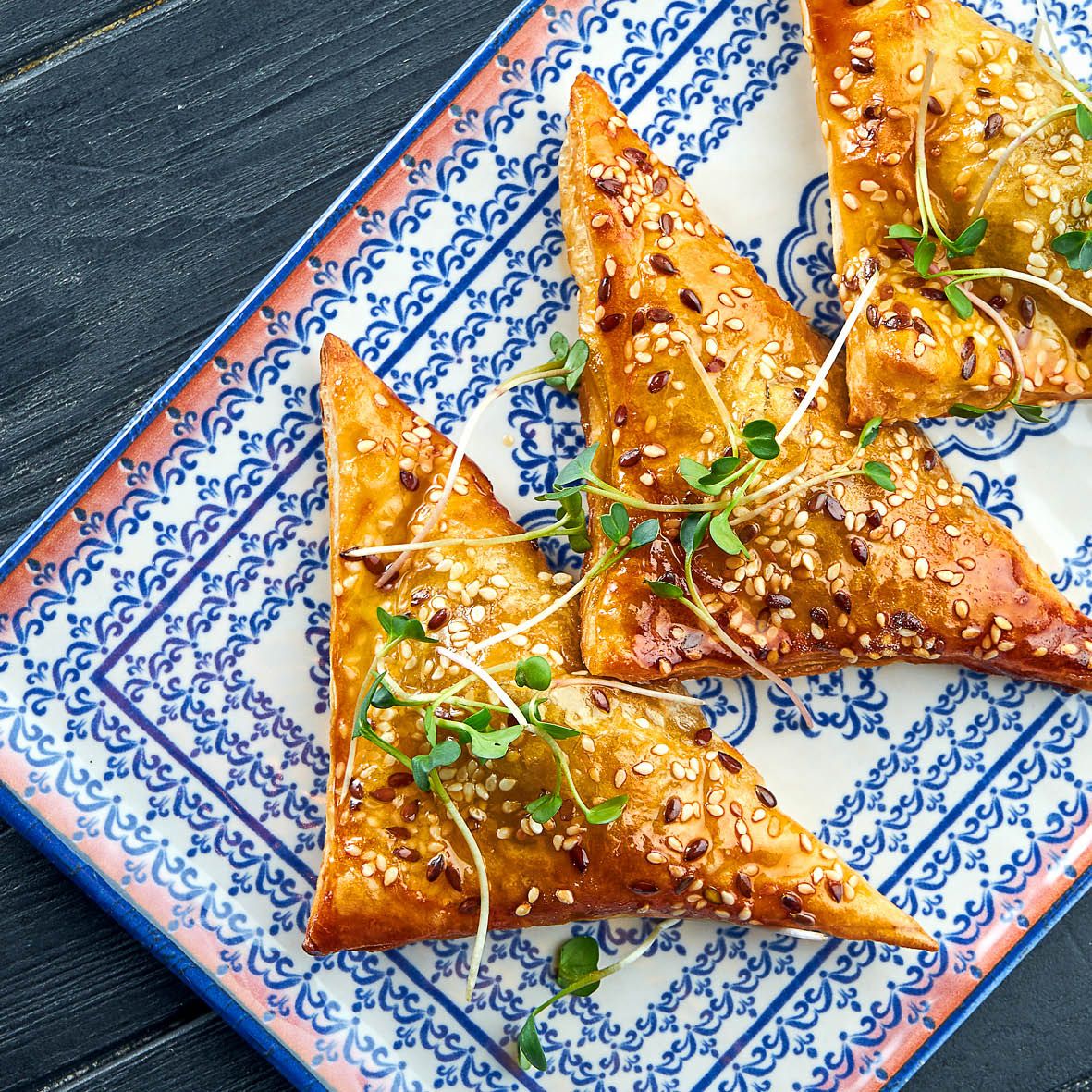 Persian Fetta and Spinach Filo Triangles
The ideal make-ahead party bites, these can be frozen so that you have a supply on hand ready to heat and eat. They are packed with a filling of Tasmanian Dairy Company Persian Fetta, Westhaven Ricotta, onion and spinach to create a tasty pastry that's fit for any occasion.
How long will it take?
Takes 1 hour
What's the serving size?
Makes approximately 24
---
What do I need?
1 tbsp olive oil
1 large brown onion, finely diced
250 g baby spinach leaves
225 g Tasmanian Dairy Company Persian Fetta
225 g Westhaven Fresh Ricotta
1 large free-range egg, beaten
¼ tsp salt
¼ tsp freshly ground black pepper
Pinch of nutmeg
225 g filo pastry,
½ cup olive oil
¼ cup sesame seeds
¼ cup black sesame seeds
How do I make it?
Preheat oven to 175C.
Line two baking trays with baking paper and set aside.
Heat 1 tbsp olive oil in a large frying pan over medium-high heat. Add onion and cook, stirring frequently until the onion has softened. Reduce heat to very low, add spinach leaves and cover with a lid. Leave for a minute or two to allow the spinach to wilt, then stir and remove from heat and set aside to cool.
Combine cheeses, egg, salt and pepper in a large bowl. Fold cooled spinach and onion into the cheese mixture.
Remove filo from packaging and cover with a damp tea towel.
Lay one sheet of filo on a chopping board and brush with olive oil, then add another sheet and brush with oil.
Cut the filo into eight even sized strips, then place a spoonful of the cheese mixture at one end of the strip. Lift one corner and fold it over to enclose the filling and make a triangle. Continue folding from side to side until you get to the end of the strip. Brush with a little olive oil to seal the end, then place on the prepared baking tray seam-side down. Brush the top with olive oil to keep the pastry moist.
Repeat steps above using the remaining cheese mixture and filo pastry. Sprinkle sesame seeds over triangles and bake in the oven for 20 to 25 minutes or until golden brown. Allow to cool slightly before serving.
If making ahead of time to freeze, place the uncooked triangles in the freezer in a single layer. Once frozen transfer them to a zip-lock bag or freezer-safe container until ready to bake. Bake from frozen for 5 minutes longer than the standard baking time, or until golden and cooked through.
---
Share this recipe
---
More recipes like this