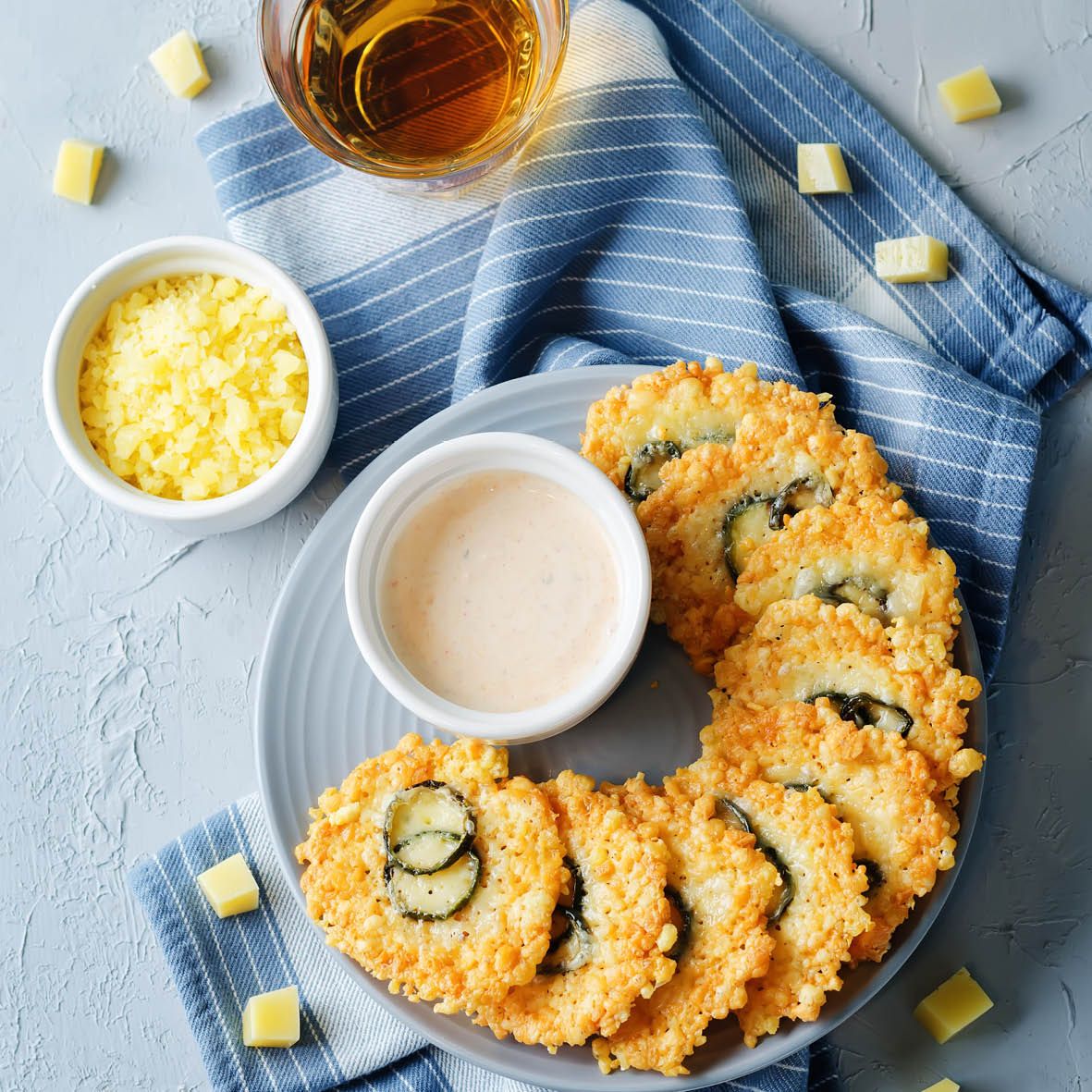 Jalapeno Cheese Crisps with Spicy Yoghurt Sauce
Crispy, crunchy and with a little bit of bite, these crisps are made for entertaining. Enjoy them just as they are or make our simple dipping sauce for them.
How long will it take?
25 minutes
What's the serving size?
Serves 12
---
What do I need?
For the Spicy Yoghurt Sauce
1 cup Greek yoghurt
2 tbsp sriracha sauce
1 tsp paprika
1 clove garlic
Salt
Freshly ground black pepper
For the Cheese Crisps
3 large fresh jalapeno chillies
2 cups extra tasty cheddar, grated
1 cup parmesan, grated
How do I make it?
Make the Spicy Yoghurt Sauce first by adding all yoghurt, sriracha, paprika and garlic to a food processor and blitzing to combine. Taste and season as desired. Refrigerate until ready to serve.
Preheat oven to 180C.
Line 2 baking trays or cookie sheets with baking paper.
Mix cheddar and parmesan together in a bowl. Set aside.
Wearing gloves, slice the ends of the jalapeno and use a sharp knife to remove the seeds, then cut into thin rings.
Use a tablespoon to scoop out cheese, and shape it on the baking trays into rough rounds. Leave space between each round as the cheese will spread during cooking.
Place a slice of jalapeno in the middle of each cheese round.
Bake until the crisps are browned on the edges, about 8-10 minutes.
Remove from the oven and leave to cool completely on the tray before moving using a spatula.
TOP TIPS
- Jalapenos can cause discomfort to sensitive skin and eyes so protect yourself with gloves when handling them.
- The Crisps are best served soon after baking for maximum crispness. Leftovers can be stored in the fridge in an airtight container for 3 days.
- The Spicy Yoghurt Sauce will keep in the fridge in an airtight container for 1 week.
---
Share this recipe
---
More recipes like this