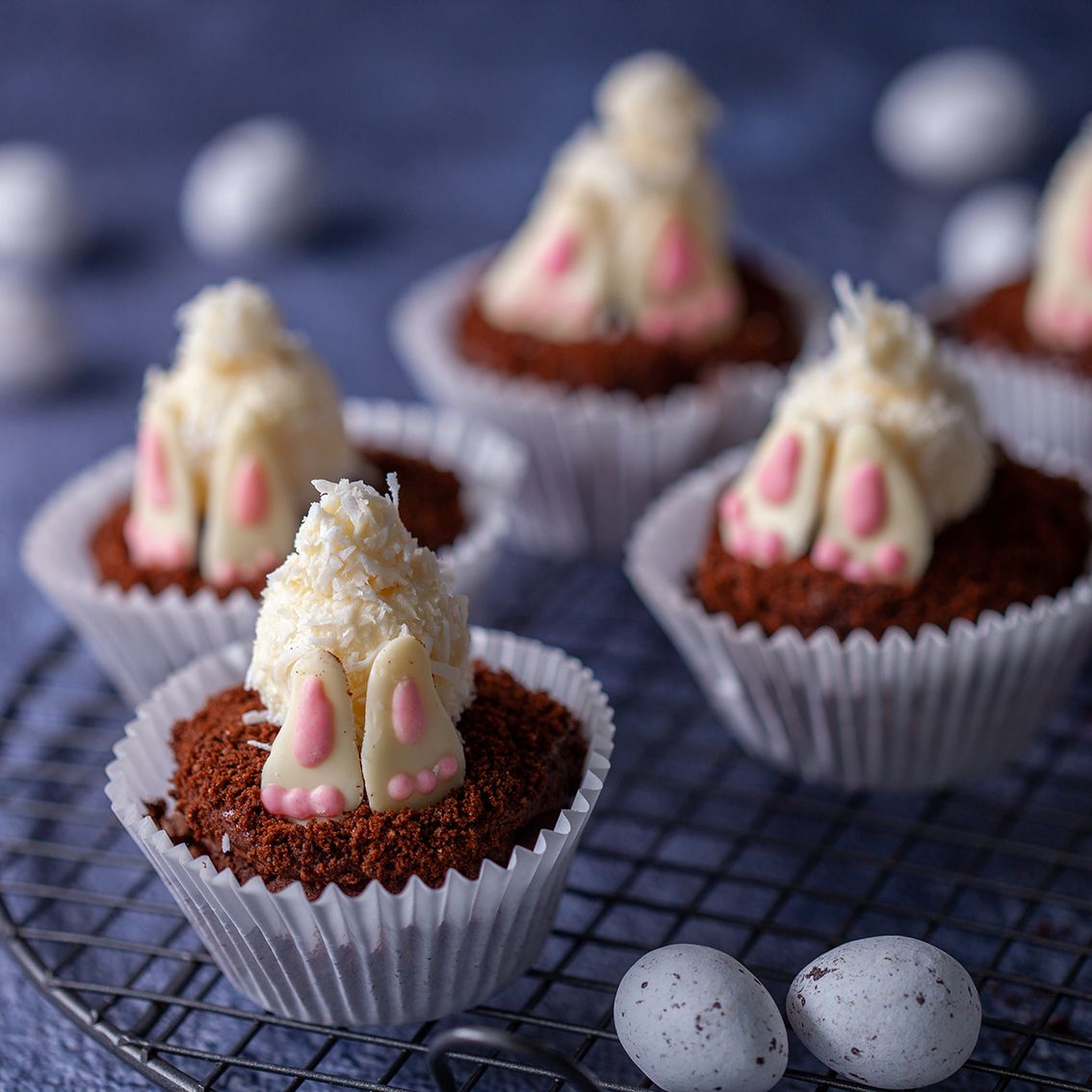 Funny Bunny Cupcakes
There's cute and then there's next level cute like these Funny Bunny Cupcakes. Almost too cute to eat, they're guaranteed to bring a big dose of happiness to your Easter celebrations.
How long will it take?
1 hour
What's the serving size?
Makes 9
---
What do I need?
For the cupcakes
130g plain flour
30g cocoa powder
100g caster sugar
2 tsp baking powder
80g unsalted butter, softened
½ cup milk
2 eggs
½ tsp vanilla essence
To decorate
100g unsalted butter, softened
200g icing sugar, sifted
1tsp vanilla extract
1-2 tbsp milk
½ cup unsweetened cocoa, sifted
9 mini white marshmallows
9 standard white marshmallows
½ cup desiccated coconut
50g Chocolate flavoured biscuits, crushed to form crumbs
200g white cooking chocolate
Pink gel colouring
How do I make it?
To make cupcakes
Preheat oven to 180C.
Line 9 holes of a standard muffin tray with paper patty cases.
Sift the dry ingredients into the bowl of an electric mixer, add the butter and beat on medium until it resembles crumbs. Add the remaining ingredients, increase speed to high and beat for 3 minutes.
Divide the mixture between the 9 patty cases and bake in the oven for 16 minutes or until a skewer inserted comes out clean.
Remove from oven, stand for 5 minutes before placing onto a wire rack to cool.
To make frosting
Place softened butter into the bowl of an electric mixer. With the machine on low, slowly add the sifted icing sugar until combined. Increase the speed and beat until smooth and pale, about 3 minutes.
Add the cocoa and vanilla and mix until well-incorporated. Slowly add milk until the consistency is thick but not stiff. If it is too runny add more icing sugar and if it is too thick add more milk.
To assemble
Pipe or spread the frosting onto the cupcakes and sprinkle with the biscuit crumbs until well coated.
Melt the white chocolate and divide into 3: one bowl with 2 tablespoons of white chocolate and a drop of pink food colouring. The second, a piping bag with 4 tablespoons of white chocolate, and the remainder kept warm to coat the marshmallows.
Using the white chocolate in the piping bag, pipe 18 feet shapes onto baking paper. Allow to set before piping pink toes and feet pads onto the foot shapes. Set aside.
To make the bunny bodies and tails, use a skewer to hold the marshmallows and dip them into warm white chocolate, follow with a coating of coconut. Place on baking paper, remove the skewer and allow to set. Repeat with large and small marshmallows.
Use some of the melted white chocolate to "glue" the bunny body to the top of the cupcakes, and the tail to the body. Finally, add the feet using white chocolate to stick them to the body, creating a cute bunny digging into the ground.
Video & photography by David Pyefinch, food by Sarah Joseph
---
Share this recipe
---
More recipes like this