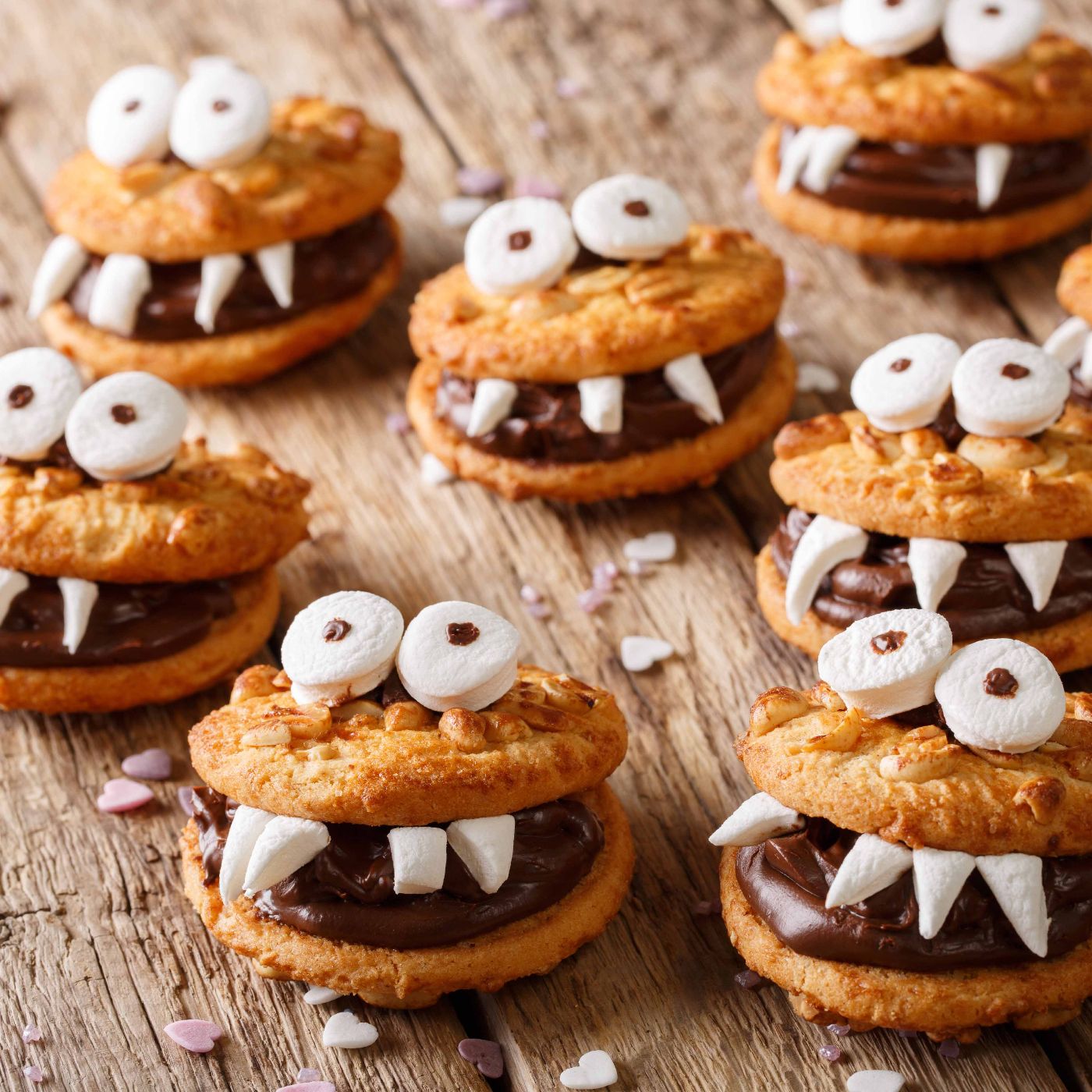 Monster Cookies
Get the kids in the kitchen to whip up a batch of Monster Cookies to share with friends this Halloween. The combination of white chocolate chips and rolled oats creates a wonderfully gnarly looking skin for the monsters, and their jagged teeth are made out of marshmallows.
How long will it take?
45 minutes
What's the serving size?
Makes approximately 15 cookies
---
What do I need?
For the cookies
130 g unsalted butter
130 g brown sugar
130 g caster sugar
2 eggs
2 tsp vanilla extract
3 cups plain flour
1 tsp baking powder
1 tsp bicarbonate of soda
1 tsp salt
1 ½ cups rolled oats
2 cups white chocolate chips
1 cup chopped pecans

For the Filling
300 g dark cooking chocolate
20 g butter
200 g whipped cream
To Decorate
How do I make it?
Preheat oven to 180C. Line 2 baking trays with baking paper.
Using an electric mixer, cream together butter, brown sugar and caster sugar until smooth. Stir in the eggs, one at a time, and then the vanilla. Sift flour, baking powder, bicarb, and salt into the mixture and stir. Add rolled oats, and white chocolate chips and stir.
Drop tablespoons of the cookie mixture onto baking trays and cook in the oven for 10 – 12 minutes, or until golden brown. Remove from oven and transfer to wire racks to cool.
Meanwhile make the filling by finely chopping the chocolate and placing in a bowl with the butter. Add cream to a saucepan and bring, then remove immediately from the heat and pour over the chocolate and butter. Let stand for about 2 minutes and then stir until combined. Set aside to cool. When the cream mixture has cooled, beat with an electric mixer until it is thickened and holds together well.
Cut 15 marshmallows in half to make 30 eyes. Cut remaining marshmallows into smaller pieces for the teeth.
To assemble, dollop some of the chocolate cream mixture onto a cookie. Arrange some marshmallow teeth at the front of the cookie and add a second cookie on top as a lid. Add a small dollop of chocolate cream mixture to the top cookie and place the marshmallows on top for eyes. Use a toothpick or small, clean paintbrush to paint chocolate cream eyeballs on the eyes.
---
Share this recipe
---
More recipes like this