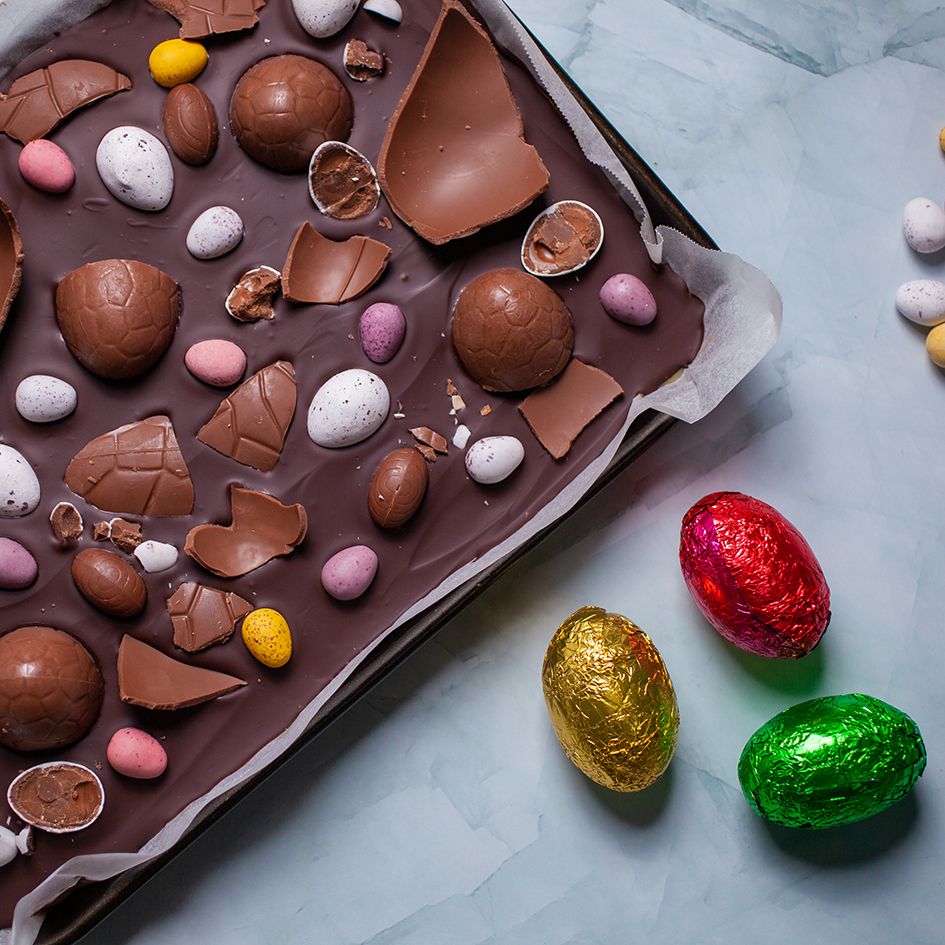 Easter Egg Millionaire's Shortbread
A fudgy caramel centre is sandwiched between a shortbread base and a rich chocolate topping decorated with Easter eggs in this indulgent and yummy Easter slice.
How long will it take?
1 hour 20 minutes
What's the serving size?
Makes approx. 24 pieces
---
What do I need?
For the shortbread base
185 g unsalted butter, softened
75 g caster sugar
250 g plain flour
Pinch Sea salt
For the caramel filling
185 g unsalted butter, roughly chopped
75 g caster sugar
3 tbsp golden syrup
395 g sweetened condensed milk
1 tsp sea salt
For the topping
200 g dark cooking chocolate, finely chopped
150 g assorted Easter eggs including white chocolate eggs and mini eggs
How do I make it?
Preheat oven to 180C.
Grease and line a 20 x 30 centimetre biscuit tray.
Start by making the shortbread. In an electric mixer, cream the butter and sugar until pale and fluffy. Slowly add the flour and salt and beat to form a soft dough. Press into prepared tin to form a flat layer and bake for 15-20 minutes, or until pale golden. Set aside to cool in the tin.
While the biscuit base is cooling make the caramel filling by adding all the ingredients to a large saucepan over low heat. Stir until the sugar has dissolved, then increase heat and bring to the boil. Allow mixture to boil for 5 minutes, stirring continuously, until it thickens to a soft, fudge consistency. Pour filling over the shortbread base and set aside at room temperature to set for 30 minutes.
For best results temper the chocolate topping. When the caramel filling is set, gently melt the chocolate in the microwave in 15 second bursts, stirring between each one, until melted but not above 30C. Evenly spread the chocolate over the caramel.
Break larger Easter eggs into smaller pieces and scatter over the top of the chocolate while it is still warm. The eggs will melt a little into the chocolate and this will add to the final look of the slice. Decorate with mini eggs and then place in the fridge until set, approximately 1 hour.
Cut into squares to serve.
Video & photography by David Pyefinch, food by Sarah Joseph
---
Share this recipe
---
More recipes like this