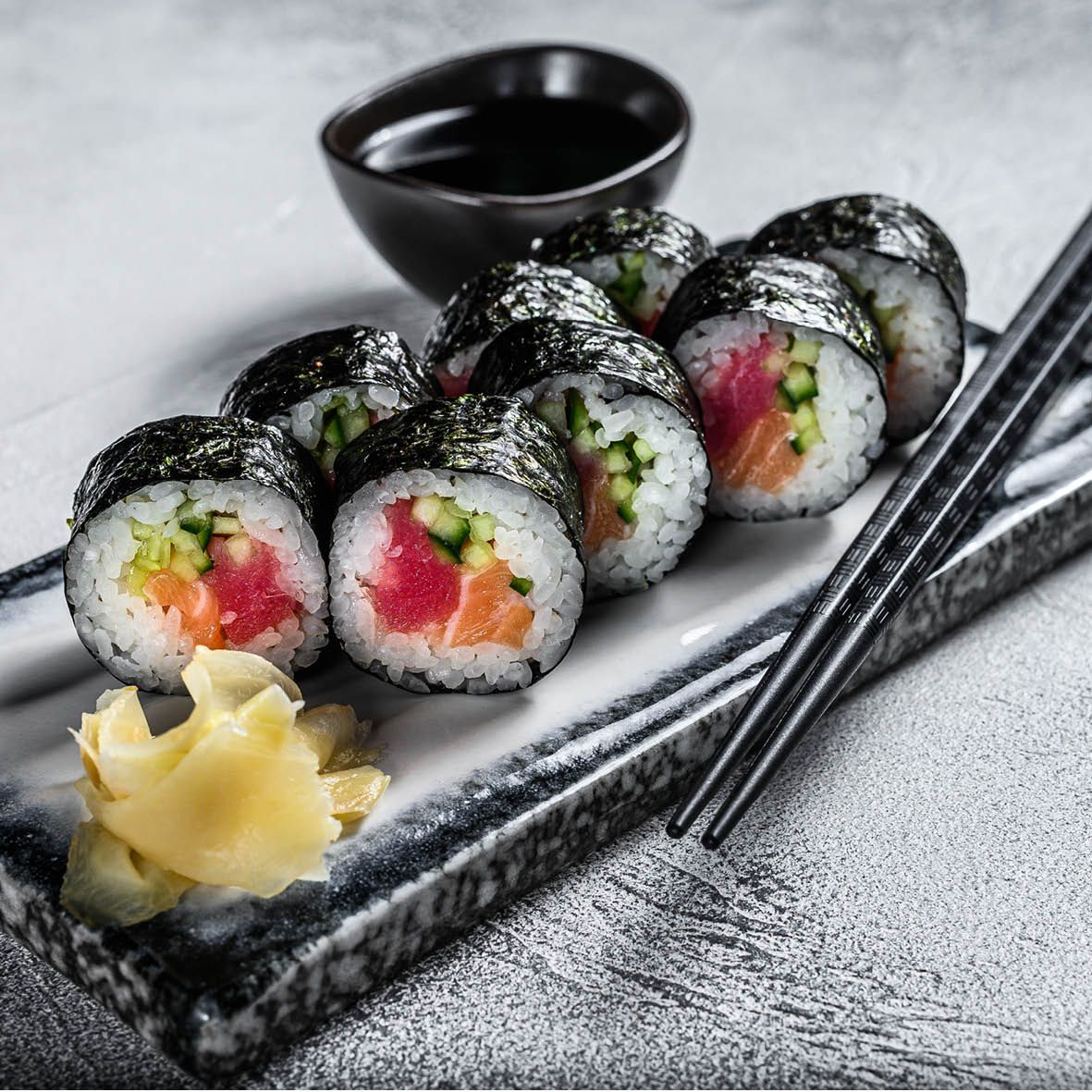 Sushi Rolls
Gather the family and make your own sushi rolls. It is lots of fun and a great way to get the kids involved in the kitchen.
How long will it take?
2 ½ hours
What's the serving size?
Makes 10 sushi rolls
---
What do I need?
For the rice
550 g sushi rice
550 mL water
1 piece kombu approx. 5cm x 5cm
1/3 cup rice wine vinegar
3 tbsp sugar
1 ½ tsp salt
For the fillings
Fillings of your choice – some suggestions tuna, salmon, avocado, egg, cucumber, mushrooms, asparagus, spinach, carrot, cream cheese, tofu, spring onion, chives, radish, teriyaki chicken, prawns, crab, capsicum, cabbage, mayonnaise, coriander, mint, basil, chili
5 sheets nori
How do I make it?
Put sushi rice in a large bowl. Rinse rice and discard water immediately. Repeat process twice more.
Transfer rice to a sieve and drain completely.
Place rice in a rice cooker and add piece of kombu on top. Add 550 mL cold water and leave rice to soak for 30 minutes, then start cooking. If you do not have a rice cooker you can cook the rice in a saucepan.
While rice is cooking combine rice wine vinegar, sugar and salt in a small saucepan and bring to the boil over medium-high heat. Whisk until the sugar is dissolved, then set aside to cool.
When rice is cooked, transfer it onto a baking tray lined with baking paper, spreading it out evenly to allow the rice to cool faster. While the rice is hot, pour the vinegar mixture over the top. Use a spatula or a rice paddle to make slicing motions through the rice to separate the grains and distribute the vinegar. Cover with a damp tea towel until ready to use.
Prepare fillings by slicing into strips and set aside.
To roll the sushi, combine ¼ cup water with 1 tbsp rice wine vinegar in a small bowl. Use this to wet your hands and prevent the rice from sticking to you.
Cut the nori sheets in half and place one piece on a sushi mat shiny side down. Moisten your hands and take about ½ cup of sushi rice in your hand and place it on the nori spreading it all the way across but leaving a 2 ½ centimetre clear edge at the top of the nori. Place fillings on top of the rice and then roll the sushi over the filling still leaving the clear edge. Use the sushi mat to shape and tighten the roll and then rotate the roll to seal the edge.
Use a damp tea towel to wet a knife to cut the roll in half or thirds depending on your preference.
Serve with wasabi, soy sauce and pickled ginger. Sushi rolls are best eaten fresh but they can be kept in the fridge for 1 day in an airtight container.
---
Share this recipe
---
More recipes like this