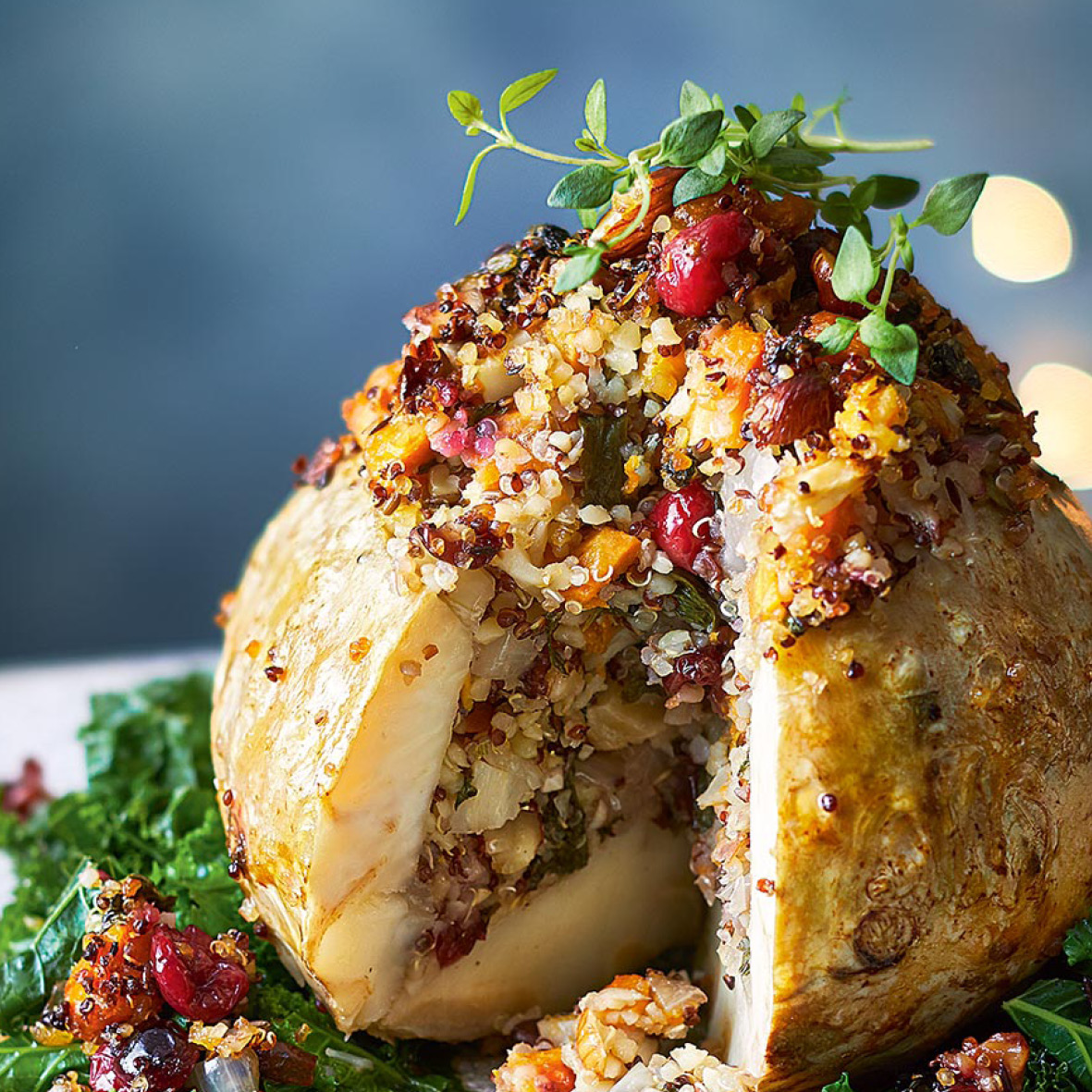 Stuffed Celeriac with parsnip cream
A healthy vegan showstopper that everyone can enjoy
How long will it take?
2 ½ hours
What's the serving size?
Serves 8
---
What do I need?
1 large celeriac, scrubbed

120g sweet potato cut into 1cm cubes

2½ tbsp olive oil

1 onion, finely diced

½ tsp cumin seeds

1 garlic clove, finely diced

75g mixed nuts, roughly chopped

125g quinoa

10g dried cranberries

25g frozen cranberries

40g spinach leaves, roughly chopped

Kale, steamed, to serve

Thyme sprigs, to serve (optional)
For the parsnip cream
400g parsnips, peeled and roughly chopped

400ml almond milk

1 tbsp snipped chives

pinch grated nutmeg
How do I make it?
Preheat the oven to 200°C. Wrap the celeriac in a large piece of foil and place in a roasting tin. Roast in the oven for 1 hr. Meanwhile, bring a pan of water to the boil. Add the sweet potato, cover and cook for 8-10 mins until tender. Drain.

Heat ½ tbsp olive oil in a frying pan. Fry half the onion with the cumin seeds and garlic for 5 mins, then add the nuts and cook, stirring, for 2-3 mins until toasted and golden. Add the sweet potato, quinoa, cranberries and spinach; season and mix well.

Remove the celeriac from the oven, unwrap and allow to cool for 10 mins. Score an 8cm-wide circle in the top of the celeriac and, using a spoon, scoop out the middle. Score again and scoop, repeating until roughly 1cm from the bottom. Chop the scooped celeriac and stir into the grains mixture.

Return the hollowed-out celariac to the foil in the roasting tin and spoon the grains mixture into it, piling any extra on top and around the sides. Drizzle over 1 tbsp olive oil, enclose in the foil and roast for 1 hr (opening the foil for the last 10 mins of cooking) or until the celeriac is tender.

Meanwhile, heat the remaining olive oil in a pan and fry the other half of the onion with the parsnips for 4 mins. Add the almond milk and 200ml water, bring to a simmer, cover, and cook for 10-12 mins until the parsnips are soft. Using a hand blender, blend the parsnip mixture. Season to taste and stir in the chives and nutmeg.

Serve the celeriac, with the parsnip cream, steamed kale and vegan gravy (below), plus a few sprigs of thyme on top, if you like.
---
Share this recipe
---
More recipes like this