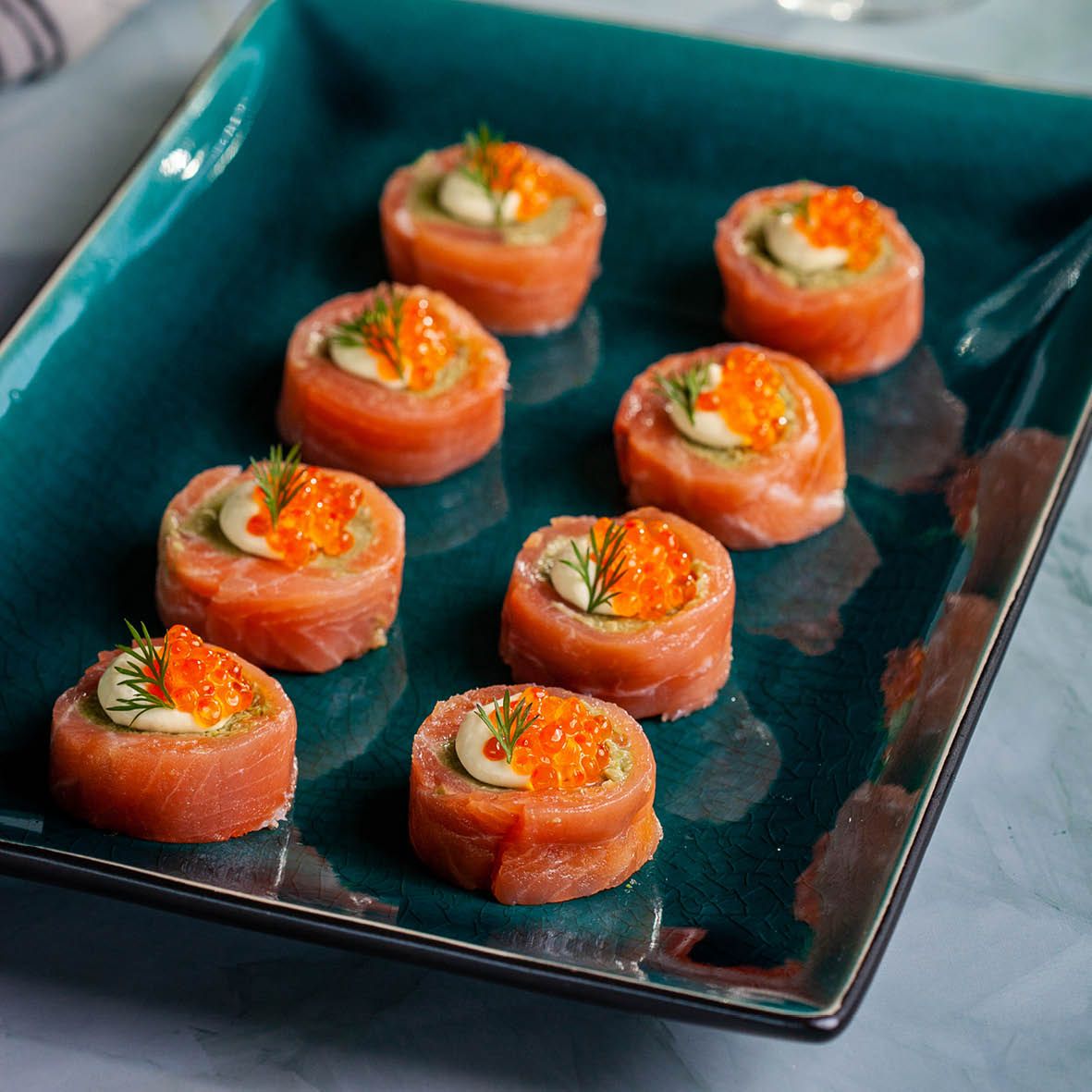 Smoked Trout Bites with Wasabi Cream
Perfect for a party, these bite-sized pieces of smoked trout are the ideal accompaniment to Christmas cocktails.
How long will it take?
30 minutes
What's the serving size?
Makes 12
---
What do I need?
300 g smoked trout
2 tbsp trout caviar
2 sprigs dill
For the filling
1 ripe avocado
½ cup fresh or frozen (defrosted) broad beans
1 tbsp lemon juice
1 tsp soy sauce
For the Wasabi Cream
¼ cup crème fraiche
1 tsp wasabi paste
How do I make it?
Start by making the filling; blend all ingredients in a food processor until smooth and transfer mixture to a piping bag with a 1 centimetre nozzle.
Tear off a sheet of clingfilm approx. 30 centimetres x 20 centimetres. Place a sheet of baking paper over the clingfilm and lay trout slices on top, overlapping to form a rectangle measuring approximately 25 centimetres x 12 centimetres.
Pipe a 3 centimetre thick log of filling lengthways along one edge of the trout. Roll it into a log shape using the baking paper to guide the trout over the avocado mix. Continue to roll until it forms a complete log. Twist the ends of the paper and secure the log by rolling in cling film to tighten. Freeze until firm, at least 1 hour, or until needed.
Meanwhile, make the wasabi cream by whisking wasabi and crème fraiche together. Place the cream in a piping bag with a 0.5 centimetre nozzle and refrigerate until needed.
Prepare the trout bites approximately 30 minutes before serving to allow the filling to soften. Slice the log into 1 centimetre thick rounds and place on a serving platter. Top each with wasabi cream, trout caviar, and scatter with dill. Refrigerate until ready to serve.
---
Share this recipe
---
More recipes like this