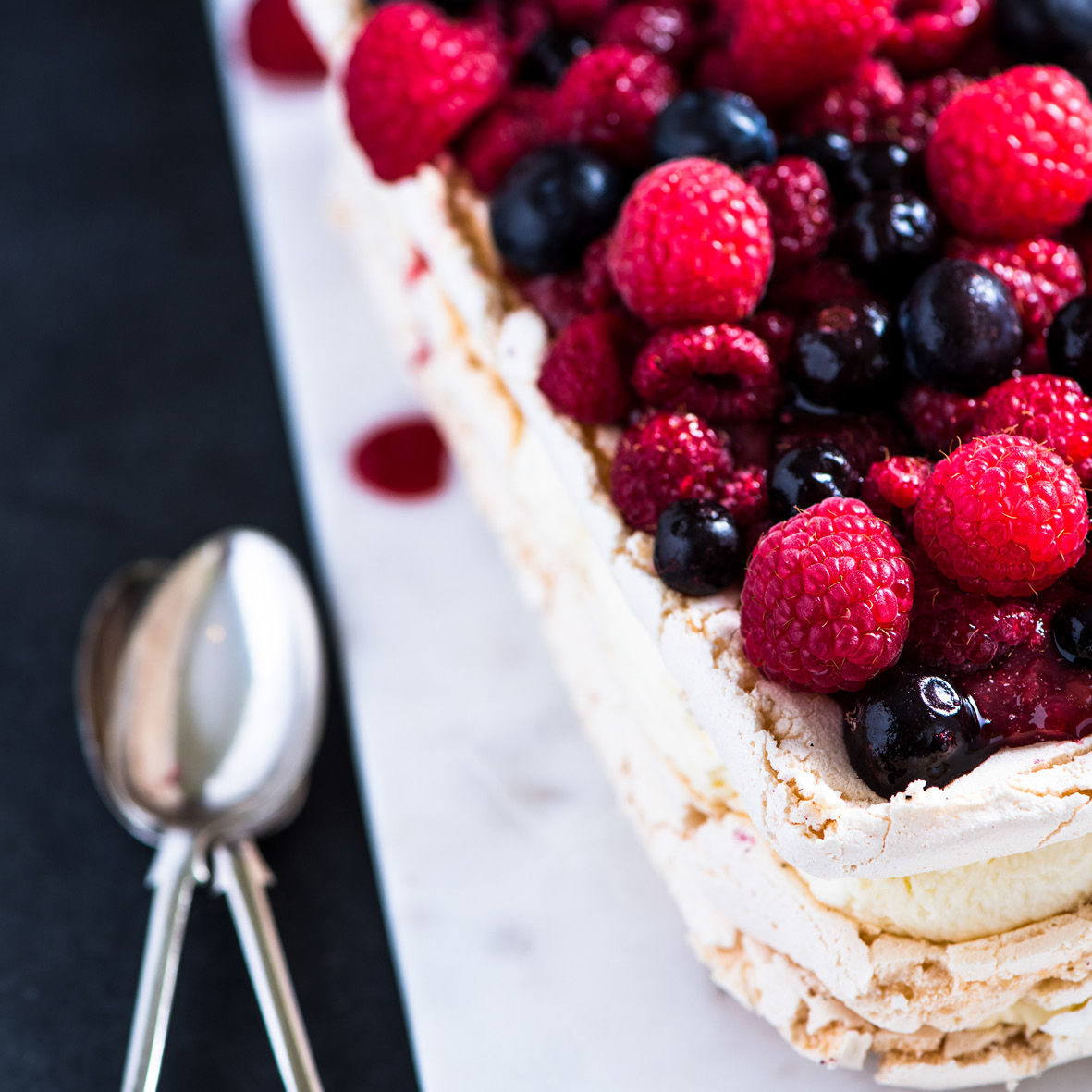 Layered meringue stack
This stacked meringue is something a little different from the usual round pavlova. We topped ours with fresh berries and a raspberry coulis. It is also great with mango, kiwi or passionfruit or if you want to choc it up, decorate with grated chocolate or crumbled honeycomb chocolate.
How long will it take?
2 hours
What's the serving size?
Serves 10
---
What do I need?
6 large egg whites

375g caster sugar

450ml thickened cream

250g mixed berries of your choice
How do I make it?
Line two large baking trays with baking paper. Draw three 15cm x 27cm rectangles on the paper (two on one sheet and one on the other) using a dark pen.

Preheat oven to 140°C. Put egg whites into a large clean bowl. Whisk with an electric beater until stiff. Gradually add 300g of the sugar, whisking constantly, until the mixture becomes very thick and glossy.

Smear a small blob of meringue in the corners of each baking tray, then stick the baking paper down, pen side down (you should be still able to see the lines through the paper). Use one-third of the meringue to make each rectangle, staying within the drawn guidelines.

Bake for 1¼hr-1½hr until the meringues feel hard to the touch and peel easily off the paper. Cool completely on the baking trays.

When the meringues are cool, make the filling. In a large bowl, whisk the cream and the remaining sugar until the cream is thick and holds its shape.

Use a palette knife to help remove the meringues from the baking paper. Put one of the meringues on to a board or platter, spread over one-third of the cream, then top with another meringue and spread with one-third of the cream. Top with the final layer of meringue, the remaining cream and decorate with berries or topping of your choice.
---
Share this recipe
---
More recipes like this