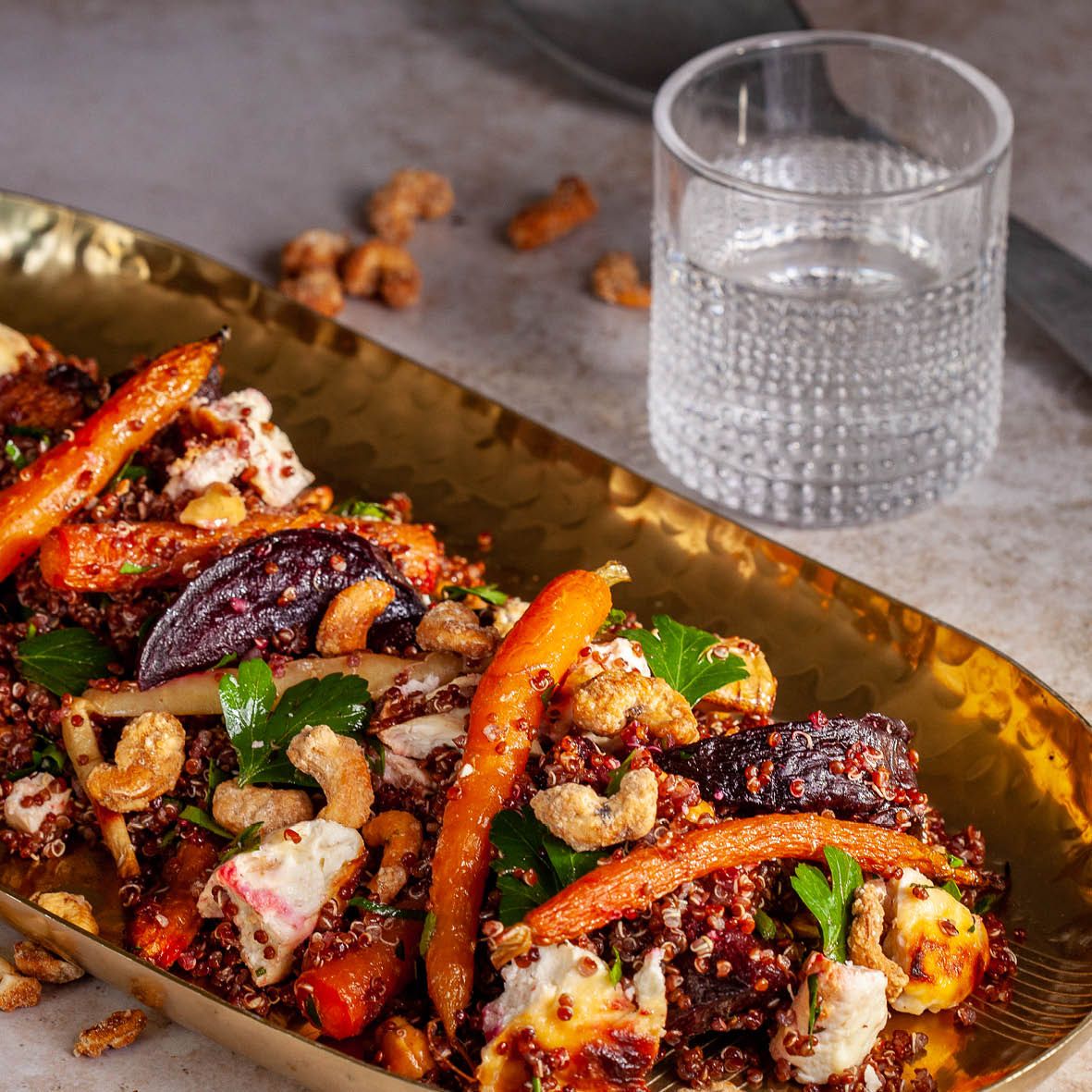 Honey Roasted Cashew, Quinoa and Root Vegetable Salad
There's never been a tastier way to enjoy your veggies than this salad featuring JC's Honey Roasted Cashews and fresh root vegetables.
How long will it take?
1 hour
What's the serving size?
Serves 10
---
What do I need?
12 Dutch carrots
4 large raw beetroot
2 medium turnips
6 parsnips
7 tbsp olive oil, divided
375 g piece of ricotta
500 g quinoa
4 tbsp balsamic vinegar
150 g JC's Honey Roasted Cashews, divided
½ cup flat leaf parsley, roughly chopped, plus extra to garnish
¼ cup dill, roughly chopped
Sea salt and ground black pepper
How do I make it?
Preheat oven to 200C.
Wash and trim the vegetables. Cut turnips and beetroot into 2cm wedges and slice the parsnip in half longways. Leave the carrots whole. Toss the vegetables in 2 tbsp of olive oil and season with a generous pinch of salt and pepper. Place the ricotta in the centre of a large baking tray and spread the vegetable around the ricotta. Cook in the oven for 45 minutes or until the vegetables are golden brown and cooked through.
Meanwhile, cook quinoa by following the directions on the pack. Drain and set aside.
Roughly chop 100 g of JC's Honey Roasted Cashews and set aside.
Make the dressing by whisking balsamic vinegar with 5 tbsp olive oil and a large pinch of salt and pepper.
When vegetables are cooked, remove the ricotta and set aside on a plate. Add cooked quinoa to the roasting pan with the dressing, chopped nuts, parsley, and dill. Break half the ricotta into chunks, add to the mix and stir to coat ingredients in dressing.
To serve, place ingredients from roasting pan on a serving platter. Break the remaining ricotta over the salad, and garnish with parsley and reserved JC's Honey Roasted Cashews.
---
Share this recipe
---
More recipes like this